Prudent Employers Must Align Workplace Policies with the Demands of Discrimination Law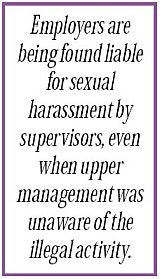 Owners of health clubs and other for-profit sports facilities lack the multilayered bureaucracy that within large corporations often becomes a breeding ground for discriminatory practices such as sexual harassment. This doesn't mean, however, that these smaller businesses are immune from sexual-harassment litigation. Indeed, the more casual nature of health clubs - from staff members' attire to the sometimes lax control over independent contractors and part-time workers - makes them fairly susceptible to problems.
Business owners of all types looking to sidestep harassment lawsuits must increasingly scramble for footing on a shifting legal terrain. And even though health clubs aren't likely to be hit by deep-pocket lawsuits - for example, last year's record-breaking $508 million settlement of sex discrimination charges against the Voice of America - the penalties are heavy when employers discriminate in employment practices such as hiring, on-the-job training, advancement and firing.
What's a small-business owner to do? Start with these three commonsense steps:
• Educate your staff. Consider this scenario: One of your employees, without your knowledge, harasses another employee. Can the target sue your business - and win - even though you were not aware that the harassment was occurring.
It used to be that the answer was often "no." Many employers would plead ignorance and roll the dice. Today, however, employers are being found liable for sexual harassment by supervisors, even when upper management was unaware of the illegal activity. This is especially the case if the target of the harassment suffers something tangible such as termination, demotion, undesirable reassignment or reduction of benefits. If a woman was passed over for promotion because she rebuffed her supervisor's sexual advances, for example, an employer would be at risk for damages.
And what if the target of the harassment does not suffer anything tangible? In this case you have a strong defense - but there is an important provision, according to Jay W. Waks, co-chair of the labor and employment law department at New York's Kaye, Scholer, Fierman, Hays & Handler. "You must be able to show that you took reasonable care to prevent and correct the illegal behavior," says Waks, "and also that the victimized employee unreasonably failed to take advantage of corrective measures you had in place." (See "Harassment Policy Checklist," p. 40.)
The lesson is clear. You need to educate all staff members about the law concerning sexual discrimination and harassment, and institute workable procedures for reporting sexual harassment to the business owner.
"Smart employers should not just publish a policy prohibiting sexual harassment and discrimination and stop there," says Waks. "They should hold educational sessions to remind all employees about the policy, what it means, and that they should take it seriously."
• Train women supervisors. While business has benefited from a greater representation of women in its ranks, employers must educate them, particularly when they take on supervisory roles, about the requirements of discrimination law.
A growing problem is that some women supervisors favor other women over men for promotion or other employment action. "Women may try to redress the wrongs of the past or feel they need to make up for male issues above their level or within their sphere of operation," says Lawrence R. Levin, a partner at Chicago-based Levin & Funkhouser. "These women often get cited for discrimination against their male employees."
A second issue is sexual joking, which, after largely getting hammered down on the male side, now seems to be rearing its ugly head among female managers. "Younger female supervisors are not the least bit sensitive when they make sexual jokes before older men," Levin says. It's up to the employer, he adds, to communicate the prohibition on sexual joking to both men and women.
• Monitor workplace romance. Dating between employees is bound to happen, but when romances go bad, particularly between supervisors and subordinates, retaliation in the form of a sexual harassment charge is one problem small-business owners don't want to have.
"One of the hottest workplace issues involves whether employers should have any policies regarding romance in the workplace," says Waks. "My own recommendation is to not outlaw romantic relationships between coworkers or between managers and subordinate personnel, but caution everyone, in writing, that these relationships can lead to allegations of sexual harassment, or at best to a lot of discussion that might be embarrassing to one or the other party."
Some employers require that supervisors report any romantic involvement with subordinates, a policy that Waks favors because in larger businesses it allows the employer to move the subordinate to another area. "It's smart to see if any adjustments of work assignments can be made," he says.
The earth may be moving under the feet of today's business owner, but the prudent employer can take steps to align workplace policies with the demands of a changing culture and discrimination law. "Make it clear that harassment of any type that affects individuals because of protected characteristics is forbidden," says Waks. "Explain what the remedial measures are, and provide a number of open doors that employees can go to directly should they be bothered by particular conduct. This is effective in demonstrating seriousness to employees and to a jury."
Education takes time. That's expensive, but it pays dividends. Notes Levin, "It's cheaper to do it right up front than to deal with lawsuits after someone makes a mistake."