Founder of the tongue-in-cheek web site, badjocks.com, speaks seriously about hazing.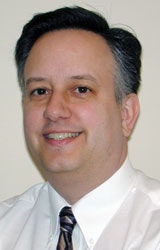 Bob Reno was listening to sports talk radio one day in February 2000 when he learned that Tonya Harding had thrown a hubcap at her boyfriend, Marty McSorley was arrested for an on-ice slashing incident and Darryl Strawberry was in police custody - again. Reno promptly registered the domain name badjocks.com, and an online scandal sheet heavy on tongue-in-cheek humor was launched. Thousands of daily visitors now converge on the site "where 'Cops' meets 'SportsCenter,' " including members of mainstream sports and news media. It was a BadJocks scoop in May 2006 - photos posted of a Northwestern University women's soccer initiation involving alcohol consumption, bondage and simulated sex acts - that attracted a half-million hits a day and made Reno a sought-after spokesperson on the topic of sports-related hazing. It's a topic that he addresses with uncharacteristic seriousness, as Paul Steinbach discovered.
Q: At its January convention, the NCAA held a four-hour seminar on hazing and announced it will produce a hazing handbook later this year. Should the association be doing more? A: I think the NCAA has to decide that this is an athlete issue that's as important as anything else. They have regulations on virtually every other aspect of college athletes' lives, from the time they're recruited to the time they've played their last game - except for hazing. The reason to have rules governing all schools is to create a level playing field, and if the NCAA would come out with some hazing definitions and regulations, it would help.
Q: What is a university's typical response to reports of hazing? A: In a lot of cases, the universities will say, "Well, this wasn't a team event. This was a private party." I have a whole file folder of excuses. Universities just never use the dreaded h-word, I think, because they're afraid of getting sued.
Q: Are the anti-hazing policies in place at most schools deficient? A: A big problem, if you look at the policies, is that they don't offer direction as to how to investigate these things, and they don't offer guidelines as to what kind of punishment should be handed out. The hazing experts who I've talked to believe there needs to be a kind of death penalty - cancellation of the season. There have to be some very strong consequences.
Q: Is hazing on the rise, or has the Internet just made it more visible? A: I would agree that it is more visible, and I think the intensity of hazing has been ratcheted up, in part, because of the Internet. By posting these pictures publicly, kids upped the ante. Others were learning from them. I would also say that since the Northwestern pictures were published, it has become much harder to find pictures like them online.
Q: Do you ever feel like you are playing a role in hazing's proliferation? A: About all I can do is get people talking about it, and there has been a lot of discussion. Hazing experts have encouraged me, saying, "Look, if one parent or one high school principal or one university president sees these pictures and it changes their perspective on what is going on with hazing today, it will have a big impact." I believe that it has.