Where flying objects are concerned, the courts have long shielded team owners from liability. Spectators, on the other hand, are on their own.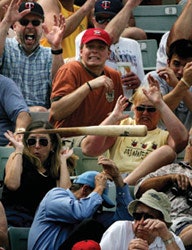 Don Long, the Pittsburgh Pirates' hitting coach, was sitting in the dugout at Dodger Stadium in Los Angeles on April 15 when a shard from a broken maple bat swung by Pirates outfielder Nate McLouth cut through his left cheek, leaving him with 10 stitches and temporary nerve damage. Ten days later, also at Dodger Stadium, spectator Susan Rhodes was sitting four rows up in the lower seating bowl when the barrel end of Colorado Rockies first baseman Todd Helton's broken maple bat hit her in the jaw, causing facial injuries and a concussion.
When Major League Baseball responded June 24 by convening its 16-member Health and Safety Committee in New York to discuss what steps could be taken to alleviate the problem, the committee did not conclude that Dodger Stadium was the problem and recommend that it be closed. The eight management and eight Players Association representatives did the next most illogical thing, however. Rather than discuss the one solution that would virtually guarantee the health and safety of most spectators - extending backstop screens or hanging nets to protect fans in areas most likely to be hit by bats and balls - the committee spent the bulk of the meeting discussing the type of wood used (the surface hardness of maple is about 20 percent greater than ash), as well as bat weights, lengths and handle thicknesses.
Anecdotal evidence suggests that maple bats, which over the past eight years have become the preferred bat of perhaps 60 percent of Major Leaguers, break into large pieces instead of splintering, as traditional ash bats tend to do. In addition, players raised on thin-handled, heavy-barreled aluminum bats may be helping exacerbate the problem by seeking to approximate metal specifications in maple. Another possibility is that the surge in popularity of maple has led manufacturers to rush bats out of production, putting unseasoned sticks into the hands of players before the wood used is ready for the big leagues. But beyond the fact that maple bats hide cracks that would in an ash bat be clearly visible, to date no actual evidence has been gathered that shows conclusively that maple bats have injured more players or spectators than bats made of ash.
Just hours after the committee met, umpire Brian O'Nora suffered a cut in his forehead by a piece of Kansas City Royals catcher Miguel Olivo's maple bat during a game and exited Kauffman Stadium with blood running down his face. The injury wasn't serious (O'Nora was treated at and released from a Kansas City hospital), but the trend is. With the spotlight suddenly shining on maple bats, each week of this baseball season has brought forth another near-catastrophe. One team owner even got a little too close to the story, as the barrel of a maple bat belonging to Colorado outfielder Matt Holliday spun into the stands May 15 and struck a railing next to Arizona Diamondbacks CEO Jeff Moorad.
A May 6 Modesto Bee report of a Class-A California League game mentioned a line drive off the bat of a Modesto Nuts player that resulted in the spinning barrel of the bat - the story failed to specify whether ash or maple - screaming end-over-end toward the stands. "It was roughly a 24-inch, 26-ounce pointed projectile, hurtling toward a group of eight children sitting in the front row at John Thurman Field," wrote reporter Brian Vanderbeek. "Fortunately, the bat was cradled by the netting that surrounds the seating area behind home plate. So many fans followed the flight of the bat, as evidenced by their collective gasp and sigh when it found the net, they failed to notice the ball flying into left-center field for a single."
A call to the Modesto Nuts confirmed that the netting in question was, in fact, the backstop screen that is a standard component of ballparks everywhere. But the story points out the obvious - extended screens could better protect spectators from flying objects.
The National Hockey League got the message after the death of Brittanie Cecil, a 13-year-old spectator struck by a puck and killed in 2002, mandating that all NHL arenas add protective netting above the glass (see "Rethinking the Rink," Jan. 2003, p. 43). Why hasn't a similar change occurred in baseball? The culture and a lack of incentive, sports lawyers say.
"They want to keep the sight lines and have the foul balls for kids to collect as souvenirs," says attorney Gil Fried, an associate professor at the University of New Haven and a frequent expert witness. Adds Paul Anderson, associate director of the National Sports Law Institute at Marquette University, "Extended screens were suggested during the development of some of the newer ballparks, and the fans complained so much there was a fear the teams would have to lower ticket prices. So it's a cost-benefit issue. I guess the thinking is, 'If someone gets hurt, how much could that cost us versus how much revenue will we lose if we put the nets up?' Until there's a situation where a team has to pay tons and tons of money because of an injury, there's not much incentive to put up nets. As it stands right now, they can just blame the bat manufacturers."
Legislators could conceivably pass bills requiring facility upgrades, but such efforts would almost certainly be stymied by nearly a century of case law siding with defendant ballpark owners. Plaintiffs' big stumbling block is the limited-duty rule, which essentially states that owners need only protect fans in the areas of the ballpark in which injuries are "most likely to occur." Fried, for one, thinks the rule is outmoded, given the more lively ball used since the 1920s, the continued development of hitters, the possible effects of changes in equipment (such as maple bats) and the plethora of 21st century distractions (from video boards to loud music to team mascots to in-seat food service) that compete for spectators' attention. All of these, he says, make the contemporary stadium a more dangerous venue than ballparks of old.
Consider a recent case that hinged on the limited-duty rule, Teixiera v. New Britain Baseball Club Inc., which was filed by a man struck in the testicles by a thrown ball while sitting in a picnic area located beyond the first-base line. In addition to determining that Michael Teixiera was warned of potential dangers (by a posted sign and in-stadium public-address announcements) and that the danger of being struck is an open and obvious danger when attending a baseball game, the Connecticut Superior Court found that a ballpark owner "is only responsible for screening the most dangerous section of the field (the area behind home plate) ... [O]nce the stadium owner has provided adequately screened seats for all those desiring them, the stadium owner has fulfilled his duty of care as a matter of law."
Fried, though, wonders whether the screen behind home plate is just another vestige of old-style thinking. "There have not been any studies done to indicate what is the most dangerous part of a ballpark," he says. "And in any case, we're no longer in the era when the rule was developed, where if you didn't want to sit in an unprotected area, you could talk to an usher and ask to be moved behind the screen. Those seats right behind home plate are among the most expensive seats in any park."
Warnings printed on tickets and signs posted in seating bowls now specify that bats as well as balls are dangers to spectators. (Signs posted along the field-level seating bowl in Dodger Stadium, one for each section's aisle, read in English and Spanish, "PLEASE BE ALERT TO BATS AND BALLS ENTERING THE SEATING AREA. PLEASE DO NOT INTERFERE WITH BALLS IN PLAY. VIOLATORS ARE SUBJECT TO EJECTION.") The trouble is, attentive fans - those watching the flight of the ball - are sitting ducks for bats spinning off in another direction. Yet, in one of the few cases in which a court attempted to determine whether a ball and a bat are equal in terms of the risk to spectators, a woman struck by a bat in a 1998 playoff game between the Cleveland Indians and New York Yankees was found to have assumed the risk of injury when she bought her ticket.
"A court's not going to impose some standard out of the blue," says Anderson. "It's going to look around and see that every stadium has some netting and screening, everyone uses these bats and everyone in the stands should know that bats sometimes break. Until Major League Baseball mandates extending the screens or teams start putting screens up on their own - so that there's a standard that a defendant can be shown not to have followed - the duty on the facility owner will simply be to warn, and not necessarily to protect."