When the NFL announced a league-wide fan code of conduct, it was already playing catch-up.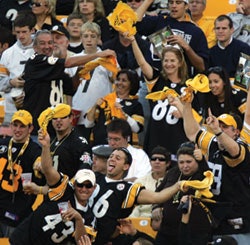 When the NFL announced Aug. 5 that it had created a league-wide fan code of conduct, it was already playing catch-up. Several teams had their own fan codes in place, including some with rules more stringent than those laid out by league commissioner Roger Goodell.
The NFL code covers common ground such as abusive language, obscene gestures, drunkenness, fighting and interference with the progress of games. But it makes no mention of "displays of affection not appropriate in a public setting," as does the code put in place last season by the Seattle Seahawks. The Denver Broncos take it a step further, imploring fans to "refrain from indecent exposure or undressing." The Kansas City Chiefs caused a minor disturbance in the blogosphere this summer when their code barred "continual standing and/or obstructing the view of other fans." One Yahoo! Sports blogger's take, titled "Fans are asked to treat Chiefs games like bowling matches," drew 2,655 comments. Chiefs officials have since stated that standing and cheering are indeed allowed.
Other sports organizations likewise are in full code mode. The NBA has had one in place since February 2005 - three months removed from the infamous Malice at the Palace. The WNBA matches its code to the men's version verbatim.
Major League Soccer's D.C. United packages its 11-point fan code of conduct with an 11-point fan bill of rights. The code prohibits the use of whistles, while encouraging fans to sing. Unlike most codes, it includes the words "racial" (when referencing forbidden language and gestures) and "political" (when referencing messages on signs and clothing). It's also rare in that it singles out referees (in a separate line item) as worthy of fans' respect.
Philips Arena in Atlanta, home to the NBA's Hawks and the NHL's Thrashers, has its own code, lumping "drug-impaired guests" in with the unwelcome intoxicated variety. Some codes have a blanket ban on banners, but Philips targets only those that "obstruct the view of guests, obscure advertising or impede the operation of Philips Arena, contain objectionable subject matter or are commercial in nature." While catching a small break on personal signage, Philips guests are nonetheless prohibited from entering the arena with "containers, food and beverage, air horns, weapons and laser pointers" - in no apparent order of importance. Rose Bowl officials ask UCLA football fans to leave their weapons at home, along with any "unsliced fruits or vegetables."
While fans may plead ignorance of their team's fan code of conduct, many codes are displayed prominently before captive game-day audiences. Last season, the Jacksonville Jaguars produced a video in which a cheerleader narrates as team mascot Jaxson joins actors in Jags regalia to dramatize situations - from smoking to swearing - that can get fans in trouble.
Regardless of the sports organization, the consequences for breaking fan codes are nearly universal, progressing from ejection to revocation of future ticket-buying privileges to arrest and prosecution. That is, if the codes are enforced. Several teams have implemented phone and text-message-based hotlines to facilitate self-policing among fans, but with mixed results. The Cincinnati Bengals piloted 381-JERK at a preseason game two years ago, only to have fans frustrated by near constant busy signals. After sitting through a prerecorded recitation of the Los Angeles Dodgers' fan code of conduct by former manager Tommy Lasorda, a fan blogged last July that his cell phone call to security in the midst of a neighboring fan's F-bomb barrage was answered, but with inaction; the offending fan kept his seat. This was the same security team that only a couple of years earlier had removed two women from Dodger Stadium for kissing.
Two lesbians accused the Seattle Mariners of discrimination after the women were told by Safeco Field security, based on fan complaints, to stop kissing at a game in May. The Mariners, like the Seahawks, have a conduct policy against displays of affection that are "not appropriate in a public, family setting." The code is announced before all Mariners games.
"When we do enforce the code of conduct, it is based on behavior, not on the identity of those involved," Mariners spokesperson Rebecca Hale stated at the time.
Given that the tailgate/face-paint subculture - with its tendencies toward heavy drinking before games and obnoxious behavior during them - thrives more so within pro football circles than anywhere else, the NFL's fan code of conduct, communicated via mailings and stadium signage, was drafted not a season too soon. A week after the code was announced, the Associated Press reported that the New York Jets not only are hanging view-obstructing banners at Giants Stadium's Gate D, where male fans gathered at halftime of 2007 games to goad women into exposing their breasts, the team is also cutting the time allotted for tailgating from seven hours to five.
"We are committed to improving the fan experience in every way we can - from the time fans arrive in the parking lot to when they depart the stadium," Goodell said in a statement.
The new code has had the desired effect on at least one Pittsburgh Steelers fan. "I won't tailgate as much," Cleveland resident Vernon Coleman told the Pittsburgh Tribune-Review. "I get a little wild in the parking lot. I'll have to be that responsible adult."