When U.S. Olympic swimming legend Mark Spitz spoke at the 2008 Athletic Business Conference, he told a decades-old story about how coaches from the Soviet Union had once asked Spitz why he wore a mustache in competition. At the time, he knowingly relayed the falsehood that the facial hair reduced drag in the water. By the next international competition, every Russian swimmer sported a 'stache. Such was the level of gamesmanship in 1970s aquatics.
Today, competitive edges - real or perceived - aren't right under swimmers' noses. They're far more obvious. Full-body swimwear, their materials and manufacturing processes engineered for optimum water-repelling performance, have rendered quaint not only the anecdotes of standard-bearing athletes like Spitz, but to some degree their accomplishments, too.
AB first examined the pros and cons of advancing swimsuit technology in January. In between, the 2008 Olympics saw 20 swimming world records fall. Spitz in his prime wouldn't even have qualified for those Games. His world-record 200-meter freestyle time of 1:52.78 set in 1972 in Munich was nearly 10 seconds slower than the new standard set by American Michael Phelps last August in Beijing. Pools have gotten faster, as has swimwear. Yet many remain unconvinced that those factors alone can account for a 10-second differential, even if the times were separated by 36 years. "There's a big disconnect between cause and effect," George Washington University professor Rajat Mittal, a leading researcher in hydrodynamics, told Popular Mechanics last year. "Even when coaches have figured out things that work well, they don't know why they work well." For Mittal, a swimmer's technique (in Phelps's case, his near-flawless dolphin kick) trumps all else.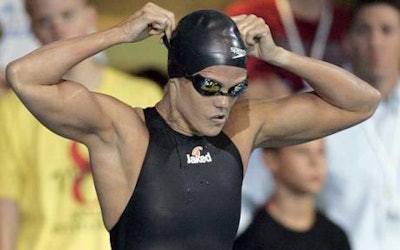 Meanwhile, FINA, international swimming's governing body, can't seem to make up its collective mind whether the suit makes the swimmer. In April, it appeared to endorse the covered-arms (and legs) race among suit manufacturers when it announced Speedo's LZR Racer (worn by Phelps and a host of other elites) would remain legal, despite widespread concern over its impact on the sport. (Italian coach Alberto Castagnetti has referred to the use of such suits as "technological doping.") Five weeks later, the organization did a philosophical flip turn, banning 10 high-tech suits outright, ordering modifications to 136 others, and sparing 15 LZR models entirely. The backstroking began anew in late July, when FINA announced a ban on all full-body suits, allowing only those extending from the waist to the knee on men and from neck to knee on women, effective Jan. 1. By September, mounting pressure to allow the same neck-to-knee coverage for both sexes had forced FINA to reconsider - and the international swimming community to keep holding its collective breath.
Of course, the hair-removal cream is already out of the tube. Can we say with confidence that past razor-thin victories were won by the best swimmer in the water? Can we objectively compare the best swimmers of all time? Do today's world records have true meaning?
Perhaps a unisex suit policy is the closest we'll get to FINA taking a purists' plunge. For decades, when we thought of the Speedo brand, we pictured Spitz - wearing the standard for male swimmers of his time: the brief. Let future generations of would-be legends compete uniformly in similar, if slightly more modest, fashion. Mustaches optional.