In June 2010, adult flag football player James Hilario was stabbed by opposing player Justin Farland during a game at an indoor sports and recreation facility in Somerset, Mass. Hilario sued the facility, owned by Teamworks, a private entity operating multiple indoor sports and recreation facilities in Massachusetts and Rhode Island. The lawsuit alleged that Teamworks was negligent for failing to provide proper security, implement safety and security procedures, and ban Farland from the facility when Teamworks management could have known that he possessed a knife.
According to Hilario's attorney, "The legal complaint was based on the theory that a landowner owes a reasonable duty of care to guard against the wrongful and even criminal acts of third parties, which are foreseeable." Teamworks ultimately settled the negligence lawsuit with Hilario in November 2013 for $325,000.
TAUNT AND TERROR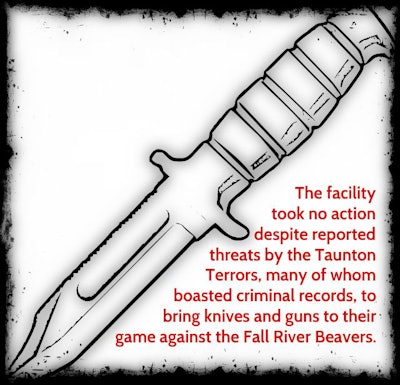 The Teamworks-Somerset location operates various adult flag football leagues within its 50,000-square-foot facility. Participation requires Teamworks membership and registration on a specific team, and is open to men only in 5-on-5 or 8-on-8 formats. Hilario was a registered member of the Fall River Beavers and was scheduled to play a game against the Taunton Terrors. Prior to the game, the Terrors made a series of threats against the Beavers. Specifically, the Terrors threatened to bring knives and guns to the game.
Per Hilario's complaint, these threats were reported to Teamworks management. Police reports indicated that Teamworks had been monitoring the Terrors and was considering banning the team from the facility, as several players on the Terrors boasted criminal records. Despite these factors, Teamworks opted not to take any action against the Terrors and allowed the game to proceed. With eight minutes remaining in the game, a 20-man brawl broke out. Farland came off the bench and stabbed Hilario, as well as another player on the Beavers team. Hilario was hospitalized with serious wounds to the lungs and liver. Farland was charged with multiple counts of criminal activity, including attempted murder, but was only convicted of assault and battery with a dangerous weapon, causing substantial injury. He was sentenced to five to six years in prison.
In addition to pursuing the criminal prosecution, Hilario filed a premise liability lawsuit against Teamworks, asserting that the premise operator violated its legal duty of care to protect Hilario from foreseeable criminal acts on its property.
MASS PROTECTION
When a participant is injured by a third-party criminal attack at a recreational sports facility, the participant can sue the premise owner/operator for negligence. Specifically, premise liability law generally holds that "a possessor of land who holds it open to the public for entry for his business purposes is subject to liability to members of the public while they are upon the land for such a purpose, for physical harm caused by the accidental, negligent, or intentionally harmful acts of third persons … and by the failure of the possessor to exercise reasonable care to discover that such acts are being done or are likely to be done, or give warning adequate to enable the visitors to avoid the harm, or otherwise to protect them against it."
While premise liability law varies by state, it is generally held that to succeed, the participant plaintiff must establish that the premise owner/operator owes the plaintiff a duty of care to protect against a foreseeable harm, and that breach of that duty proximately caused the plaintiff's harm. While the common law rule is that premise owners/operators have no legal duty to control the actions of a third party to prevent harm, an exception is made when the resulting harm is foreseeable. As an invitee, the plaintiff participant is owed a duty of care and can reasonably expect the premise owner/operator to ensure there are no foreseeable hazards or dangers, including criminal activity by a third party. To establish the duty, the plaintiff must demonstrate that the premise owner/operator had actual or constructive knowledge that the acts of the third party were likely to occur.
SAFE PLAY
In the case against Teamworks, Hilario alleged that he was owed a duty of care based on the business-invitee relationship, and that the criminal acts committed by Farland and Terrors team members were foreseeable. Specifically, Hilario asserted that Teamworks' failure to employ appropriate safety measures in light of the specific threats made by the Terrors constituted a breach by omission that proximately caused his physical, emotional and financial harm. Given the severity of the alleged threats made by the Terrors, and Teamworks' own admission that it was monitoring the behavior of the Terrors while contemplating punitive action, Teamworks clearly breached its legal duty to Hilario when it failed to take such action. Although the case was settled and does not create definitive legal precedent under Massachusetts law regarding proximate cause, Teamworks' decision to settle for $325,000 indicates a likely acknowledgement that Hilario could have successfully demonstrated the required elements of cause, thus successfully asserting liability.
Sports facility owners/operators should use this case as guidance regarding potential premise liability for third-party criminal conduct. To avoid similar litigation, sports facility owners/operators should review existing safety and security policies for monitoring participant behavior and preventing violent acts between participants. Specifically, facility owners/operators should create or maintain a policy regarding participant behavior that includes a ban from the premises, a ban from participation in all or certain activities and/or membership revocation when warranted by participant action or threat of action. Similarly, sports facility owners/operators should diligently investigate any threats made against specific participants, take appropriate preventive action and document such investigation/action. To effectively manage the risk created by participant behavior, including potential criminal activity, sports facility owners/operators must review, create and/or revise all policies regarding the safety and security of the facility and activities offered.
---
Kristi Schoepfer-Bochicchio (schoepferk@winthrop.edu) is an associate professor of Sport Management and Sport Law at Winthrop University in Rock Hill, S.C. Please send questions to editors@athleticbusiness.com.
This article originally appeared in the February 2014 issue of Athletic Business under the headline, "Unsportsmanlike Conduct."