"I'm not afraid to tell the world who I am. I'm Michael Sam: I'm a college graduate. I'm African American, and I'm gay," he said. "I'm comfortable in my skin."
I want to thank everybody for their support and encouragement,especially @espn, @nytimes and @nfl. I am proud to tell my story to the world!

— Michael Sam (@MikeSamFootball) February 10, 2014
And with that, Mikey — as those of us who know him call the 6-foot-2, 260-pound defensive end out of the University of Missouri — knocked down a massive barrier and became a household name overnight. He now stands tall as the NFL's first-ever openly gay prospect. And when he takes the field this fall, he will be the first active openly gay NFL player. It's huge news. But at the same time, it isn't.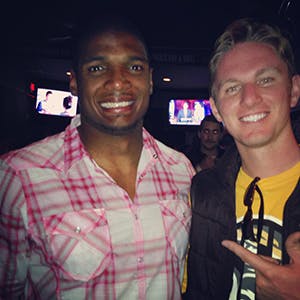 AB's Michael Gaio and Michael Sam celebrate Sam's three-sack performance in Missouri's win over the Florida Gators in October.As a recent Missouri graduate, I have been a friend of Mikey's for almost four years. We met in the summer of 2010 and remain in contact today. I would argue that being openly gay is actually one of the least remarkable things about him.

First, there's enough tragedy in his upbringing to derail even the strongest of men. But not Mikey.

"I endured so much... seeing my older brother killed from a gunshot wound, not knowing that my oldest sister died when she was a baby and I never got the chance to meet her," he told ESPN. "My second oldest brother went missing in 1998, and me and my little sister were the last ones to see him ... my other two brothers have been in and out of jail since 8th grade, currently both in jail.

"Telling the world I'm gay is nothing compared to that."

Then there's his journey to football stardom — one not predicted when he was named just a two-star recruit by most recruiting services coming out of high school. From an unknown prospect to a unanimous All-American and Southeastern Conference Defensive Player of the Year, Mikey's story on the field is impressive in its own right.

Did Mikey's teammates at Mizzou care about his sexual orientation when he was tormenting opposing quarterbacks last fall? Did the Tiger coaches care he was gay when they turned to him to be a leader for the Mizzou defense? As he sacked Oklahoma State's quarterback in the waning seconds of the Cotton Bowl and forced him to fumble, securing victory for the Tigers, did those in the crowd who were aware of his sexual orientation cheer any less loudly?


The answer is no.

Sports are the ultimate measure of someone's ability to do his or her job. Talent and work ethic cannot be faked. If you can play, you can play. And despite anonymous quotes from close-minded NFL personnel that are as sad as they are pathetic, Mikey will be drafted in May.

He will take the field this fall and people will call him many things. They'll call him a hero, an activist, a leader. However, he didn't come out with the intention of being any of those things. He didn't do this for attention. He came out because he wanted to tell the truth about who he is.

There will be those who call him much uglier things, too. But knowing Mikey, he'll only care about the thoughts of his coaches, teammates, family and friends. He will instead want to be called a good teammate. A hard worker. A good friend.

There is no denying the courage it took for him to come out, and the openness and eloquence with which he spoke in last night's interview was nothing short of inspiring. I have never been more proud to call him my friend.

Like many in the Mizzou community, I knew long ago he was gay. His Mizzou teammates knew, as did his coaches. No one cared. This may be big news now. Historic, even. But hopefully for gay players who follow Mikey's lead, being a player worthy of the NFL will be newsworthy enough.