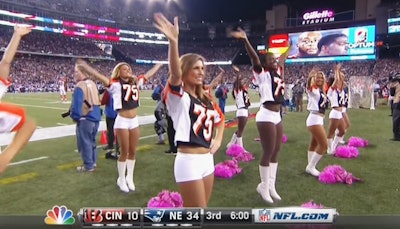 The New England Patriots won their game against the Cincinnati Bengals Sunday night, but more important, won over the hearts of just about everyone watching with a touching tribute to Bengals' offensive lineman Devon Still.
Still, a reserve lineman, gained media attention after his 4-year-old daughter Leah was diagnosed with pediatric cancer in June. The Still family's inspirational story has become widely known around the NFL and proceeds from his jersey sales have gone toward research for pediatric cancer. His number 75 jersey has quickly become the most popular Bengals jersey ever, with about $1 million being raised to due its sales.
Sunday night, the Patriots cheerleaders donned the jerseys even though the Bengals were on the road playing in Foxboro, Mass. The Patriots even showed a video featuring Leah that brought tears to her father's eyes on the field. Additionally, Patriots owner Robert Kraft donated $25,000 to Cincinnati Children's Hospital in Leah's name.



It doesn't get much better than that.
"I didn't know he gave a donation," Still told reporters after the game. "It's great how everybody has been stepping up, not just from (Cincinnati) but across the country. It has just been amazing, and it is great for the cancer community."
Still also said he wasn't expecting the tribute from the Patriots.
"I was surprised," he said. "I didn't know they had the jerseys on. And then they played the video. It definitely made it emotional to see the cheerleaders take off their jackets and to see the jerseys definitely took it over the top for me. We came here to play a football game with an opposing team, and I didn't expect them to show the support that they did today. It was amazing what they did today. It shows this fight is more than about football."
Still's Instagram account has become a running feed of updates on Leah's battle. This short video of Still taking Leah to the hospital for surgery posted two weeks ago received more than 44,000 "likes." Shortly afterward, Still posted, "The surgeon was able to remove ALL of her tumor and all of her lymph nodes and her right adrenal gland where it all started. Best news I've received in a long time."
Pre-surgery pep talk...I might be nervous and scared beyond words but I'll never let her see it...let's get this done!
Meanwhile in Jacksonville, the Jaguars mascot was on the other end of the classiness spectrum. "Jaxson de Ville," as the Jaguar is known, came under fire for using the Ebola epidemic to mock the Pittsburgh Steelers' Terrible Towels during the game between the two teams on Sunday.
The mascot was shown holding up a sign that read "TOWELS CARRY EBOLA" while carrying a yellow Terrible Towel in his other hand. Because who doesn't love a good joke about a deadly disease with a mortality rate of 90 percent?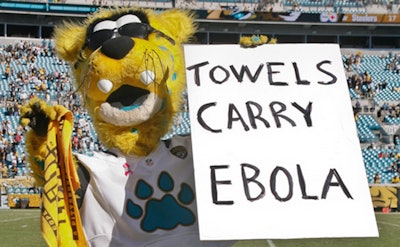 Despite taking heat on social media, the Jaguars declined to comment on Sunday night, but did identify the man in the mascot costume as Curtis Dvorak, an 18-season veteran in the Jaxson de Ville costume.
We all make mistakes. It seems to me that Dvorak took things a little too far on this one. With Ebloa affecting more than 7,000 people in West Africa and even a confirmed case here in the U.S., Ebola is probably a subject that is best left alone.
Update: The Jaguars have apologized for their mascot's behavior.
"Improvisation and humor have both been key elements to the character of Jaxson DeVille, especially when he performs at home games," Jaguars President Mark Lamping said.

"On Sunday, the person who has played Jaxson DeVille over the past 20 seasons made an extremely poor decision in that regard. The team was unaware of this inappropriate sign, which was hand-made by Jaxson during the fourth quarter of yesterday's game, until after it had been displayed.

We are handling the matter internally and taking it very seriously. We extend our sincerest apologies to anyone who was offended."