Wednesday is National Health Through Fitness Day, a day in which the Sports and Fitness Industry Association partners with other members of the sports and fitness communities to lobby Congress to support and promote physical activity.
One of the key issues these lobbyists will be advocating for is the PHIT Act, which, according to SFIA CEO Tom Cove could be "a real game changer," revising current tax laws to expand the definition of a qualified medical expense and allow people with pre-tax medical accounts to use them to pay for a myriad physical-activity-related expenses.
"As of now, those expenses are treatment for sickness after the fact," Cove says. "Why not allow investment in good health ahead of time in order to accomplish the same thing, which is trying to reduce healthcare costs through encouraging physical activity?"
The bottom line and beyond
Under the PHIT Act, Americans would be able to use pre-tax savings accounts to pay for things like club, league or gym membership fees, youth sports registration fees, sports equipment, personal training, race fees and more.
The benefits of the proposed Act could benefit a wide swath of Americans. Cove says the biggest potential beneficiaries are families with children, who have seen the costs of physical activity go up. "Frankly, things cost money," he says. "We've documented that a middle class family with three kids who want to play two or three sports has had to pull back because it costs too much."
Under the PHIT Act, those families would be able to spend some of their pre-tax money on their children's registration fees and equipment.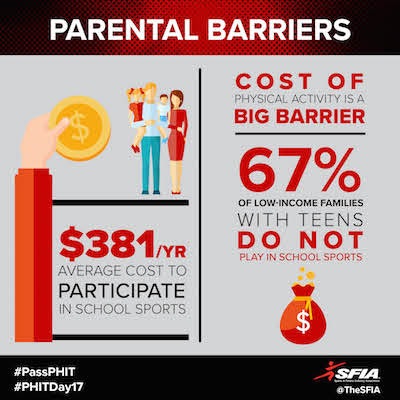 Professionals across the athletics, fitness and recreation industries would likely see a bump in sales as more people were incentivized to get active. According to Cove, individuals would "effectively have a 20 to 30 percent discount or improvement in their purchasing power, the retailer or club provider or facility provider would still get paid full price."
Apart from the financial impact of the legislation, Cove hopes that the bill will have a broader cultural influence. While nearly everyone agrees that the inactivity epidemic is having a big impact on public health and healthcare costs, Cove says there's been some indifference towards addressing it. He sees the PHIT Act as a potential solution.
"We want to create a culture that values activity, that makes time for activity," he says. "This kind of very specific, financially based initiative creates momentum to the bigger picture of placing physical activity at a central place in our culture, where it belongs."
Politics in motion
Cove's SFIA has been involved with the PHIT Act, first introduced in Congress in 2006, from the very beginning.
"We helped to write this legislation several years ago," he says. "We worked directly and closely with IHRSA, as we were talking about what kinds of policy initiatives we could promote to promote activity."
The legislation found a receptive audience on Capitol Hill, as the SFIA and other advocacy groups worked behind the scenes to gin up support. Over the past several years, the bill has been introduced to three different congresses as the lobbying effort sought co-sponsors. The number of interested congress members grew, from 20, to 50, to most recently, more than 100.
Despite large and politically diverse support — Cove says support is split "almost equally" between Democrats and Republicans — with the political environment in Washington being as it is, the bill has yet to advance.
"Since [the Affordable Care Act] was passed, it's been super controversial to talk about these things," he says. "Really the issue was you couldn't pass anything around the healthcare bill because it was so charged politically, ideologically and emotionally. We had to recognize that we were going to wait for a better day."
While neither Cove nor the SFIA takes a stance on either the Affordable Care Act or the current efforts to repeal and replace it, ("we are not part of this ugly partisan discussion and debate and bad feeling," he says) as the national healthcare debate ramps up once again, Cove sees an opportunity.
"We're cautiously optimistic that all of the attention and effort put into the healthcare debate will generate an opportunity for a bill that the PHIT Act would be included in, that could get passed by the end of the year."
Advocating for activity
In the meantime, the SFIA is continuing to advocate for passage of the PHIT Act on Capitol Hill and around the country. In addition to its advocacy on Capitol Hill, the SFIA is working to create conversation at the grassroots level through social media and word-of-mouth.
National Health Through Fitness Day combines these two efforts into a day of advocacy and action. "We have a big fly-in, and we set up appointments for people," Cove says. "We often put them in groups — a subject-matter expert, a local person, a business person, a celebrity athlete, a medical doctor — and then we have them meet with members of congress and staff to talk about the issues."
Attendees are trained on how to go about lobbying a member of congress, and given information to leave behind that documents the data as well as the specific ask. Cove urges those that can't make it to Washington to fire up their social media accounts and use them with #PassPHIT and #PHITDay17.
"We're finding even in Congress that traditional letters are probably not as influential as they used to be," Cove says. "Social media discussion on the other hand, we find that to be really powerful. The world is changing, even in lobbying."