The middle school years are rarely kind to anyone, but I had definitely taken awkwardness to a new level. At just 13 years old, I stood 6-feet-1-inch tall and weighed in at barely 125 pounds. Unable to find pants that fit, my very crafty mother would sew material to the bottom of my jeans so they would be long enough. The material of course was never the same color as the original jeans.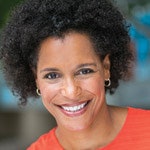 Our racially blended family stood out like a sore thumb in a time where the only television image we had of a blended family was the Brady Bunch. My family, like the Bradys, had three girls, three boys and two parents. That's where all similarities with the Bradys ended. We lived below the poverty line, and although my educated parents had a vision of education for all of us kids, there was no money to pursue camps, sports or any extracurricular activities.
I was naturally drawn to physical activity and loved gym class in school, where I played basketball, volleyball and floor hockey. I was always the first girl picked and loved competing against the boys. However, the K-12 school that my parents had us in did not have sports. My competitiveness came out usually against my brothers, wanting to beat them at anything and everything. They finally tired of competing with their annoying little sister and recommended that I move to a school that had sports. I took the recommendation and transferred to South High in Minneapolis at the end of my sophomore year.
My junior year in high school I tried out for the basketball team. The coach was excited to see a 6-1 girl at tryouts but quickly dismayed when he found out I had never played on a team. Nevertheless, my tryout was a success, and my new coach told me that he thought I had a natural talent and if I worked hard, I could be very good. I saw a lot of success on the court in my first season playing organized sports, but something even more important happened that year. For the first time in my life, the awkward, tall girl with the crazy-looking family found a place where she fit in. Playing basketball allowed me to have pride in my long lanky frame, and playing on the team provided the one thing that I had yearned for — confidence.
From there it was community college to gain more basketball experience and then the leap to Division I basketball at the University of Minnesota. Sports had been kind to me, providing me with opportunities and showing me how my learned work ethic would be an effective tool at every stage of my life.
Fast forward 15 years to the time my own children began their journey through the youth sports world. I was pleased to find so many opportunities for my son and daughter to play the sports they were interested in, including basketball, volleyball and baseball.
I also discovered there was an intensity around games that was palpable. Winning brought more excitement to the parents watching in the stands than to the athletes playing the games. Parents commenting and yelling at young girls who were line judges in volleyball, or the young umpires in baseball, had become a normalized part of the youth sports experience.
Our family, like many others, was sucked into the "more is better" mentality when it came to my son's baseball experience. Having no idea how much was too much and wanting to provide him with all of the tools to succeed, we watched as our son played more than 110 games for three different teams the summer before his sophomore year. He needed a break, and his parents needed some help navigating this complicated sporting world.
My career as a sports broadcaster — covering the NBA, WNBA and high school sports — allowed me to work with athletes at every level. I had been an athlete, I had parented athletes and worked with them my entire career, and I realized it was time for me to give back and help families like my own understand what was best for their own young athletes.
That's when I created my platform, Rethink the Win, with an aim toward advocating for young athletes to help them get the most out of their time in sports, while also championing the positive impact beyond the game that sports have on youths.
I now use my background in communications and broadcasting to spread the message of Rethink the Win. The speaking circuit has proven to be an effective way to connect with parents, athletes and coaches. Preaching to parents about what is right or wrong won't work. However, educating them will. For instance, parents are often surprised to hear that youth sports is a $15.3 billion industry. Understanding that some tournaments, camps and training opportunities are simply there to make a profit and not to better your athlete can help families make better decisions.
Providing resources, information and interesting interviews via my podcast — Youth Sports Intervention — is another way I hope to bring attention to these issues. Interviewing sports psychologists, doctors and even parents of elite athletes gives people access to important information that is sometimes hard to find. Each interview is done with the intention to serve the youth sporting community. Hearing from the owners of traveling teams, umpires, and current and past athletes will support young athletes and help them understand the larger lessons that sports can teach — those lessons that go beyond winning and losing.
Overall, I have found that parents are receptive to hearing about how sports can help shape a young person even if he or she doesn't get a college scholarship. Most parents, myself included, are triggered by the emotions of watching their kids play sports. It's fun and exciting. Understanding that the experience belongs to your athletes and allowing them to work through the ups and downs of their sports experience is where the value lies, and where they will learn the lessons that come from failing in a safe environment, being part of a team and working toward a common goal.
I believe the issues we see in youth sports are part of a larger societal issue, where overly competitive parents are looking for ways to ensure that their son or daughter has the opportunity to go to college and live a successful life. What they fail to realize is that very few athletes ever reach the elite levels. However, if we move to create better environments and allow kids to actually have fun playing sports, we may find they gain skills that apply to all aspects of life. It's time to look past the scoreboard, let kids be kids, and Rethink the Win.
---
This article originally appeared in the September 2019 issue of Athletic Business with the title "One former college athlete wants to put the fun back in youth sports." Athletic Business is a free magazine for professionals in the athletic, fitness and recreation industry. Click here to subscribe.