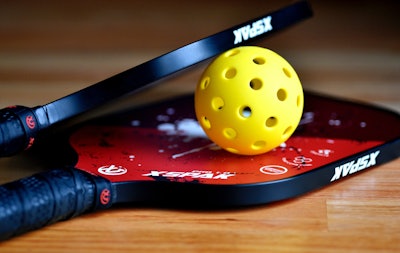 The Denver district attorney's office said this week that it would not pursue charges against 71-year-old Arslan Guney for defacing the gymnasium court at his local rec center.
Guney, known to locals as "The Mayor of Pickelball" said it was a great day.
"It's been two months. It's been very hard," Guney told the Denverite. "Very hard on my family and friends…The last two months we had great support, great outcry. We have an amazing community, amazing friends. Central Park strong. Four-thousand people live there and they're amazing. Thank you."
Guney was initially cited for using a permanent marker to create pickleball lines on the gymnasium court at the Central Park Recreation Center. The courts aren't permanently marked for the sport and the usual temporary cloth markers were not out that day.
The charges against Guney were no joke. He faced a felony criminal mischief charge, which carried a prison term of up to three years. An arrest warrant was issued on March 17, and Guney turned himself in on March 24 and spent a few hour at a Denver detention center before being released on bond.
Maintenance staff were asked to remove the markings made by Guney with a "solvent," but whatever substance was used "was also removing the finish on the floor," according to an arrest warrant. The damages were tallied at $9,344.58.
Witnesses told investigators that rec center staff had actually drawn the Xs on the court floor to indicate where the temporary markers should go long before Guney. Guney's attorney Hollynd Hoskins said the Guney had simply darkened the existing markings.
Hoskins and Guney had sought mediation, but according to an arrest warrant, John Martinex, the deputy executive director Parks and Recreation, said he was "not interested in meeting with Mr. Guney" and the department elected to move forward with the charges.
"They really should be ashamed of themselves for escalating this to a felony," Hoskins said. "The fact that Arslan Guney, an upstanding citizen with no criminal history, who has been a volunteer in this community forever and was acting as a volunteer and had no criminal intentions… The fact that Denver Parks and Rec and the City of Denver would not sit down and talk to Arslan to find out what happened…I was unable to negotiate a summons and a complaint…This is a sad day for the city of Denver and Denver Parks and Rec."
Despite the charges, Guney was permanently banned from all Denver rec courts and his membership was revoked. The ban has been lifted, and Guney was ordered to pay about $5,000 for the damages and write an apology letter.
"We're all human beings," Guney said. "We make mistakes and when you make a mistake, you have to pay in some way. I [will] continue to volunteer…When I get out of here, we'll go out there and play pickleball and again volunteer myself and my time and hopefully go back to normal."
The community has set up a GoFundMe to help Guney pay for the damages, and Hoskins said the funding will also go to nonprofit organization run by the two professional pickleball players.
"I was really lucky to have so many supporters," Guney said. "I'm sure I'm not going to do it again. I'm sure you're not going to see me again, but I think a lot of good things came out of [it] because as you can see the community is really strong…I can see that our neighbors are so strong and so tied together. From Maine to California, thank you. Picklers are amazing people and pickleball is not just a sport. It's a community…They all love each other. That's what makes it really nice."