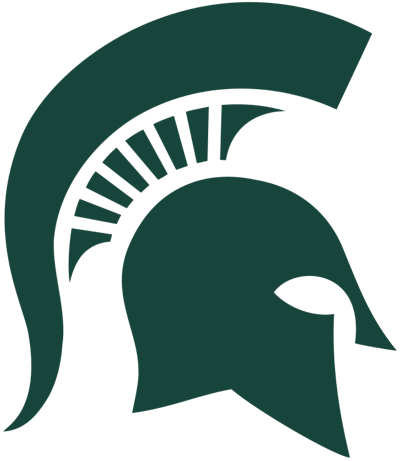 A Michigan State University strength and conditioning coach filed a federal lawsuit against the university on Thursday alleging "discriminatory treatment."
As reported by the Lansing State Journal, Mike Vorkapich was promoted to director of athletic performance/sports science for the Michigan State University hockey team in 2020. He's a former MSU football player, who started as a graduate assistant in 1995.
He claims the school, where he still works, emphasized diversity over merit when making hires and promotions inside the athletic department, according to Matt Mencarini of the State Journal.
The lawsuit names the university, athletic director Alan Haller and deputy athletic director Ashton Henderson as defendants.
"I have taken the very difficult step of suing my alma matter [sic] and current employer — the institution to which I have devoted my career," Vorkapich said in a statement released by his attorney Scot Hinshaw. "... I cannot stand idly by after the University has demoted me twice in a year without warning or any failing in my performance whatsoever. While I support the goals of diversity and inclusion, I am entitled to be treated in a fair and lawful manner."
According to Mencarini, citing the lawsuit, Vorkapich was demoted twice since 2021, including once earlier this year when he alleges he was given the choice to accept demotion or leave the university two months before he would be vested in his university retirement benefits.
Vorkapich, who is white, alleges in his lawsuit that, with Henderson as his supervisor, he has "experienced and continues to experience discriminatory treatment" from MSU, as well as Haller and Henderson, both of whom are Black.
Haller was appointed athletic director in 2021. The following year, Henderson returned to the university and is now the deputy athletic director, Mencarini reported.
Vorkapich, 52, was "demoted twice, excluded from meetings, relegated to an isolated office and left out of decisions relevant to his job," according to his lawsuit. "Younger, less qualified, female, black, and nondisabled individuals have been promoted ahead of [him] and treated better in the name of 'diversity.' While admirable in purpose, the effect has been direct and intentional discrimination."
As reported by Mencarini, the lawsuit details several incidents, starting in 2021, in which other athletics department employees received promotions or raises that Vorkapich claims weren't based on merit, but went to younger employees, female employees or Black employees.
Vorkapich also took issue with how he was listed, and the order he was included, on the university's website and staff directories. He's suing to be reinstated to his previous position or a higher position that he would now hold if he had not been previous demoted. He's also asking for back pay for wages lost or, if he is not reinstated, that a judge order the university to pay him for wages he'd receive through his chosen retirement age of 67.