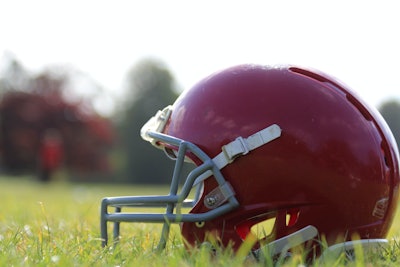 The family of a high school football player who was beaten by teammates in a locker room in 2021 have filed a lawsuit alleging the school permitted a toxic culture in the football program that promoted bullying and violence.
Jeanny and Kevin Coucelos, whose son Jonathan was a 14-year-old freshman at Woburn Memorial High School in Massachusetts at the time of the beating, also assert that Woburn authorities caused additional harm, including severe emotional distress, by failing to adequately respond to the attack, according to their complaint in US District Court in Boston.
"With the filing of this complaint, the Coucelos family takes the next step in seeking justice for the series of outrageous attacks on an innocent young man at Woburn Memorial High School and to hold those in charge accountable for the damage done," attorney Peter Hahn of the OneLaw firm in Newton told Boston.com.
Five football players were charged in Lowell Juvenile Court after the beating, including one who faces an additional count of indecent assault and battery for groping Coucelo's genitals. Two other students were charged as juveniles with assaulting him at school after the locker room episode.
The lawsuit alleges that neither Woburn authorities or the school district have held any adults accountable.
"I want to see everybody who was involved held liable for what they did and for trying to cover it all up," Johnathan Coucelos said Thursday through his father.
Woburn's head football coach Jack Belcher remains on the job, as does athletic director Jim Duran.
"I want the administrators and coaches held accountable for their actions,'' Kevin Coucelos said. "Those coaches should have been long gone. Instead, administrators are dragging their feet, putting other kids at risk of getting bullied."
The Woburn principal at the time of the attack, Jessica Callanan, has left her post for Reading Memorial High School. The Coucelos also blame Chase Andrews, a volunteer assistant football coach, for not doing enough to stop the attack.
Head football coach, Jack Belcher and assistant athletic director, Jim Duran, as named as defendants in the lawsuit, along with Callanan and Chase.
A federally mandated Title IX review of the case conducted by an independent investigator, before a final review by a school official, cited statements from Andrews and Woburn's head freshman coach Chris Scichilone that they were not formally trained about hazing before Johnathan Coucelos was accosted.
"Coach Belcher had encouraged stronger players to toughen up the weaker ones," the lawsuit alleges. It states the parents of the player who was kicked in 2017 "spoke to Coach Belcher and reported the behavior to Principal Callanan, but nothing changed."
Hahn said Woburn officials have made no attempt to settle the case since Coucelos' parents notified the city 19 months ago of their intent to sue. They are seeking $750,000, "or a greater amount if warranted by the evidence at trial," according to their complaint.