A renewed national focus on anabolic steroids has fueled debate about how best to cope with the legions of high school users.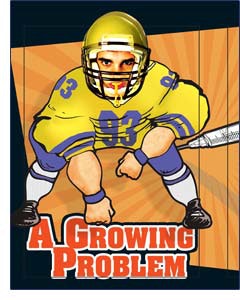 When high school athletic directors, coaches, student-athletes and parents in Michigan sat down this fall to watch dramatic and thought-provoking new DVDs about anabolic steroid use, they were asked to keep everything in perspective.
"This is not the biggest problem in school sports, and it's certainly not an epidemic," Michigan High School Athletic Association executive director John "Jack" Roberts assures viewers at the beginning of the two 10-minute "Make the Right Choice" DVDs, produced by the National Federation of State High School Associations and featuring messages from former steroid abusers and sports personalities. "We also need to remember that there are real, more threatening, near-epidemic health problems affecting our students that we must not lose sight of -- tobacco, alcohol, recreational drugs, obesity and sexually transmitted diseases -- all of which have a bigger impact on the lives of our young people."
Like others in his position, Roberts blames the media for painting the picture that steroids are out of control in American high schools. "We want our members informed, but we don't want to further create a misperception about where steroids rank," Roberts says now.
But in light of statistics that indicate increased steroid use among high school students -- current estimates typically fall between 3 and 8 percent, and the U.S. Centers for Disease Control and Prevention cites a figure of one million kids -- that perception, at least to a certain degree, may be warranted.
"Is it at the epidemic levels of, say, recreational drug use or alcohol abuse among high school kids? Certainly not," says Emmy Zack, director of communications for the California Interscholastic Federation, which in May became the first state athletic association to mandate steroids education for students, school administrators, coaches, teachers and parents. "But there have been three known cases of high school kids who ultimately committed suicide as a result of steroid-induced depression. Two of them were from California. That definitely sends a huge signal that, yes, this is a problem."
Zack says that safety isn't the only concern driving the CIF's efforts to help its 700,000 student-athletes. "Aside from the health aspects, steroid users create an unfair competitive advantage over other kids who are playing, and that's not what high school athletics is supposed to be about," she says. "Everybody should go out and participate based on the abilities and the talents that they have, not on some mechanically enhanced ability. In a nutshell, it's cheating."
As part of the CIF's approach to steroids education, the 70,000 high school coaches in California will be required to complete steroids-abuse education by 2008; all players and their parents must sign contracts prior to each season promising not to use steroids and other performance-enhancing supplements banned by the NCAA and the U.S. Anti-Doping Agency; and all school personnel are forbidden to sell, promote or distribute steroids and supplements. Sponsorships and advertising from companies that supply those products also are not allowed.
In addition to the DVDs (one produced for coaches and players and one targeting parents), plus graphic poster and brochure campaigns, the NFHS also announced publicly for the first time earlier this year that it "strongly opposes" the use of steroids by high school student-athletes unless specifically prescribed by a doctor for "therapeutic purposes." The federation, however, still leaves the decision up to individual school districts to test for steroids and to determine penalties for students caught using steroids. In some districts, the punishment for taking steroids -- which are only legally available via prescription but easily and illegally obtained via the Internet -- is the same as it is for using marijuana or other drugs.
But here's the thing about steroids: They do not carry the same negative connotations as other drugs, and as a result, many people are more apt to look the other way in their presence. "The benefits of anabolic steroids to a kid cross over big time to the coach, the school and the parents in the form of winning seasons and college scholarships," says Charles Yesalis, a professor of health policy and administration, exercise and sport science at Penn State University and a noted steroids expert. "If a kid uses marijuana or cocaine or heroin, does anyone benefit? That's what makes performance drugs different. These drugs are so incredibly seductive, and they work really well."
A small percentage of the nation's high schools, less than five percent, test for steroids. The rest opt not to for many reasons, chiefly financial ones. The price of one steroid test effective enough to withstand judicial scrutiny averages between $100 and $150 -- money that schools, districts and state associations simply do not have. Other arguments against testing focus on privacy issues, legal concerns, a lack of rehabilitative options and the potential for player embarrassment. But denial runs rampant, too.
"If I had $100 for every time I heard a coach tell me, 'It's a problem, but not in our school,' I'd have a Ferrari Enzo in my driveway," Yesalis says. "The denial on the part of coaches and athletic directors is unbelievable. And it exists at the pro level, the collegiate level and the high school level. It's always somebody else's school that has the problem."
Earlier this year, somebody else's schools were Daniel Hand High in Madison, Conn., and Colleyville Heritage High in suburban Ft. Worth, Texas. Six members of Hand's football, baseball and track teams, all between the ages of 14 and 17, were arrested for possession of steroids after a teacher allegedly witnessed one of the boys selling steroids during class. The students involved were suspended or expelled, and three of them faced up to seven years in prison on steroids possession and dealing charges. At Colleyville Heritage, reports surfaced earlier this year that nine student-athletes had confessed to using steroids late last year. Those student-athletes escaped punishment, but in September, the school began conducting random steroid tests on students involved in extracurricular activities.
If state legislators had their way, more schools would follow the lead of Colleyville Heritage. In 2005, lawmakers in at least 14 states introduced no fewer than 26 bills taking aim at high school steroid use, and many of them called for mandatory testing. Among the highlights:
Florida: Companion House and Senate bills that would have required the Florida High School Athletic Association to conduct a pilot program that tested for steroids and other drugs during the 2006-07 school year died in committee.
Michigan: One bill currently stalled in the Senate would require schools to develop policies and punishments for steroid users, while another would prohibit schools from joining a governing body, such as the MHSAA, that does not have steroids-testing measures in place at its state tournaments. The Senate bill's author suggests that the cost of testing could be covered by adding a $1 surcharge to each ticket purchased for state competitions -- an amount that doesn't even come close to covering the actual cost of testing.
New Jersey: Acting Gov. Richard J. Codey signed the Sacco Bill, which permits local school boards to randomly test students for drugs, including steroids. The law, however, requires districts to conduct a public hearing prior to adopting such a policy. The bill's sponsor and namesake, Sen. Nicholas Sacco (D-Hudson), is assistant superintendent of schools for North Bergen Township School District, which has randomly tested student-athletes for steroids and other drugs for 10 years.
Texas: A series of bills that would mandate schools to test for steroids have all failed. But another bill passed, requiring the state's University Interscholastic League to survey its schools about testing procedures and to develop a steroids-education initiative that includes a document student-athletes and their parents must sign, agreeing to refrain from using steroids.
"The big drawback to testing at the local level is that policies are not uniform," says Oklahoma Rep. Thad Balkman (R-Norman), who earlier this year introduced legislation in his state that, had it not failed, would have required schools to adopt a uniform disciplinary policy for middle and high school students caught using steroids. The policy would have sidelined a first-time offender for the rest of the academic year, while a second offense would have ended the student-athlete's interscholastic playing career. "All of these schools compete against each other, and if you have some schools that are testing and some that aren't, that's kind of like going to the Olympics and having everybody except athletes from the Eastern Bloc countries test for steroids. I think the decision to test has to be universal to be effective."
Yesalis also believes the solution to the steroids problem lies in testing. "I'm not saying education programs can't work, but they haven't worked over the past 17 years," he says, citing Sept. 27, 1988 -- the day Canadian Olympic sprinter Ben Johnson was stripped of his 100-meter gold medal after testing positive for the steroid stanozol -- as the moment steroids entered the mainstream consciousness. And when four employees of Burlingame, Calif.-based Bay Area Laboratory Co-Operative were charged last spring with conspiring to distribute illegal performance-enhancing drugs to athletes such as Major League Baseball's Barry Bonds and Jason Giambi, and track-and-field star Marion Jones, the anti-steroids movement regained strength.
"If the problem had gone away, we wouldn't be talking about it," Yesalis continues. "If we -- moms, dads, teachers, coaches, principals, athletic directors, high school athletic associations -- are really serious about this, I think testing is the only answer. And given how long-lived this problem is, I question whether we really are serious."
Bernard DuBray, superintendent of Missouri's Fort Zumwalt School District, is serious. Between 1997 and 2003, the district tested student-athletes at the city's North, West and South high schools for recreational drugs, but the program was discontinued for financial reasons. This fall, with new funding in place, the district reinstituted its drug-testing program with a steroids-testing component -- the first of its kind in Missouri. Five student-athletes from each of the three high schools (a fourth high school under construction will be added to the program upon its completion in 2007) are randomly tested on Monday mornings. Of those 15 samples, five are randomly sent to a testing lab at UCLA -- the only such facility in the United States certified by the World Anti-Doping Agency. Each drug test costs approximately $30, while each steroids test runs $120, DuBray says, and the district is prepared to spend $25,000 a year to keep the program active.
"We thought that since we're bringing the testing back anyway, it would be a good idea to expand it to include performance-enhancing drugs," he says. "Not only do we demonstrate that we have a clean program, but it also gives a kid another reason to say no. With all of the peer pressure and societal pressure on kids, sometimes it takes extra ammunition like this. I think it's worth the money."
Only student-athletes who volunteer can be tested, and DuBray says participation among the district's 4,000 or so athletes is at about 80 percent. After five weeks and 25 samples, no positive results had been returned from UCLA, but DuBray expects that to change. "I would be shocked if there isn't some kid who thinks it's worth the price to take a chance at enhancing his performance," he says. That price is a 30-day team suspension, with a focus on counseling and deterring the student-athlete from using again. If a second offense occurs, however, the student-athlete is kicked off the team.
While Fort Zumwalt may be setting a new standard in Missouri -- "When other school districts, especially locally, see that we're successful with our testing program, there's going to be some pressure on them to take a serious look at testing, too," DuBray predicts -- athletic associations in other states are creating new anti-steroids policies. The Texas University Interscholastic League, for example, is in the midst of surveying its 1,280 schools about local steroids-testing policies and procedures in an effort to comply with that state's new laws, and other states have formed special committees to specifically address steroids and perhaps even make recommendations regarding statewide policies and procedures.
"We have a longstanding belief that this issue is best handled at the local level and that a statewide athletic association regulation would not be the best direction in which to go," says Mike Savage, executive director of the Connecticut Interscholastic Athletic Conference. "We are now reviewing that to discuss whether it still makes sense. I'm open-minded, quite frankly, with respect to having some kind of statewide testing program, but there are an awful lot of issues that need be addressed before we go down that road."
In Virginia, a new state law required the Virginia High School League this fall to develop penalties for students who take steroids. As a result, users will now be declared ineligible to participate in any sports for two years, and the VHSL is putting pressure on member schools to develop their own steroids-education programs. The league even created lesson plans for local administrators and coaches, and set up a task force to monitor schools' progress.
Among the most progressive states in the struggle with steroids is New Mexico, where the Department of Education is spearheading a Steroid Prevention Task Force of students, parents, coaches, teachers, principals, legislators, pharmacists and physicians that will determine recommendations to curb steroid use in that state. In April, Gov. Bill Richardson pledged $330,000, subject to approval by the 2006 Legislature, to fund a two-year, steroids-only pilot testing program that might also incorporate funds from grants and public/private partnerships. In addition to testing, the task force will likely recommend that a steroids-education component be added to the health curriculums at all grade levels, and that coaches and parents undergo steroids-specific training. If all goes according to plan, the new programs (or variations of them) would take effect next fall.
"There isn't a template to work off of," says Veronica Garcia, New Mexico's Education Secretary. "It appears as if we will be a trailblazer in this area. It's easier to build on what others do, so I suspect that as we progress, and lessons are learned, other states will follow suit and profit from our experiences."
Despite all of the rhetoric and proactive measures, Roberts' assertion that the steroids issue has been blown out of proportion may not be as far off the mark as others think. After all, no two surveys seem to yield the same percentage of steroid users. According to the "Youth Risk Surveillance" report issued by the CDC in March, steroid use in high schools more than doubled between 1991 and 2003. Other research indicates that more non-student-athletes and girls are taking steroids today than in the past, simply because they want to look better and feel better about their physical appearance.
However, the University of Michigan's annual report, "Monitoring the Future: National Results on Adolescent Drug Use," reveals that steroid use among youths in grades 8, 10 and 12 is on the decline - especially among younger students. "Anytime you're doing a survey with kids, the numbers are probably a little skewed," the CIF's Zack cautions. "Survey numbers are probably lower than the reality." Even if that is the case, meaning that there are more kids using steroids than studies suggest, are the effects of steroids really as bad as the CDC and the National Institute on Drug Abuse want us to believe?
Consider Norman Fost, director of the Program in Medical Ethics at the University of Wisconsin, who argues there is no evidence that "modern steroids cause heart disease or strokes or anything." Taking Fost's claim to heart, Greg Bishop, a reporter with The Seattle Times, asked 25 medical experts to cite a study that gives definitive proof that performance-enhancing drugs are bad for athletes. "All 25 respond in chorus," Bishop wrote in his October story. "There is none."
Doctors say that it often takes decades for the long-term effects of steroids to manifest themselves. Since heavy steroid use didn't really begin until at least the 1970s, they expect they'll begin to know more soon. "You can't ethically do a study of 100 guys, feed 50 of them high doses of drugs and then sit back and see who drops dead," Harrison Pope, director of the biological psychiatry laboratory at Harvard Medical School's McLean Hospital, told Bishop. "But you've heard the old saying, 'The absence of evidence is not the evidence of absence.' "
Granted, potential side effects of steroids -- liver damage, heart disease, impotence, depression -- have long been alleged. But Fost contends that former NFL lineman Lyle Alzado claiming he developed the brain tumor that eventually claimed his life because he took steroids is like saying, "I ate a lot of hot dogs, which is why I got brain cancer." Fost argues that serious adverse effects from steroids can't be claimed based on anecdotal evidence.
Nevertheless, the fact remains that anabolic steroids are illegal, and they're creating unfair advantages for some high school student-athletes -- advantages that may or may not lead to adverse health risks. That's enough of an argument for Yesalis. "I would be talking in a less-jaundiced, more-optimistic, far-less-aggressive tone if this problem were three years old as opposed to 17 years old," he says. "Am I more concerned about kids using tobacco, alcohol or amphetamines than I am about the health effects of steroids? You bet. But that doesn't give anybody license to stick their heads in the sand and ignore steroids. My initial goal when I started talking about steroids was just to lift the rock up and let the light of truth shine forth to show people how bad steroid abuse is in athletics. But nobody, especially the fans, seems to give a damn. I don't lose sleep over the fans of collegiate or professional or Olympic sports not giving a damn. But it does bother me if the parents and coaches in high school sports are more concerned about victories than the well-being of their kids."
Download the National Federation of State High School Associations' steroids awareness brochures and poster.