As more student-athletes consider leaving prep sports for private organizations, administrators are challenged to keep interscholastic sports relevant for everyone.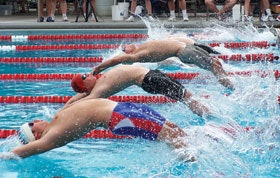 Zack Sampson, who will be a senior at North Kitsap High School in Poulsbo, Wash., this fall, would rather travel nearly 100 miles round-trip as many as four times a week to practice with the Redmond-based Crossfire Premier Soccer Club - sometimes arriving home after midnight - than play for his own school's team. "This is a better way for college coaches to see you, and it's a lot better than high school soccer," Sampson told The Seattle Times earlier this year. "High school soccer is a big joke."
Athletics administrators around the country fear all of interscholastic sports could eventually become "a big joke," although not necessarily for the reasons Sampson cites. It's clear that high school athletics is stuck in a competitive quagmire. On one side are independent national groups, at least one of which reportedly informed their local affiliated clubs that participation on high school teams is inconsistent with the organizations' principles. On the other are state athletic associations and high school sports administrators who struggle to keep their best players engaged and challenged in programs that also encourage open participation.
"There is concern that certain sports might fall by the wayside because of a lack of numbers resulting from kids gravitating toward club sports," says Tim Flannery, an assistant director at the National Federation of State High School Associations, who adds that because sports are not mandated, they can be viewed by tight-budgeted school boards as expendable. "We're seeing that in more and more places throughout the country, and that scares the heck out of me."
"The threat is not that athletes are leaving. We've had that happen in the past - more so in hockey than any other sport - and now we're seeing that in soccer," says Doug Chickering, executive director of the Wisconsin Interscholastic Athletic Association. "The concern I have is for kids who are never going to have elite status but who are going to forsake a high school program to follow a dream that perhaps may not be in their best interests. If we let kids think there are other programs out there that are substitutes for high school programs, then eventually we're going to drain the pool of kids who want to participate in high school athletics."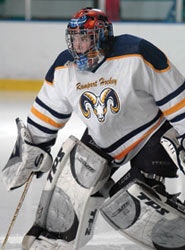 High school sports administrators might need to accept some culpability here, according to Doug Robinson, an assistant football coach and head track coach at Alta High School in Sandy, Utah, who also pens a weekly column for Salt Lake City's Deseret Morning News. "The problem with school sports in America is that they already are designed for the elite," he wrote in April. "Think about it. We spend billions of dollars on high school sports teams so that a relative few can play. Whether a school has 2,500 students or 100, the size of the teams is pretty much fixed. We would have been much better off spending the time and effort on intramural programs that provide athletics for every student who wanted to participate."
The same piece featured a point-counterpoint between Robinson and incoming Utah High School Activities Association executive director Dave Wilkey in which Robinson argued that aspiring athletes should be treated no differently than art or theater students who are allowed to attend the best schools in their own areas of specialization. "The difference," Wilkey told Robinson, "is we're trying to keep a competitive balance in sports. We are trying to keep a level playing field. We are trying to create the best balance for the most athletes we can."
Make no mistake: Plenty of student-athletes still want to participate in interscholastic athletics - almost 7,343,000 of them, in fact, during the 2006-07 academic year. That's a one-year increase of more than 183,000, according to the NFHS.
The challenge, Flannery says, is making sure that desire to participate continues. "Schools need to make the game environment fun, friendly and entertaining so that kids want to be a part of it and think it's important," he says. "If you have a soccer program at a school where kids think soccer isn't appreciated, they're more likely to go to a club program. But if their sport is important in your school, they're going to be hard-pressed to give it up."
That's the message Tom Lampkin hoped to send last year when he took over as head coach of the new baseball program at Union High School, which opened in Vancouver, Wash., in fall 2007. The former Major League Baseball catcher was forced early on to counter local speculation that players who also participated on youth baseball clubs with which Union's other coaches were affiliated would have a distinct advantage when it came to roster decisions. "It doesn't matter which summer league team you play for," Lampkin told Vancouver's The Columbian newspaper at the time. "If you go to Union High School and you try out for the baseball team, you have just as good a shot as anyone and everyone to make a team and receive playing time."
Popular club sports such as basketball, swimming, volleyball, hockey and soccer that target players of slightly above-average ability all the way up to elite status may provide stronger competition. But they also usually involve significant travel, generous time commitments from both players and parents, and dramatic cost increases compared to high school sports. According to some estimates, families collectively spend more money paying for club sports than they can ever hope to recover in college scholarships. That's why critics of club program migration say the cash would be better spent elsewhere. "Just think if parents would stick it in a money market account for tuition," Paul Romig, a former club coach and now girls' basketball coach at Clovis (Calif.) High School, told the Fresno Bee last year.
"If a kid chooses not to participate for the school, that makes space for a kid who wouldn't otherwise be able to participate," Flannery says. "I don't have a problem if a kid and his or her family decide to play club sports, as long as they understand the impact of the decision they're making. Because you know what? There are no guarantees. You could play club your whole life and never get a scholarship. You could play high school and get a scholarship. Or, you could get injured tomorrow and it could all be over."
Amid reports of an apparent increase in overuse injuries in prep athletes, the NFHS Sports Medicine Advisory Committee has been working with administrators of the Ohio State University College of Medicine's high school sports injury surveillance study. All injuries incurred during games and practices at a network of 100 participating schools are documented and used to help quantify the federation's hunch that student-athletes who participate in both school and non-school sports during the same season are more susceptible to injuries. (The findings of the surveillance study also help influence changes in rules and equipment use.) The number of reporting schools and participating sports is expected to double this fall, according to Dawn Comstock, the assistant professor at OSU who administers the study.
The overuse issue has been somewhat overlooked, according to Flannery. "Just look at it from a practical standpoint: A 16-year-old student is trying to do well in school, playing a sport for the school and then playing for some other team after school that he or she thinks is the ticket to success. We're saying, 'Hey, let's take a look at that.' We're only human beings. We can only go so far without experiencing some kind of injury."
Moreover, extensive competition options can lead to physical or emotional exhaustion in some student-athletes. Alex Christiansen, an all-conference quarterback at East Grand Forks (N.D.) Senior High School during his junior year, also played goalie in an elite hockey league. He dropped football last fall in favor of the ice, citing the physical wear-and-tear. "My body couldn't even function," Christiansen told the Grand Forks Herald in October, referring to weekends in which he played both football and hockey. "I'd get back to town on Sunday nights and couldn't leave my bed. It was just awful."
Karlie Houston, who played volleyball for four years at Sanger (Calif.) High School while also participating on a club volleyball team, suffered psychological setbacks. Upon graduating in 2006, she earned a scholarship at California State University, Fresno, but quit in the middle of her first season, the result of burnout. "If I wouldn't have played club volleyball, I probably would have been happier at Fresno State," she told the Fresno Bee last year. "I loved playing volleyball, but it turned into a job."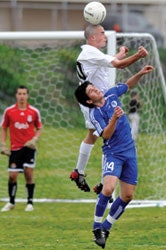 Any discussion about club sports invariably leads to debate over rules regarding dual competition. Although many state athletic associations (but, notably, not all) have restrictions in place prohibiting student-athletes from being involved with both school and non-school teams in the same sport during the same season, individual schools still struggle with how to address the issue.
Some have adopted guidelines set forth by state athletic associations or developed their own waiver policies that allow players to miss one or two interscholastic events in favor of attending a club competition. In Georgia, for example, dual participation is allowed, although schools have the option of prohibiting it. And Missouri only permits it for swimmers and divers - who are among the most vocal opponents of such limitations.
A Nebraska lawmaker went a step further this year when he introduced a measure that would have allowed high school athletes to compete for both prep and club teams in the same sport during the same season - rendering toothless a longtime tenet of the Nebraska School Activities Association. The proposed bill stalled in committee, as opponents claimed such unrestricted freedom for young athletes would crack the foundation on which high school sports was built.
Flannery says he is convinced schools can retain talented student-athletes like Christiansen and Houston "if we could prove our worth. That is, if we could ensure that every kid who participates is getting some valuable life lesson out of it, beyond the sport itself." He suggests back-to-basics experimenting with the kinds of team-building exercises that were popular years ago but fell out of fashion as high school athletics began resembling college sports - such as post-game snack sessions, community-service projects and group attendance at the school's other sporting events. "That's how you keep kids engaged," Flannery says. "And it will create a sense of pride."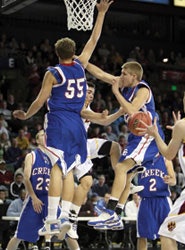 On the other hand, he acknowledges that schools must respect student-athletes' decisions to bypass prep programs. Doing so will help minimize conflicts between athletes, parents, coaches and club organizations. To that end, NFHS officials have tried building alliances with such groups as USA Swimming, the Amateur Athletic Union, USA Track and Field, and U.S. Soccer. Many local conflicts, Flannery says, often stem from "renegade" groups at the grassroots level - not with the national governing bodies themselves. "The problem is, neither they nor we have governing authority and penalizing power," he says. "We leave that up to the state associations and school districts."
In Wisconsin, the WIAA may attempt to thwart the threat of losing school sports programs (or at least having them significantly weakened) by considering an alternative to using taxpayer dollars that would call on local foundations to fund stronger programs while remaining under schools' control. At the same time, the association is facing increased pressure from club sports leaders who are opposed to a new rule that places limits on the number of student-athletes from a given high school program who can play on the same non-school team in soccer, volleyball, basketball, hockey, baseball, softball and football.
WIAA leaders cite a need for the rule to prevent non-school teams from resembling school teams practicing or competing out of season. And while they say they are open to discussing the rule and its potential impact on both prep and club teams, an editorial in a recent edition of the state association's newsletter stood by the new policy: "Elimination of the rule altogether has consequences ... contrary to the purpose of this association."
Chickering, for one, says it's time athletics administrators take a stand for what they believe is in the best interests of all their student-athletes. "I think it's time we dig in a little bit," he says, "and start to defend why we have sports programs in our schools."