It is widely acknowledged that the role of high school athletics is to promote life-skills education through sports, but lately a key life skill in this equation — sportsmanship — has deteriorated on the interscholastic level to the point that one high school athletic association recently considered banning the time-honored post-game handshake.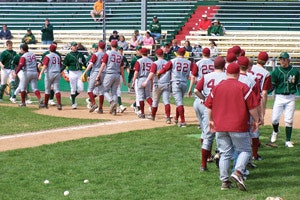 The Kentucky High School Athletic Association made national news last fall when it announced that it would be banning post-game handshakes after most competitions. The reason? More than two-dozen incidents in the past three years in Kentucky, according to the KHSAA. After an uproar from the high school community at large, the KHSAA revised its policy to state that these handshakes can still occur at the participating schools' discretion, but if a fight breaks out, the KHSAA is not responsible.
Discussion about banning post-game handshakes is not a new one to Dusty Young, associate director of the New Mexico Activities Association, and his colleagues nationwide. "Many associations have discussed it as they don't want a situation where kids who are frustrated after a game say something and a situation escalates," he says. "I understand where they are coming from, but those post-game handshakes are a great sign of sportsmanship and our kids need to be showing each other what interscholastic sports are all about."
David Anderson, assistant executive director of the Iowa High School Athletic Association, agrees. "If we need to keep kids separated from shaking hands after the game, then there's a much bigger issue than them just passing by each other in the handshake line."
A large part of the problem is the win-at-all-costs mentality that has festered on the interscholastic level and been fed by a number of factors.
UNDER PRESSURE
The pressure to win has always been that ominous cloud hovering over high school athletes, and putting in the hard work necessary to achieve that goal of winning is one of those valuable life lessons. Parents, coaches and teammates alike all foster an athlete's will to win, but what happens when that athlete doesn't win? Rather than focus their energy on simply supporting their son or daughter, some parents instead verbally abuse officials, coaches and, worst of all, their son's or daughter's teenage opponents.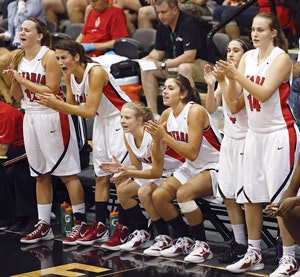 Tim Flannery, director of coach education for the National Federation of State High School Associations, points to inappropriate adult modeling as one of the biggest problems high school athletics is facing today. "Sports are obviously emotional, but a big part of sports is controlling those emotions for the good of the team," he says. "When you see a coach or parent acting inappropriately and yelling, it sends a mixed message and allows everyone around those people to get caught up in the emotion of the event, which just worsens the situation."
Those emotions can also bring parents back to their own playing days, which can be equally as dangerous, as Anderson points out. "One time at a volleyball game a parent had to be removed, and I still remember his daughter saying to him, 'Dad, this is my time. Your time is over. Quit spoiling it for us.' I wish a lot of parents could have heard her say that."
The pressure to win doesn't just come from parents, but from coaches, as well. Some of that pressure can be attributed to administration, parents and the local community, but another factor is the increase in non-education-trained coaches. Across the country, more high schools have been forced to turn to off-campus coaches as more teachers step away from coaching. Some of these coaches come from the club sports arena, which is built almost exclusively around the premise of winning.
"Unfortunately we're in a time when not every coach on your campus is going to be an educator," says Young. "You are bringing in folks from a club mentality who maybe don't have the same views as those teachers and educators. That's definitely a battle we are facing on the high school level."
Ultimately, it's what is happening on the field or court that is the fuel to the fire, and that fire can burn bright when players involved are on the wrong end of a blowout, and the opposing team is accused of running up the score.
SLAUGHTER RULES
Two recent lopsided victories that made national news involved a girls' basketball game in Indiana and a boys' football game in Texas. Toward the end of 2012, Bloomington South High School's girls defeated Arlington High School 107-2. In the game, the Bloomington South coach instructed his players to keep shooting as he felt it would be more embarrassing if they didn't.
Last fall, Aledo High School defeated Fort Worth Western Hills 91-0, leading one parent to file a complaint with the Aledo Independent School District — a complaint that was dismissed. In it, the parent stated, "Picking up my son from the field house after the game and taking him home was tough. I did not know what to say to my son on the ride home to explain the behavior of the Aledo coaches for not easing up when the game was in hand."
Many states, including Texas, use a running clock in basketball and football, but some suggest the fairest measure is to end the game once a 50-point deficit has been reached by halftime or later. This is a measure taken in both Iowa and New Mexico, but Anderson discovered one flaw with this rule: "When you would stop the game at halftime and all the spectators would leave, what happens to the 120 kids in the marching band with no one left to watch their performance?"
Young, however, cites a strong commitment from host schools to prevent this from happening in his home state as halftime activities, including homecoming-related activities, have gone on successfully even when a game has reached that 50-point differential by halftime.
Obnoxious parents, uneven games and aggressive coaches have always been a factor in high school sports, but the latest, and perhaps most dangerous, poor sportsmanship trend is the amount of trash-talking and bullying occurring over social media.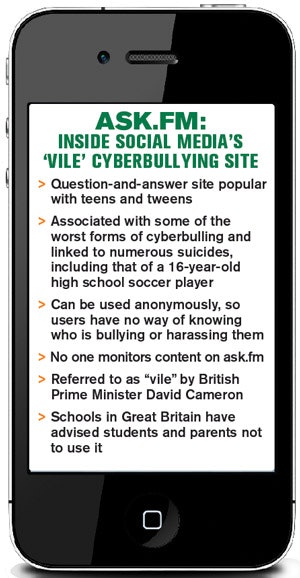 SOCIAL ANXIETY
Most schools have social media and code-of-conduct policies, and they empower their athletes to police one another to ensure they are adhering to those policies, but as Young puts it, "Kids are kids and they do make mistakes, especially with access to social media. They will say things in the heat of the moment."
Most code-of-conduct policies don't just focus on the cyberbullying of opponents, but classmates, as well. Last year, Union (Utah) High School coach Matt Labrum suspended his entire football team when it was reported that team members had been cyberbullying a fellow student.
Says Anderson, "Social media has evolved so quickly and almost uncontrollably to the point where students are posting comments about opponents that are quite inappropriate. That gets kids fired up even more before the contest even begins."
In Iowa, there is an anti-bullying and harassment law that is being debated as of this writing. One of the key sticking points is that the bill would authorize school officials to confront bullying that takes place outside of school, including communications on social media. Not only does it raise freedom of speech questions, but it also raises questions about when exactly teachers would have the time to do this on top of their teaching and extracurricular leadership responsibilities.
"A lot of schools have put a police officer in the school as a resource officer," Anderson says. "There may need to be another staff member who's just monitoring social media and trying to get that under control."
This is just one of many topics being examined by sportsmanship committees around the country, including the one Young is a member of in New Mexico. "We want to change the culture and remind everyone that this is high school athletics, and good sportsmanship and character are a big part of that."
Flannery agrees that these types of athletic administrative initiatives are key, suggesting that educational programs offered by the NFHS that teach athletic directors how to run an athletic program and teach coaches how to run their respective programs would help.
"We have over one million interscholastic coaches and over 7.5 million kids participating," says Flannery. "If we don't commit to teaching these kids these lessons in life as our primary goal and mission, then there's no sense in having sports in school."
TAUNTING TALES
"We've got spirit, yes we do. We've got spirit, how about you?" The days of friendly banter between rival spectators has seen a steady decline in recent years, replaced with vulgar and inappropriate taunts directed at rival players, coaches and fans. Here's a look at some recent taunts or demonstrations of poor sportsmanship on the high school level:
• Lawrence (Ind.) North High School's all-black girls' basketball team played Bedford North Lawrence, a mostly white team, in an Indiana state semifinal game earlier this year. According to a complaint filed with the Indiana High School Athletic Association, students wore gorilla outfits and safari gear. Bedford North athletic director Jeff Callahan denied racism allegations, indicating the costumes had been worn at other games during the season. A similar incident occurred two years ago during a basketball game between two Pittsburgh-area teams when students dressed in banana suits and allegedly taunted the opposing team with chants of "monkeys" and "cotton pickers."
• McAdory (Ala.) High School students created a sign for a football game against the Pinson Valley Indians, warning the opponent that it would leave in a "Trail of Tears," a reference to Native American genocide from the 1800s. McAdory administrators ultimately instructed its social studies and history teachers to review units concerning Native American displacement following the Indian Removal Act of 1830.
• Five Amityville (N.Y.) High School football players and their families allege members of the Comsewogue coaching staff and football beat, stomped and chocked them while yelling racial slurs during a fight that broke out in the second quarter of a game between the schools. In lawsuits that were to be filed as of this writing, the parents were going to try to prove that Comsewogue wrongfully hired and retained coaches with violent and racist tendencies.
• At a basketball game between New York high schools Pittsford Sutherland and Brighton, students from Pittsford began chanting "We want slurpees" when a Brighton player of Indian descent was shooting free throws.
-D.V.M.
---
This article originally appeared in the May 2014 issue of Athletic Business under the headline, "Unsportsmanlike Conduct."