Construction Cost: N/A
Area / Square Feet: 34,800 SF
Occupancy Date: April 2021
Yale University's Tsai Fieldhouse is a new home for the men's and women's lacrosse and soccer teams, both of which rank among the top teams nationally in collegiate athletics. It complements the existing Reese Stadium grandstand and new synthetic turf field, creating a comprehensive training and performance center for athletes, coaches and fans.
New features include a fan zone, 720 bleacher seats, a broadcasting area and a new promenade connecting Central Avenue with the Yale Bowl main entry. Inside, the facility is a central hub for the lacrosse and soccer teams, housing locker rooms, coaches' offices, a team lounge and a film room. A centralized performance center, including co-located strength and conditioning, nutrition, athletic medicine, diagnostics and hydrotherapy areas, serves all of Yale's student-athletes. On game days, the athlete lounge turns into a VIP hospitality space overlooking the action on the field.
The building knits itself into the existing fabric of the athletics complex, which is west of the historic main campus in the core of New Haven. The west campus is characterized by a loose agglomeration of playing fields and existing architecture, including the storied Yale Bowl, Cox Cage, an adjacent brick structure that is home to indoor track and field teams, and seating structures from various periods. The new fieldhouse quietly nods to the existing architectural context of the adjacent athletics facilities while responding to the oval and curvilinear site geometries. Resulting circulation patterns navigate grade changes and create a new circumferential programmatic layout. It was conceptualized as a "Unifying Edge" that becomes a functional threshold, organizing the assemblage of athletic spaces and buildings within the athletics complex.
ARCHITECT OF RECORD
Perkins&Will
Boston, Mass.
PROJECT VENDORS
| | |
| --- | --- |
| Training Facilities - Taping/Treatment Tables | Athletic Edge |
| Locker/Shower - Flooring | Dal-Tile Corp. |
| Gymnasium/Field House/Arena - Arena Seating | Hussey Seating Company |
| Locker/Shower - Saunas/Whirlpools | Hydroworx |
| Training Facilities - Hydrotherapy Tanks | Hydroworx |
| Outdoor Facilities/Stadiums - Bleachers/Grandstands | InProduction |
| Fitness Center - Free-Weight Equipment | Mondo |
| Locker/Shower - Lockers | Shield |
| Fitness Center - Strength Equipment | Sorinex |
View Next Project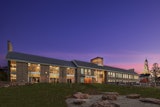 Philadelphia, Pennsylvania