Construction Cost: $1 million
Area / Square Feet: 10,000
Occupancy Date: August 2020
History is big at Carroll University, Wisconsin's first four-year institution of higher learning, but so too is innovation. When university officials decided it was time to retire a fitness center carved from a crowded Hoosiers-era gymnasium, Carroll went big, and created two, bright, colorful and modern RecSports Fitness Centers.
The move was driven by student demand and a need to completely transform students' recreation experiences. The results are new spaces that are light-filled, airy and purpose- built, embodying Carroll's commitment to wellness, accessibility and inclusiveness. The spaces offer two completely different fitness environments which meet the needs of everyone — from beginner to advanced — and serve all students, faculty and staff at the university. These new spaces are located directly adjacent to residence halls, creating a natural connection to the school's student body. Sound-mitigating rubber flooring and sound-deflecting ceiling tiles allow for constant activity without disturbing nearby studies.
Exterior graphics, some featuring actual Carroll students, draw users in and complement the local natural limestone look featured consistently on campus. Bike racks and a bike maintenance stand round out the surrounding green space and connect the facilities to state trails that pass by, in addition to encouraging alternative transportation.
High-efficiency LED lighting, pops of bright Carroll orange, diverse branding imagery and inspirational messaging all help motivate students — from the day they first step on campus through their final workout as a Pioneer.
Project Architects
Architect Of Record
Allume Architects
Elm Grove, WI
Associate Architect
StrucRite Inc.
Waukesha, WI
Original Building Architect
AG Architecture
Wauwatosa, WI
Project Vendors
Fitness Center > Entertainment Systems:
Automation Arts
Fitness Center > Flooring, Fitness Center:
PLAE
Fitness Center > Free-Weight Equipment:
Rogue Fitness
Fitness Center > Strength Equipment:
Eleiko
Locker/Shower > Lockers:
Emmons Business Interiors
Other > Fitness Center Bodyweight Station:
TRX
Other > Fitness Center Functional Training:
Concept2
Other > Fitness Center Selectorized Equipment:
Precor
Other > Fitness Center Accessories:
Stroops
Other > Fitness Center Cardio Alternatives:
Assault Fitness
Other > Fitness Center Indoor/Exterior Branding/Graphics:
Marek Group
View Next Project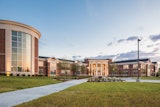 View Previous Project