Construction Cost: $21 million (Canadian)
Area / Square Feet: 29,880 SF
Occupancy Date: June 2020
The opening of the new SFU stadium is the culmination of a vision that was born alongside the founding of the university, when its first chancellor insisted that a gymnasium and playing fields be included in the architectural competition brief to "promote athletic excellence on a scale equivalent to research."
The original development plan included concrete bleachers in front of the gymnasium complex, but the seating was determined to be too expensive at the time and the campus has since lacked this critical community-building space. In 2014, the student society passed a referendum to finance the construction of a new stadium. The primary design challenge for this project was to realize and satisfy the wide-ranging aspirations for the facility including fostering community on campus.
Recognizing that athletic events only occur 20 days out of the year, the intent was to design an outdoor gathering space for both formal and informal uses, providing a variety of gathering and viewing opportunities to allow students the freedom to enjoy events as they decide. The natural slope from the athletics complex down to the field was the perfect location for the new stadium, with 1,823 formal seats and more than 300 informal seats to enjoy events and socialize at Terry Fox Field.
The expansive cantilevered roof, which covers more than half the seating, integrates a press box at the terrace level with washrooms, service spaces and the football locker room located below.
ARCHITECT OF RECORD
Perkins&Will
Vancouver, B.C.
PROJECT VENDORS
| | |
| --- | --- |
| Locker/Shower - Lockers | Hollman |
| Outdoor Facilities/Stadiums - Bleachers/Grandstands | Hussey Seating Company |
| Outdoor Facilities/Stadiums - Lighting | Lumenpulse |
| Locker/Shower - Flooring | Mondo |
| Building Systems - Pre-Engineered Structures | Structural Steel – George Third & Son |
| Outdoor Facilities/Stadiums - Scoreboards | Daktronics |
View Next Project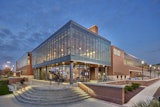 Elizabethtown, Pennsylvania