Construction Cost: $37.2 million
Area / Square Feet: 84,000 SF (new), 5,300 (renovation)
Occupancy Date: October 2020
The renovation and expansion of N.C. State's Wellness and Recreation Center physically connects multiple existing recreation facilities to create a new, unified identity for the complex and a vibrant campus destination for wellness and recreation programming. The modernized 60-year-old Wellness and Recreation Center is located at a central node of campus and student life, where it meets the recreation and wellness needs of the evolving N.C. State campus.
Glazing fills the space with natural light and provides users with incredible views of campus. The transparency also promotes activity by highlighting the energy inside the facility. Fitness neighborhoods are created throughout the four levels, with each floor becoming progressively more active.
To tie all levels together, a large feature stair is showcased in the atrium, which allows users to easily circulate throughout the space. This stair, in combination with the sprint ramp, creates a fitness circuit that provides users with a unique variety of experiences. A custom-designed and detailed red railing circulates throughout the atrium. The bold red infuses the N.C. State brand into the space visually and physically as it connects the sprint ramp to the main circulation stair. This feature showcases a defined fitness circuit that provides both flexibility and variety for each user's everyday workout.
Additionally, the Wellness and Recreation Center provides much needed academic space to support the Human Exercise Studies program. The building houses three flexible classrooms, as well as a teaching kitchen. These spaces, in combination with a Human Exercise Studies office suite, provide a consolidated home for the program.
ARCHITECT OF RECORD
CRA Associates
Chapel Hill, N.C.
ASSOCIATE ARCHITECT
HOK
Kansas City, Mo.
PROJECT VENDORS
| | |
| --- | --- |
| Fitness Center - Cardiovascular Equipment | Assault Fitness |
| Fitness Center - Cardiovascular Equipment | Concept2 |
| Fitness Center - Cardiovascular Equipment | Cybex |
| Fitness Center - Cardiovascular Equipment | Expresso |
| Fitness Center - Cardiovascular Equipment | Free Motion |
| Fitness Center - Free-Weight Equipment | Hammer Strength |
| Fitness Center - Strength Equipment | Hammer Strength |
| Fitness Center - Cardiovascular Equipment | Jacobs Ladder |
| Fitness Center - Flooring, Aerobics | Junkers Hardwood |
| Fitness Center - Cardiovascular Equipment | Life Fitness |
| Fitness Center - Free-Weight Equipment | Life Fitness |
| Fitness Center - Strength Equipment | Life Fitness |
| Fitness Center - Cardiovascular Equipment | |
| Fitness Center - Climbing Walls | Nicros |
| Fitness Center - Cardiovascular Equipment | Octane Fitness |
| Fitness Center - Flooring, Fitness Center | PLAE |
| Fitness Center - Flooring, Aerobics | PLAE |
| Fitness Center - Free-Weight Equipment | Power Block |
| Fitness Center - Cardiovascular Equipment | Precor |
| Fitness Center - Cardiovascular Equipment | Technogym |
| Fitness Center - Strength Equipment | TechnoGym |
| Fitness Center - Cardiovascular Equipment | Woodway |
| Fitness Center - Strength Equipment | Woodway |
| Outdoor Facilities/Stadiums - Sports Surfaces | FieldTurf |
View Previous Project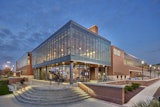 Elizabethtown, Pennsylvania