Construction Cost: $9.98 million
Area / Square Feet: 3,000
Occupancy Date: March 2005
The Douglas H. Buck Community Recreation Center represents a dynamic addition to downtown Littleton. Located directly north of the recently renovated historic Municipal Courthouse and within walking distance of the Littleton light-rail station, the building reflects how Littleton values both tradition and environment.
By breaking up the large building mass into components, the center fits nicely into its downtown context. The pitched roof, brick accents and base complement the neighboring courthouse's details, and the arched windows, overhangs and roof brackets reference the historic railroad depot and nearby library.
Separate community and recreation wings radiate from the lobby reception desk. The community wing houses a multipurpose classroom, a commercial kitchen, two computer rooms and a child-care room. The recreation wing contains a fitness room, a specialized aerobics/dance studio, a gymnasium and a natatorium. The latter features a complex, multidirectional and multiplespeed lazy river for against-the-current walking or speedy tubing. A three-lane, 25-yard lap pool is accessible from the leisure pool, and a warm-water pool is dedicated for therapeutic use and swim lessons. The adjacent outdoor patio includes a whirlpool, as well as space for sunning.
Many design subtleties accommodate the center's mature users. Natural daylight, indirect lighting and special lighting controls are used to ensure even, glare-free light. Exercise equipment is spaced for easy access, and interior colors were chosen to sooth aging eyes.
Project Vendors
Other > Scoreboards/Timing Systems:
Fair-Play Scoreboards
Other > Divider Curtains:
Jaypro Sports LLC
Other > Wall Padding:
Promats Inc.
Other > Fitness Center Flooring:
Tuflex Rubber Flooring
Other > Flooring:
Tuflex Rubber Flooring
View Next Project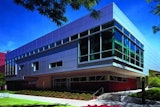 View Previous Project