Construction Cost: $12.2 million
Area / Square Feet: 25,300 SF
Occupancy Date: August 2021
Cotting School is a private non-profit school that serves the needs of students with a broad spectrum of learning and communication disabilities, physical challenges and complex medical conditions. The Campus Center addition provides needed space for the school's athletic and academic programs. It has also become a social hub for Cotting students on Friday nights — a wonderful benefit for the school's 120 students who are drawn from 70 cities and towns in the Greater Boston area.
Visible to travelers on Route 2, the glassy new addition was sited to connect two existing dead-end corridors and provide easy access for students with mobility issues. Branded with oversized letters shouting out the school's name with pride, the new gymnasium has north-facing clerestory glazing and a generous fenestration pattern to provide both daylight and views of the surrounding natural landscape. The roof is gently sloped to provide the optimal angle for future solar panels. Inside, the finish palette creates an upbeat environment, using fresh vibrant hues found in the outdoors. The floor patterns and wall colors were carefully selected to help students who are visually impaired navigate the building. Extra-wide corridors permit wheelchair-users to travel comfortably. Decorated with a nature-inspired custom abstract pattern, the climbing wall includes routes for students with varying needs, including those in wheelchairs.
Bridging indoor and outdoor, the addition encloses a peaceful contemplative garden that connects to the climbing wall and the existing medical clinic. The gym, candlepin bowling lanes, fitness center and adaptive climbing wall are all magnets that give students opportunities to hang out with their peers in a safe and stimulating setting unavailable to them outside of school or in their home communities.
ARCHITECT OF RECORD
ARC/ Architectural Resources Cambridge
Boston, Mass.
PROJECT VENDORS
| | |
| --- | --- |
| Gymnasium/Field House/Arena - Bleachers/Grandstands | Hussey Seating Company |
| Gymnasium/Field House/Arena - Basketball Backboards/Supports | |
| Gymnasium/Field House/Arena - Wall Padding | |
| Fitness Center - Flooring, Fitness Center | Tarkett Sports |
| Fitness Center - Climbing Walls | Walltopia |
View Previous Project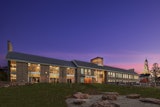 Philadelphia, Pennsylvania