AB Show 2021 Exhibitor Spotlight, as featured in the November | December 2021 issue of AB.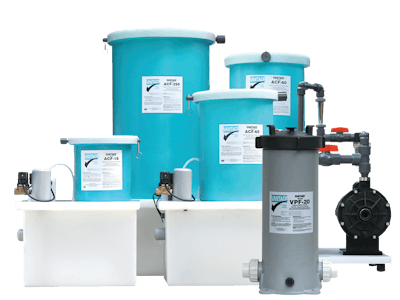 AllChem Performance Products Inc.
The Vantage ACF Series, AllChem's line of calcium hypochlorite tablet feeders, has been developed based on the input of commercial aquatics facility operators to perform under the demanding conditions of modern aquatics facilities. AllChem can help pool operators update existing equipment or replace old liquid-chlorine systems.
www.vantagewatercare.com | vantage@allchem.com | (352) 378-9696
---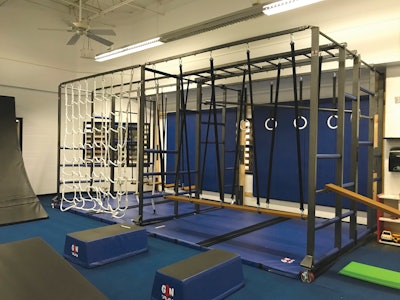 American Athletic Inc.
American Athletic Inc. customers can experience a fun way to test their physical abilities by utilizing the G2N structure. It is strong enough for adults, adaptable enough for children and unique enough for ninjas. The G2N challenges individuals of all ages to be active, creative and skillful. The system offers a comprehensive eight-week curriculum that incorporates gymnastic fundamentals with physical fitness competencies.
www.americanathletic.com | AskAAI@americanathletic.com | (800) 247-3978
---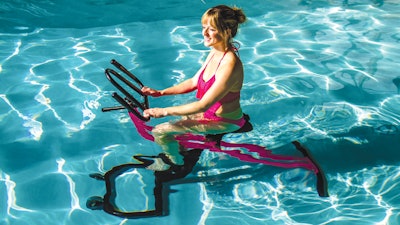 Aqua Creek Products
Those who haven't yet discovered the many benefits to aquatic exercise are in for an exciting and gratifying new journey to wellness. The low-impact nature of both aquatics and cycling come together in the TidalWave Aquatic Pool Bike. Users have the ability to work out longer and more frequently, all the while working toward a healthier lifestyle with less pain and more fun.
www.aquacreek.com | sales@aquacreek.com | (888) 687-3552
---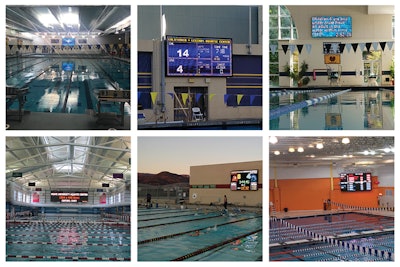 Colorado Time Systems
The scoreboard makes a huge impact on how fans and athletes remember a meet. Colorado Time Systems' experienced consultants listen to clients' vision and put a plan into action to bring it to fruition. The company provides platinum-quality timing, scoring and display systems to facilities across the world.
www.coloradotime.com | info@coloradotime.com | (800) 279-0111
---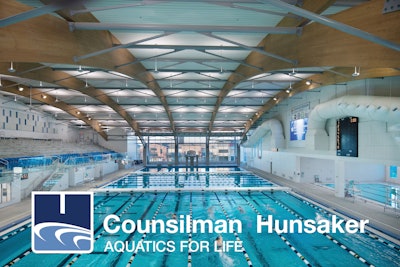 Counsilman-Hunsaker
Counsilman-Hunsaker has been a thought leader in the aquatics community for more than 50 years, expanding project leadership from aquatic architectural design to include engineering audits, feasibility studies, operations consulting and HydroApps, which are cloud-based applications designed to digitize aquatic operations, risk management and scheduling. With unique expertise and partnerships, Counsilman-Hunsaker helps operators imagine the facility of their dreams and then build and operate it to the highest industry safety standards.
www.counsilmanhunsaker.com | aquaticsforlife@chh2o.com | (314) 894-1245
---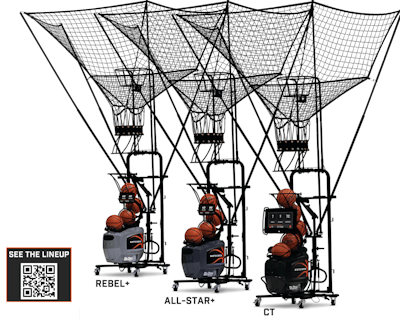 Dr. Dish Basketball
Dr. Dish Basketball accelerates player performance with the most innovative game-like training solutions available, allowing coaches and players to get better faster than ever before. The shooting machines provide users access to 200-plus on-demand workouts, as well as the ability to create and assign custom workouts or drills, take 1,500 shots per hour, utilize a multiplayer mode and view instant analytics. Dr. Dish Basketball has become the preferred source for basketball training among top coaches and programs across the country.
www.drdishbasketball.com | info@drdishbasketball.com | (888) 887-7453
---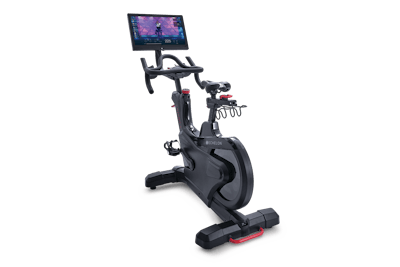 Echelon
Designed from the ground up with commercial-grade materials and convenient adjustability, the Echelon EX-Pro Connect Bike transforms any space into a high-end fitness studio. The immersive 24-inch class screen broadcasts live and on-demand cycling classes led by experienced instructors and displays real-time performance stats such as leaderboard rankings, calories burned and distances. Users also gain access to 2,000-plus off-equipment workouts like high-intensity interval training, strength training, yoga and more — all from the built-in touchscreen.
www.echeloncommercial.com | commercialsales@echelonfit.com | (423) 855-8989
---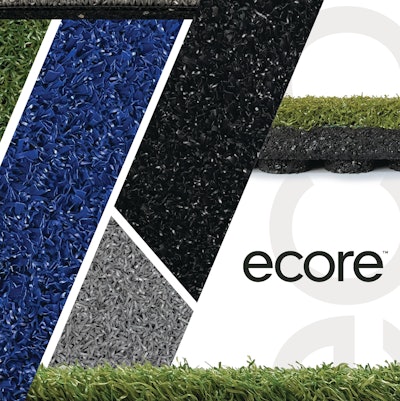 Ecore Athletic
Ecore recently launched several new turf products. Whether it's turf for aggressive functional training or turf for a large conditioning or recreational field, Ecore has clients covered with RageTurf, FlexTurf, and FierceTurf. Each surface layer has either a fusion-bonded vulcanized composition rubber (VCR) base layer or a field-united VCR ShockPad to provide various levels of safety, ergonomic and acoustic benefits to any space.
www.ecoreathletic.com | salessupport@ecoreintl.com | (866) 795-2732
---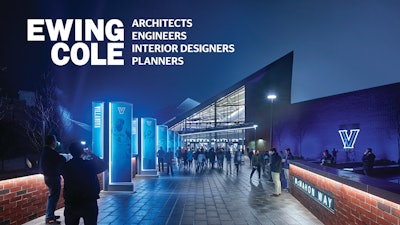 EwingCole
EwingCole is a fully integrated architecture, engineering, interior design and planning firm with offices in Philadelphia, Baltimore, New York, Pittsburgh, Charlotte, Raleigh, San Diego and Irvine. EwingCole has delivered some of the nation's largest arenas, including the 82,500-seat MetLife Stadium in East Rutherford, N.J., and the 43,500-seat Citizens Bank Park in Philadelphia. EwingCole's goal is to design sports venues to enhance the experience of every user — owners, athletes, fans and staff.
www.ewingcole.com/design | amazziotta@ewingcole.com | (215) 625-4673
---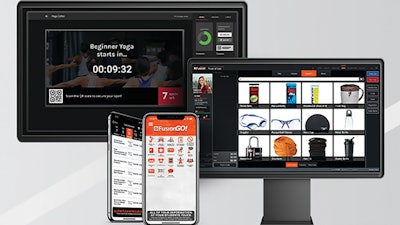 Fusion
Fusion is the most powerful and intuitive recreation management software solution on the market. Together with the FusionGO mobile app, FusionIM league management software and Fusion Wave digital signage, all operational needs are met in style. Fusion can help users streamline workflows, engage clients, and increase sales and participation. Fusion products are backed by a support team that's available 24/7.
www.innosoftfusion.com | sales@innosoft.ca | (888) 510-3827
---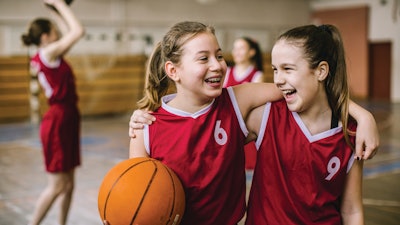 H2I Group
The H2I Group believes players thrive in an enviable, safe sports center. The company's offerings include basketball products, bleachers and seating, scoreboards, athletic flooring and more. The H2I Group aspires to help facilities create a safe space users can be proud of.
www.h2igroup.com | info@h2igroup.com | (888) 239-8747
---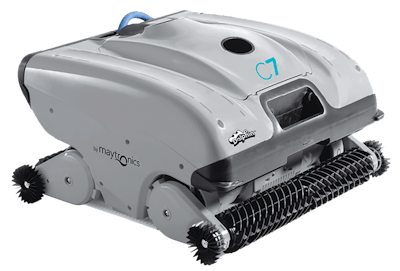 Lincoln Aquatics
Dolphin commercial robots from Lincoln Aquatics make maintaining pool facilities a breeze. Users just plug it in and press power. When finished, they simply open the unit, remove the filters and rinse them clean. All Dolphin units use CleverClean Smart Navigation to ensure complete pool coverage, and the Dolphin C7 comes with a remote control to spot-clean, as well as durable tracks and dual scrubbing brushes. A limited two-year warranty covers parts and labor.
www.lincolnaquatics.com | cs@lincolnaquatics.com | (800) 223-5450
---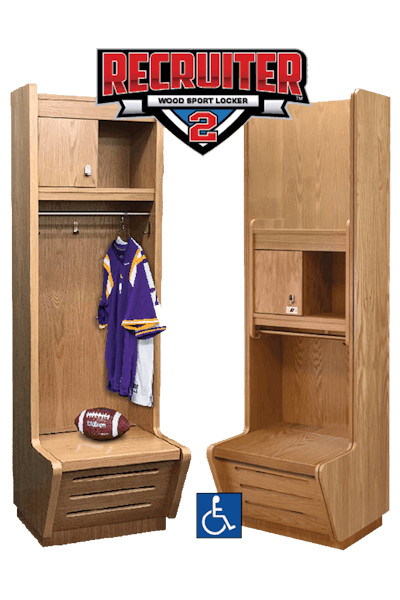 List Industries
List Industries' new Production Recruiter™ 2 wood sport lockers and available ADA design combine high-quality components and accessories with the convenience of a pre-assembled, ready-to-ship locker system. Made from furniture-grade hardwood with a modern contour shape, the lockers offer a security box with soft-close hinges and three lock options. List Industries' 84-inch-tall-by-24-inch-wide starter unit has a new ADA insert that lowers the security box, shelf, coat hooks and hang bar.
www.listindustries.com | stevetroyano@listindustries.com | (800) 776-1342
---


Matrix Fitness
Matrix continues to expand its portfolio of 500-plus innovative products. Among the new advancements is the Matrix Virtual Training Cycle, an immersive cycling experience that delivers exclusive programs, instructor-led content and more to the cardio floor. Other highlights include the easy-to-use Go Strength Series, ideal for users new to strength training and circuit programs, as well as the Magnum PRO Configurable Rack, a customizable solution that meets the demands of today's strength coaches, trainers and athletes.
www.matrixfitness.com | info@matrixfitness.com | (866) 693-4863
---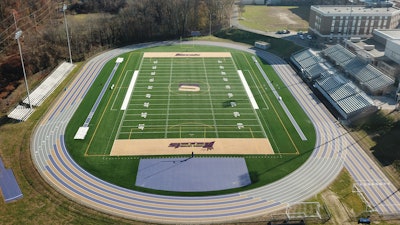 Mondo
Mondo's Super X 720 track combines the wear layer of the company's renowned Super X Performance track with Mondotrack volcanized backing to form one seamless piece that delivers exceptional performance, traction, durability and safety. The backing provides exceptional shock absorbency and energy return, which further helps the performance layer increase athletes' comfort and enables them to achieve faster times than when running on other surfaces. More than 290 world records have been set on Mondo tracks.
www.mondoworldwide.com/na/en/landing-athletics-tracks/ | mondo@mondousa.com | (800) 361-3747
---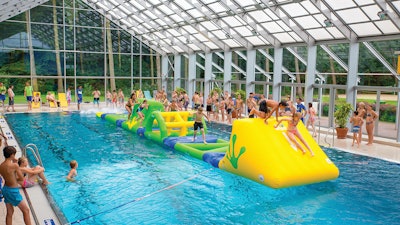 Recreonics Inc.
Wibit's interlocking combinations revitalize and increase visitor numbers by helping transform swimming pools into a water adventure. All combinations are designed to fit standard pool sizes, with special combinations available for small facilities and budgets. Operators can also create their own aquatic adventure and games by building a custom combination and choosing from more than 40 individual interlocking modules and standalone inflatables. German-designed and engineered, Wibit products meet the highest safety standards worldwide.
www.recreonics.com/wibit-inflatable-products-recreonics/ | sales@recreonics.com | (800) 428-3254
---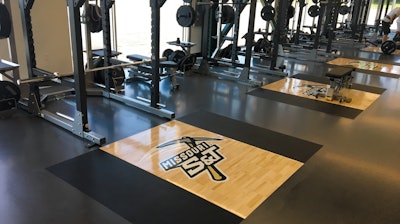 Robbins Sports Surfaces
Pulastic® seamless synthetic multipurpose and specialty sports floor systems are a durable and versatile solution manufactured to meet stringent environmental, quality and safety standards. Pulastic high-performance floors offer comfort and safety with the ultimate in shock absorption, seamless uniformity and optimal friction. Pulastic is perfect for competition venues, as well as fitness and childcare facilities. It provides superior strength by maintaining its performance under everyday use of cardio equipment and free weights.
www.robbinsfloor.com | info@robbinsfloor.com | (800) 543-1913
---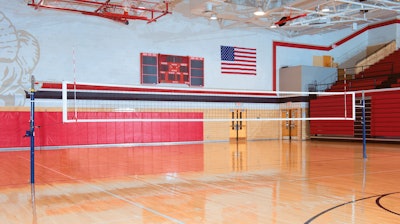 Spalding
Spalding's Elite Aluminum volleyball structure is lightweight and easy to set up. The system's high-strength uprights and sleek design make it a popular choice for competitive play. Uprights are made of 3-inch O.D. extruded aluminum. The straight piston allows for clean lines and is spring-loaded to allow for easy adjustment regardless of competition height, while the enclosed pulley helps keep the cable from falling.
www.spalding.com | Inquire@spaldingequipment.com | (800) 435-3865
---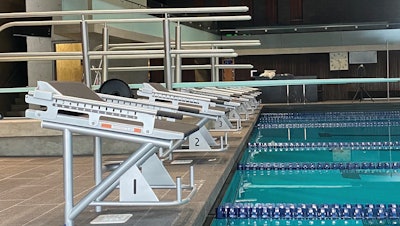 Spectrum Aquatics
Spectrum Aquatics offers both single- and dual-post starting platforms, which include non-slip tops and steps. The stainless steel block tops are coated with a grit overlay, providing a level of traction not available in competing products. Custom powder-coat colors and logo options are available for most of Spectrum's blocks.
www.spectrumproducts.com | info@spectrumproducts.com | (800) 791-8056
---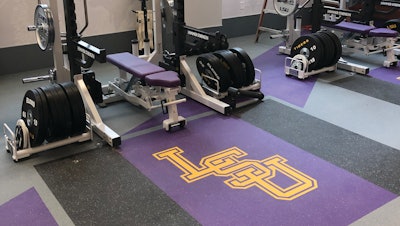 SportFloor by North West Rubber
ReAction Elite is designed to provide safety, comfort and durability. With a high-density wear layer composed of vulcanized virgin rubber installed over a cushion and base pad, this multilayer system is the ultimate solution for shock absorption, sound reduction, support and traction during strength and conditioning training. The base layer is available in two densities to accommodate high-impact, low-energy-return activities, or to lower the fatigue factor for plyometric activities such as box jumping.
www.northwestrubber.com/sportfloor/ | sales@northwestrubber.com | (800) 663-8724