The University of Cincinnati gives new meaning to the term "campus recreation center"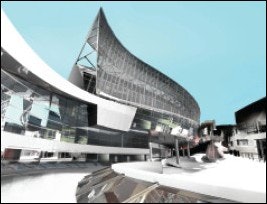 With 30,000 students populating a main campus located on little more than a large city block, the University of Cincinnati is a tight-knit community out of necessity. Two massive campus construction projects currently under way reinforce that notion in their very names: MainStreet, a landscaped corridor linking new and renovated student-life destinations, and Varsity Village, a clustering of new intercollegiate athletics facilities.
The $234 million MainStreet project alone represents the largest capital improvement outlay in the school's 185-year history. And while MainStreet is designed to turn the UC campus into - as The Cincinnati Enquirer puts it - a "thriving 24-hour venue for students, alumni and visitors," its largest facility represents a microcosm of sorts. The Student Recreation Center (pictured), to be opened in phases between summer 2005 and winter 2006, will encompass 350,000 square feet and include six hardwood basketball courts, eight racquetball courts, a suspended jogging track, a 50-meter lap pool, a leisure pool, a 22-person whirlpool, a climbing wall, three multipurpose rooms, and 15,000 square feet devoted to cardiovascular fitness and weight training. As impressive as that list of amenities may be, recreation components comprise only 185,000 square feet of the facility. That leaves the balance of space for student housing, a convenience store, a food court, a restaurant, classrooms and even home and visitor football locker rooms (the new center is located in the shadow of the Bearcats' Nippert Stadium).
It's this latter list of components that makes the facility truly special, at least in the minds of UC officials. "When all is said and done, we'll have one of the most unique buildings in the country," says Kim Schmidt, UC's recreation director for the past 15 years. But more important to Schmidt than the beds the building will provide for some 200 students is the expanded recreation space and programming opportunities it will afford the entire campus population. "We're going to start a personal-training program, a summer camp program and fitness assessments," says Schmidt, who traditionally has had to negotiate access to the university's intercollegiate competition venues to house her department's offerings. "We were never really high on the list of priorities in terms of scheduling. There were certainly enough times when we had things scheduled and were bumped. That makes it difficult. I don't think there are words to describe the feeling of having our own facility."
For a small percentage of UC students, that facility will serve not as a destination point, but as home - the kind they aren't likely to ever see again. "They can live there, eat there, go to school there and work out there," says Steven Sayers, associate vice president for campus services. "Theoretically, it's possible for students to never leave that complex."
There's always graduation, of course. And then the real world.