The University of New Haven Recreation Center's creative use of a snack bar and lounge space is part of a trend which blurs the line between rec center and student union.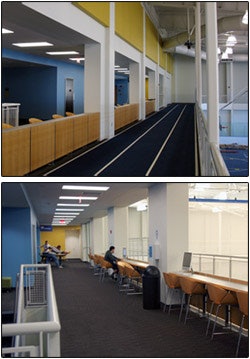 College recreation centers exist mainly to provide opportunities for fitness and sports, but as time has shown them to be hubs for student life, the design of lounge space has taken more precedence and the insertion of non-activity space has become more ingenious. Where once the area for socializing might have been limited to groups of plush chairs in the lobby, modern rec centers often feature food courts and other components once associated with the student union.
The inclusion of wireless Internet access is something that helps further blur the line between rec center and student union, and gives designers an opportunity to create a place for laptop-toting students to gather. This example, at the University of New Haven Recreation Center, places a work and socializing space where the facility's upper concourse meets the suspended jogging track. Designer Sasaki Associates of Watertown, Mass., replaced the traditional separator (a railing) with a snack bar and outfitted it with electrical outlets and bar stools. With multipurpose rooms and vending machines close by, it's an ideal spot for enjoying a beverage, checking e-mail and watching the activity on the track and the courts below.