Breaking Ground
The University of Colorado (right) broke ground last month on $143 million in various athletic facility upgrades.
The project will include construction of a 120,000-square-foot indoor multipurpose practice facility on top of Franklin Field, which was acquired from the university's student government in exchange for access to other practice fields and a seasonal-use indoor facility for its club and intramural sports. A 21,900-square-foot high-performance sports center will also be added to Folsom Field, as well as a rooftop terrace. Construction will also include renovations and an expansion of the Dal Ward Athletics Center, including the addition of end zone and premium seating, an Olympic sports strength training room, new locker rooms and an equipment room. The sports medicine complex and academic spaces will be expanded, as well. Designed by Populous of Denver, the project is expected to be completed by fall of 2015.
Construction is under way on a new field house at Guilford High School in Rockford, Ill. The 56,000-square-foot facility will include a 160-meter track, three basketball courts, a new pool entrance, a weight room, a concessions area, athletic offices and LED lighting. The $8.5 million project, designed by Hagney Architects LLC of Rockford, is part of a district-wide $311 million building plan that also includes current construction of a field house at Auburn High School, planned construction of a field house at East High School, and gym renovations at Jefferson High School.
Thanks to a $10 million donation, an 11,000-square-foot expansion and upgrade of the Leslie C. Quick Jr. Recreation Complex at Fairfield University is now under way. One of the university's strategic priorities — the expansion of the 35-year-old recreation center — will include an indoor track, additional fitness and weight training space and multipurpose rooms. The complex's floors will be renovated to handle increased usage by intramural, club and varsity sports programs; air conditioning will be added to the field house; and new locker rooms will be constructed for the varsity swimming and diving teams. CannonDesign of Boston is leading the project.
Construction of three new synthetic turf fields is under way at South Brunswick High School in New Jersey. In addition to one field for football and two multipurpose fields, the track will also be resurfaced. Landtek Group of Amityville, N.Y., is overseeing construction of the fields, which are expected to be completed by the fall football season.
---
First Pitch
Following the approval of a sales tax increase to help pay for a new community recreation center, the Montrose (Colo.) Recreation District has created a citizen advisory committee to oversee final project design and financing. Construction is expected to begin sometime this year and be completed by late 2016. The district has been working with Barker Rinker Seacat of Denver to finalize the plan... City officials in Greenwood, Ind., have authorized infrastructure improvements that will make way for construction of a $22 million hotel and sports complex. The facility, to be built and managed by GoodSports Entertainment, will include a field house featuring a 50,000-square-foot hardwood court, a fitness center and a pro shop. The city hopes that the complex, aimed at young athletes, will be a draw for youth sports tournaments and traveling sports teams. The project is intended to break ground this fall with a planned 2015 opening.
---
Grand Openings
Vandergriff Skate Park (above) is now open in Arlington, Tex. Located near the Vandergriff Community Center, the $1 million park features plaza-style skate areas, a flow bowl and a snake run designed by SPA Skateparks of Austin, Tex., as well as sidewalks, a pavilion and other amenities. Already the city's largest skate park at 21,000 square feet, a second phase will add an additional 19,000 square feet and serve as the main hub for a 15-skatepark network planned for development over the next 10 years... The Salvation Army Ray and Joan Kroc Corps Community Center in Hampton Roads, Va., celebrated its grand opening this spring with a black tie gala. The $40 million facility houses an indoor waterpark, a gym, fitness areas, community rooms and a 400-seat chapel and theater. The waterpark features a lazy river, zero-entry pool and lap lanes... The Joe R. Gilbert Track and Field Facility is now open at Southern Wesleyan University. Housing a 400-meter, eight-lane track, spaces for field events and a new soccer field, the facility was a joint effort between the university, Pickens County and the town of Central, S.C. Open to local high school and community use, the facility is the first phase of a larger project that will eventually see construction of a field house, grandstand seating and a plaza...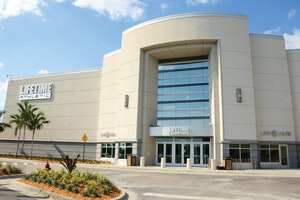 Part of the first phase in the Payne Maryland Project, the Arlington Hills Recreation Center made its debut last month in St. Paul, Minn. Designed by Works Progress Studio of Minneapolis, the 40,000-square-foot complex features glass and metal paneling and houses a public library, a recreation center with gym and fitness equipment, a digital-media lab and community meeting rooms. Construction of the second phase is contingent upon fundraising and will include spaces to house the project's private partners, including a church, a YMCA branch and other community service organizations... A new Life Time Athletic and LifeSpa (below) is now open in Tampa, Fla. Representing the company's second Florida location, the 55,000-square-foot facility offers group fitness, cycling, Pilates and yoga studios, as well as cardio and weight training equipment. A Kids Academy offers programming to help children develop healthful habits, and a full-service spa and LifeCafe round out the facility's offerings.