Breaking Ground
The UNIVERSITY OF NEBRASKA OMAHA recently broke ground on a new $62 million arena (pictured). The 220,000-square-foot facility, designed by Lempka Edson Architects of Lenexa, Kan., in collaboration with HDR Inc. of Omaha, will provide a home arena for the university's hockey, basketball and volleyball programs, but will also host a variety of community activities. Seating in the main arena will be split between an upper and lower bowl designed to hold 7,500 hockey spectators or 8,700 basketball or volleyball fans. Club seating and suites will be included, as well. A smaller, community ice rink will offer 200 seats and eight community locker rooms. Also included will be a full hockey team suite, locker facilities for basketball and volleyball and strength training facilities for student-athletes. The project is expected to open in 2015.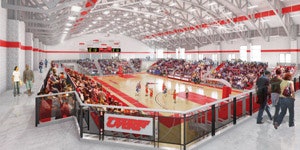 The University of Wisconsin-River Falls has broken ground on its new Falcon Center (above). The largest building project in the school's history, the $63.5 million facility will replace substandard and outdated athletic and instructional facilities and provide spaces for the university's Health and Human Performance programs, as well as athletics and student recreation programming. Designed by Eau Claire, Wis.-based Ayres Associates in association with Hastings+Chivetta Architects of St. Louis, the 162,300-square-foot building will include classrooms, a human performance laboratory, a gymnasium, a dance studio, offices, locker rooms, training rooms and other supporting spaces. Upon completion of the new facility, expected in early 2017, the existing Karges Physical Education Center and the Emogene Nelson Building, which currently houses the Health and Human Performance program, will be demolished.
Construction begins this summer on the Laurier Brantford YMCA Athletics and Recreation Centre in Brantford, Ont. The $58.4 million (Canadian) facility will encompass 162,500 square feet and house gymnasiums, fitness spaces, classrooms, offices, a lounge, meeting rooms, a café and other spaces within its five stories. A new aquatic facility will include a six-lane, 25-meter lap pool, as well as a recreational pool with a movable floor and a 12-person therapy pool. Designed by CannonDesign of Toronto, the project is a partnership between Wilfrid Laurier University, the YMCA of Hamilton/Burlington/Brantford, the City of Brantford, the County of Brant and Six Nations indigenous group, and will serve approximately 7,000 users.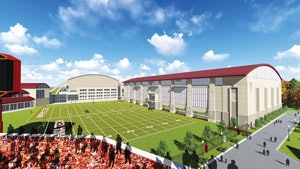 Construction begins this summer on Virginia Polytechnic Institute and State University's Indoor Athletic Training Facility (below). The $18 million, 92,000-square-foot building, a design-build project from the Richmond, Va.-based team of W.M. Jordan Company and HKS Sports & Entertainment will be the largest indoor football practice facility in the Atlantic Coast Conference. Spanning 400 feet and rising 85 feet to accommodate football scrimmages as well as punting and kicking practices, the facility will also include observation platforms for coaches and videographers. Overhead glass doors will allow transitions between the indoor field and two outdoor practice fields.
---
First Pitch
The YMCA of Greater Des Moines (Iowa) and the Des Moines Area Community College Ankeny campus are exploring the possible construction of a joint YMCA and student activities complex. Built on the DMACC campus, the project would include athletic facilities open to both students and the public, as well as student activity spaces and classrooms. Already approved by the DMACC, the project will be considered by the Y's board of directors this summer, with construction potentially under way by spring of 2016... The Naperville (Ill.) City Council has approved the development of an indoor sports facility on a 17.5-acre site on the city's north side. The 101,140-square-foot Naperville Sports Yard will house two turf fields, four courts for basketball and volleyball, a six-lane track, concessions stands and a daycare center... The United States Tennis Association has announced plans to build a new $60 million, 100-court complex in Lake Nona, Fla., to be completed by the end of 2016. The 63-acre project will also house the USTA's Community Tennis and Player Development divisions and become a training and tournament destination.
---
Grand Openings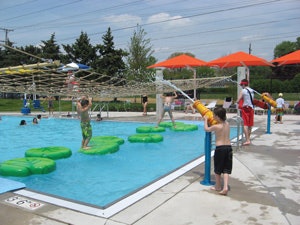 The Morton Grove (Ill.) Park District opened a new aquatic center last month. The main pool at the $6.5 million Oriole Park Aquatic Center features a diving well, one- and three-meter diving boards, a drop slide and starting blocks that will be used for the local Tiger Shark swim team. A zero-depth-entry activity pool offers water geysers, a spray dome, water cannons, a current pool and a basketball hoop. The 7,000-square-foot main building offers locker rooms and concessions, as well as a community room. Designed by Williams Architects Ltd. of Itasca, Ill., the new aquatic center replaces the original Oriole Pool built in 1969 and closed in 2012 after the failure of its vinyl lining... The Brooklyn Athletic Club opens this month in Brooklyn, N.Y. The 17,000-square-foot club spans four stories and includes a triathlon training area in the basement offering two endless pools, bikes, treadmills and a coaching staff area. The first floor contains 100 feet of indoor turf for strength and conditioning training, while the remaining floors offer a full gym, Pilates and yoga studios and childcare, all topped off by a rooftop deck... Minor League Soccer's Republic FC hosted its first match at the new $3 million Bonney Field last month. Formerly known as the Cal Expo Multi-Use Sports Field Facility, the 8,000-seat stadium in Sacramento, Calif., features a full 120-by-80-yard soccer pitch that will also be used for rugby matches, as well as offers concessions areas, VIP seating, digital signage, a fan zone and a beer garden... J.B. Chambers Recreation Park in East Wheeling, W.Va., is now open. The $3 million sports complex, designed by Alpha Architects and Engineers of Morgantown, W.Va., offers the area's only synthetic turf multipurpose field open for public use, as well as new lighted basketball courts and restroom facilities. The existing Elks Playground, built around 1910, was replaced with modern play and climbing equipment.