Many communities across the country are emerging from the recession with new energy, new life and new ideas for their future. While budgets are loosening, recreation organizations are still limited when it comes to undertaking new projects. Construction of a new recreation center is still out of reach for many organizations, but long-desired renovations of an existing facility might be feasible — at least some of them.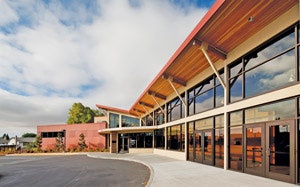 Before beginning any renovations, recreation facility operators should identify and prioritize the key opportunities within a center. The first step in almost any financial endeavor is to assess the local and regional markets. How have the demographics of your community changed? Are young families moving out, while active aging adults are moving in? Have other service providers come into town? Whether it is a private, public or nonprofit entity, each of these organizations most likely offer alternative user amenities, levels of service, or pricing structures to attract their customers.
Also consider the future of recreation. Research the new and upcoming trends in facility design, equipment and programming that could help define your unique position in the marketplace.
RELATED: 10 Tips for Keeping Your Rec Center Looking Like New
The next step is to perform an assessment of your existing facility. Begin by reviewing the existing information: previously completed studies, facility master plans or resident surveys may have already identified areas of focus or concern. Analyzing past performance numbers or trend logs is an excellent way to identify areas of potential improvement that may not be as easily seen on a day-to-day basis. Has the operating budget fluctuated? Have admissions and memberships gone up or down? How about seasonal utility bill variations? Identifying one or two of these statistical anomalies may illustrate opportunities for financial operational savings or just simply provide a more user-friendly class schedule.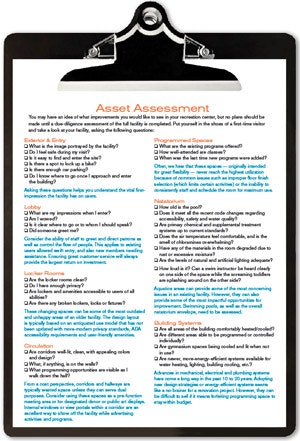 An assessment doesn't need to be entirely negative; acknowledging what is working is equally important. Are there unique or historical links between the facility and the community or even special character features that should be preserved? Identifying and honoring these symbolic elements should be one of the easiest decisions a community makes when updating its facility.
The real meat and potatoes of an assessment begins once you step up to the front door. Reviewing the physical condition of a center can be a daunting task, but it will reveal some of the most obvious opportunities for improvement. The condition of the overall building's structure and envelope, its plumbing, electrical and aquatic systems, as well as the facility's existing interior finishes provides a very broad snapshot of how the facility has aged over the years.
Now clean off your boots and grab a drink of water. All of the information you gathered needs to be documented within a facility report for final review and input. Discuss your findings with city and district officials, faculty and staff, the general public and everyday users as well as neighboring strategic partners. Getting outside input on your facilities assessment report is a critical step to prioritizing each opportunity discovered during your evaluation.
With a complete assessment in hand, the next step is to identify the major areas of opportunity. The value of each space within a recreation center is not a simple equation and may change from community to community or user to user. Start by assigning costs, earned revenue potential and requested priorities from the assessment step for each new or improved space. Create a spreadsheet or chart or catalog index cards that track this information for easy reference and discussion. Every project will identify its own list of high-priority spaces based on this criteria. Many spaces may cost a substantial amount of money to renovate; however, if they can generate a notable amount of revenue, then their value in a project is likely to increase. Finding those spaces that have low cost and high revenue potential is a fundamental priority to a successful renovation. The following are some examples of opportunities that may emerge from an assessment: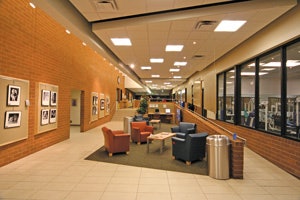 Multiuse spaces: Like any good Swiss army knife, multiuse spaces bring interchangeable value and programming options for a facility operator. Multi-activity gymnasiums are becoming a desired feature when compared to a traditional single- or dual-court gym and have the flexibility to support both a pick-up basketball game and a gymnastics class one hour and then convert to an indoor roller hockey game an hour later.
Cardio spaces: New technologies have also created additional flexibility in cardio spaces. With video-based group exercise systems and online instruction growing in popularity, class schedules are being revised to better accommodate low-use times as well as support current local fads or industry trends. For example, between 6 and 9 a.m., a teacher-instructed class is typically in full swing. This same room may be reserved for a private online yoga class at 10 a.m., and then after the lunch rush clears out around 2 p.m., a small group of friends drops by to demo one of the new infomercial-inspired workouts. Creating fitness flexibility out of one space creates choices in programming that most facilities find hard to adopt otherwise.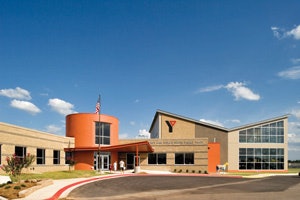 Energy-efficiency: Most of America has adopted green technologies and sustainable design, but what does this mean for your existing recreation center? EUI (energy use intensity) is a unit of measurement that describes a building's energy use and represents the energy consumed by a building relative to its size. Recreation centers have some of the worst EUI ratings among all building types, especially those housing a pool space. Reducing energy consumption in your newly renovated recreation facility should be a fundamental priority of the project. In looking at energy cost-saving measures, be sure to understand the annual savings, initial cost and the simple payback for all options. Tackle the low-hanging fruit first: replace outdated lighting fixtures with LEDs; use more high-efficiency window glazing or secondary shading; and reduce water consumption with regenerative media pool filters and low-flow fixtures. Look into the various public tax credits and utility company incentives offered in your area to help fund these projects.
The last and most difficult step in evaluating a renovation project can be identifying the "glue" that holds the project together after the renovation is complete. With all the new spaces, technologies, systems and programming elements in place, it is easy to forget the small design elements that unify the design and create a cohesive experience. With the use of color and light, texture and tone, and character and consistency, a design can emphasize pathways, visual connections, way-finding themes, structural highlights, nature and public art. Making the "glue" a leading priority to personalize these interstitial design elements will make your renovation project feel like it was intended from the start, and can seamlessly blend the old with the new.
RELATED: Are Rec Centers the Key to Better Grades?
---
Zach Bisek is a senior associate at Barker Rinker Seacat Architecture in Denver.
This article originally appeared in the July 2014 issue of Athletic Business under the headline, "Recreation Revival."