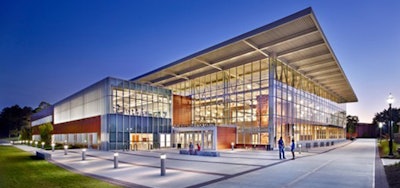 Add this to the long list of benefits provided by a campus rec center: it may help students achieve better grades.
According to new Michigan State University research, students looking to boost their grade point average might want to spend more time not in the library, but rather the gym. As Science Daily reported, the Michigan State research shows that students who were members of the recreational sports and fitness centers during their freshman and sophomore years had higher GPAs than those who weren't. The research also indicated that students with memberships stayed in school longer.
---


250+ Exhibitors & 190 Educational Sessions | abshow.com.
---

According to the study, gym-goers at Michigan State were 3.5 percent more likely to remain in school after two years than their non-gym-going counterparts.

"These results provide a compelling argument to universities that a higher student retention rate could be enhanced just by having adequate recreational facilities for students," says James Pivarnik, a Michigan State kinesiology and epidemiology professor and one of the leaders of the study.

The results are based on data recorded from 4,843 freshman and sophomore students at Michigan State. Pivarnik and his team compared the GPAs of those who purchased a fitness facility membership and those who did not. Results showed that after four consecutive semesters, the students with memberships obtained higher cumulative GPAs. They also had more credits completed by the end of their first year in college.

While the cumulative GPA difference for gym-goers was only 0.13 points higher than non-gym-goers, Pivarnik says the difference can be significant.

"In the end, that amount could mean the difference to those students on the cusp of getting into graduate school or even advancing to the next academic year," he says.

As Science Daily reported, Pivarnik noted that 74 percent of those with memberships successfully gained their sophomore status while only 60 percent reached that goal in the nonmember group.

The Michigan State study just goes to prove what those in the campus rec industry already know: campus rec centers are vital to both the body and mind.

RELATED: 10 Tips to Keep Your College Rec Center Looking Like New

RELATED: How to Plan for Future Campus Rec Facility Expansion