It wasn't long ago that college recreation facilities conjured a drab, one-dimensional image. They housed physical education programs — in many cases, mandatory classes that students grudgingly took in order to graduate. The buildings were often bare bones, not air-conditioned and had little or no lobby or lounge space.
As awareness of the value of fitness and healthy lifestyle choices grew, a new generation of recreation centers was born, transforming physical education "dispensaries" into points of campus pride, incorporating state-of-the-art equipment, social spaces, food offerings and architectural appeal.
As part of this evolution, in 2004 the University of Alabama embarked on a major expansion and renovation of a 1980s-vintage recreation center, which catapulted the university's recreation department and offerings into the national spotlight. TMP Architecture of Bloomfield Hills, Mich. — along with a local Montgomery-based firm, Sherlock, Smith & Adams — was called upon to design the "new" facility for the university. Along with a growing student population, attendance at the improved facility skyrocketed, and crowding and scheduling issues became problematic.
Seven years later, with increasing enrollment and a requirement that freshmen live on campus, a new residential "village" was planned. The complex included a new recreation center to accommodate this population of predominately freshman students and to relieve the crowding at the existing recreation center. The new Student Activity Center at Presidential Village opened this fall, featuring the fitness and wellness amenities that define today's campus rec centers, as well as spaces to enhance the "First-Year Experience" that include a housing and residential communities office, a parent programs office, a food court and an open lounge space that encourages socialization. The new center's design also addressed a need of the student campus that had previously been overlooked — the need for an emergency shelter during severe weather.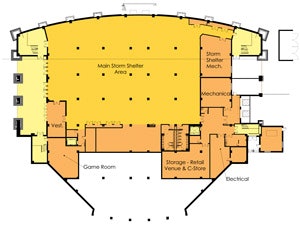 ADDRESSING A NEED
In April 2011, a devastating tornado struck Tuscaloosa — narrowly missing the campus. The event served as a wakeup call for university administrators, and inclusion of an area of refuge became an essential element of the conceptual design phase of the new student center. This area would serve as an emergency safe haven for students populating the new residence halls in the area. To create a space that would meet the university's needs for an emergency shelter without compromising its usability for non-emergency programming, the architectural team considered the following aspects:
Design
Taking advantage of the natural contours of the site, a storm shelter was designed for the lowest level of the new center, which creates a large walk-out basement that allows up to 3,200 students to quickly find shelter during weather events or other emergencies. FEMA standards were referenced during the design phase, calling for additional features such as emergency power with redundant fuel sources, dedicated toilet facilities, and storage for supplies and food. Additionally, the floor structure above the storm shelter area is strong enough to withstand the collapse of the entire building structure above. Finishes in the shelter area are very basic, with a sealed concrete floor and exposed concrete on the walls and ceiling.
RELATED: In Facility Design, Changing Course Needn't Be a Crisis
Access
During regular use, the center's front door is the preferred entry point, leading to a welcome desk and allowing access to controlled parts of the building. Access to the shelter space from the floors above is available for regular daily use via internal exit stairs and an elevator. During an emergency, however, it is essential for groups to enter the shelter through a large bank of exterior doors on the west side of the building. If a large group (up to 3,000 people) was allowed to use the traditional entrances during an emergency, the passages could become blocked, as the exits are sized for the normal occupancy of the building. In addition to this potential hazard, the large amount of glass in the lounge area used to achieve a "wow" factor as users enter becomes potentially dangerous during a major weather event such as a tornado.
Programming
While structural design of the shelter area was fairly straightforward, programming for the new space — a significant floor area of approximately 20,000 square feet — was more difficult. Though the hope is that the new storm shelter will never be needed, all non-emergency uses of the shelter area needed to preserve the availability of the space for emergencies. As such, no equipment could be left in the space when not in use; all equipment used needed to be stored off of the emergency floor area. This included chairs, tables and mats, and ruling out use of the space as a weight or cardio area, among other common recreation center uses.
To allow alternative uses to occur, dedicated storage rooms were provided to stow equipment used during non-emergency functions. Since no other space of this nature currently exists on campus, the actual use patterns will need to evolve over time, but anticipated uses include group exercise, specific club sport practices, staff meetings and training, and temporary space for classes and lectures — anything that involves a quick setup and breakdown time.
Staff Response
During an emergency, it will be human nature for people to use the front door. As part of emergency-response training, all facility staff members will be trained to anticipate this tendency and to direct people to the west side of the building for safe entrance to the shelter. These staff members, and indeed campus recreation departments in general, are inherently ideal groups to handle emergency situations. They are accustomed to the coordination and planning for large groups. Athletic activities — much like an emergency influx of people — often include people of all ages who may also be first-time visitors.
The University of Alabama staff was put to the test during Hurricane Katrina in 2005. Following this devastating event, large groups of evacuees flocked to the university's main recreation center seeking temporary housing. Led by George Brown, executive director of university recreation, the recreation staff organized a plan for temporary aid at the facility. The successful implementation of that plan included assisting and coordinating donations, as well as providing bedding, food and personal items. Brown's job expanded in part because of this emergency response, and his dual role now includes assistant to the vice president for health and crisis planning.

DECIDING FACTOR
Recreation centers have become a defining piece of campus life and an integral tool in student recruitment. While safety might not be foremost of mind during the initial college selection process, having demonstrable safety policies and amenities can become a deciding factor for potential students and their families.
Recreation facilities have come a long way since those early days of mandatory physical education classes. The evolution from a curriculum-based requirement to today's full-service activity center has been the springboard to an array of amenities that rival even those in private clubs. These campus mainstays will continue to evolve with the addition of services traditionally offered outside the sphere of recreation. Recreation departments have redefined themselves and play an increasing role as part of a safe, live-learn community nurturing the body, mind and spirit of students.


RELATED: ABC 2012 Preconference Tours Feature Rebuilt New Orleans Facilities
---
Dave Larson, AIA, is senior vice president and director of design for Bloomfield Hills, Mich.-based TMP Architecture Inc. This article originally appeared in the October 2014 issue of Athletic Business with the headline, "Center of the Storm."