No athletic or recreation facility built in the past 15 years has been designed without consideration for LEED or other sustainability measures. Chief among the design elements is daylighting, a function that earns points for sustainability while saving on operational costs. Glass is usually the first element that comes to mind when daylighting is mentioned — from basic windows and skylights to large expanses of glass curtainwall — but glass is not the only way to achieve such an effect. Translucent panel systems can bring natural lighting into a facility, while leaving out some of the common disadvantages associated with glass.
"Direct sunlight can cause hot spots and unwanted glare," says Mark Mitchell, marketing manager with Wausau, Wis.-based Major Industries, which offers a range of translucent wall systems and skylights. "Translucent panels diffuse the light and make it more comfortable for a variety of spaces — lobby areas where people are gathering, office areas where screen glare can be an issue, and in gyms and aquatic facilities where direct sunlight can cause distractions to athletes or make it hard to see scoreboards or displays."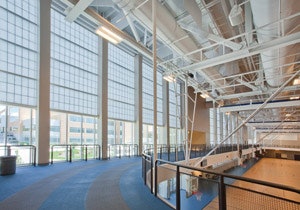 Such issues with glass can be combated with etching, shades and sunscreens, but glass systems have a harder time competing with translucent panels when it comes to price. "These projects tend to be huge expanses, and the fact that they have more value price-wise, you can play with them more," says Robert Allen, partner with Toronto-based MacLennan Jaunkalns Miller Architects. "We try to use them in a bold way, not as window but as broad cladding, and you can use large expanses and not break the budget."
 
BREAKING THE GLASS CEILING
The most recognizable name in translucent paneling may be Kalwall, but translucent systems are available from many manufacturers and come in a variety of materials, most commonly either fiberglass- or polycarbonate-based. Translucent systems have been around for years, but advances in technology and design have increased product performance and design possibilities. "It looks the same in a lot of ways, but it's gotten stronger and more rugged, it's handling better spans, weather and use, it's more energy-efficient and light-transfusing, and it's also very lightweight," says vice president of international sales Amy Keller, referring to the latest generation of Kalwall.
Keller, also a member of the Illuminating and Engineering Society who sits on its daylighting-metrics committee, says that updated LEED standards are also contributing to the increased appeal of translucent systems. "A new metric to the latest version of LEED is annual sun exposure," she says. "The intent is that people aren't getting LEED credit for spaces that aren't usable for daylighting. Many times buildings are glazed with a lot of glass, and when the sun comes out, the shades go down and stay down. Yes, you've met your light-level requirements, but you're not really dealing with user behavior."
Translucent systems diffuse the incoming light, eliminating the need for shade systems, but consideration still must be given to how much light is needed in a space to be functional, and how to best achieve those lighting levels. "Often we use these translucent systems as high, monitor light," says Allen. "You can tune the directional exposure or treat the skin to get more or less transmittance. It depends on your intentions for the building and the amount of daylight you want to bring in."
Thirty foot-candles will do for general ambient light, says Keller, but competition spaces or practice facilities that must accommodate video recording require much more. "A useful tool out there now is daylight simulations," Keller says. "Designers should be checking to make sure they're getting the right light levels needed for the facility."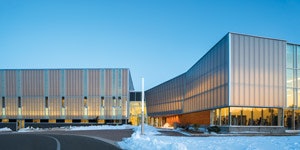 THE HOT AND COLD OF IT
The main advantage of any natural-lighting system is a reduced dependence on artificial light, leading to various operational cost savings. "You also save money on HVAC costs," adds Keller, explaining that not only do lights themselves use energy, but they also generate heat. "If you don't have all your lights on, then you can have smaller HVAC systems, less energy loads, less mechanicals."
Incorporating translucent systems with traditional building structures must be done carefully, however, to prevent the energy savings from going out the window. Neither glass nor translucent systems can offer the same insulation as solid walls. "Every time you want to bring light into a building, there's an envelope consequence," says Allen. "You can get higher R-values than a typical glass system, but you're not going to get what you could with a wall. You have to do your energy model and ensure the tradeoffs are being made."
The technology in translucent panels is improving, and the insulation levels along with it. Kalwall offers a system of panels featuring a Lumira aerogel insulating layer, which boasts an R-20 insulation rating. Says Keller, "You can have 20 percent natural light coming through, which is more than enough for most applications."
At issue is not just heat loss or gain through the wall system itself, but at the connection between the wall system and other building systems. "The trick is the detailing and integration with the building envelope system," Allen says. "That's the place you have to spend the most care. Curtainwall is fairly easy to seal into conventional air-vapor systems. Kalwall and polycarbonate can be a little trickier."
A durable system is especially important in a pool environment, according to Mitchell. "Harsh chemicals make it imperative to find a system with long-lasting finish options, or a system that utilizes fiberglass support members for better corrosion resistance, along with high-performance gaskets and sealants."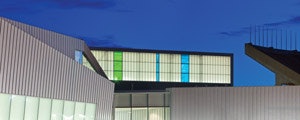 PLAYING WITH LIGHT
A major difference between translucent and glass daylighting systems is how they are used in overall facility design. "They're kind of the inverse of what a normal glass-cladding system would be," says Allen of translucent panels. "During the day, glass reads as void or black, where this is solid and white. It inverts the typical relationship that building facades have with the glazed openings. It's a different kind of aesthetic."
To capitalize on this aesthetic, many manufacturers offer lines of tinted translucent panels, allowing architects to work some magic with the design of the building. Major, for example, offers everything from curved skylights and wall systems to colored insulation to systems combining fixed or operable glass with translucent panels, depending on what type of look is desired in the facility. "Each of these systems have become more popular as architects and designers look for daylighting options that offer design flexibility and versatility," Mitchell says. "Where views to the outside or ventilation control are wanted, we have wall systems that combine translucent panels with glass."
"There's a whole bunch of mixing and matching that you can do with these systems and more-conventional systems if you're willing to spend the time detailing," adds Allen. "We've used layers of different tones to give some interest to the facade. We've also done systems with Kalwall broken up by clear glazing, just to create pattern."
Because panels let light out as easily as they let it in, even a plain translucent exterior can be used to create some visual appeal, especially at night. "Backlighting a translucent panel can be a great way to draw interest to an entrance," says Mitchell. "They can be used as a backdrop to a logo or other signage, and are an excellent way to let people know that an event is going on inside the building — almost like a beacon."
The increasing use of LED lighting further adds to the design possibilities. "Wall-washing is a technique in which artificial light is used to highlight sections of the building," Keller says. "We're seeing more use of LEDs to wash up or down faces. LED strips can also be programmed to change colors. It depends on the lighting designer's imagination.
The translucency also offers an added level of security, adds Keller, and not just for football teams looking to keep their practices private. "It cuts down on crime because you can't see if one person is alone in a building or there's a group. If it were glass, someone could be sitting outside and know exactly what's going on."
 
NEW IDEAS Translucent materials have been honed and improved over the years and that process will continue, making systems more cost-effective and energy-efficient. Since its introduction 60 years ago, Kalwall has developed to be noncombustible and more durable. "Bonding properties have developed to handle impact from large projectiles, even hurricanes," says Keller. "It's made to handle crazy weather scenarios, terrorist scenarios, so of course it can stand up in athletic facilities."
The introduction of other translucent materials will also expand what facilities can achieve with daylighting. "We're starting to look at ETFE stuff, which is pretty cool," says Allen, referring to the ethylene tetrafluoroethylene material used to design the Beijing National Aquatics Center, that will also be used in the clear-roof design of the new Vikings Stadium in Minneapolis. "It's kind of like a Mylar, superlight, translucent system. We're just looking at a couple of buildings we want to introduce it on."


RELATED: Improvements Fabric Structures Provide Better Performance in Harsh Climates.
RELATED: LED Tech Poised to Revolutionize Outdoor Sports Lighting
---
This article originally appeared in the December 2014 issue of Athletic Business with the title "Seeing The Light."