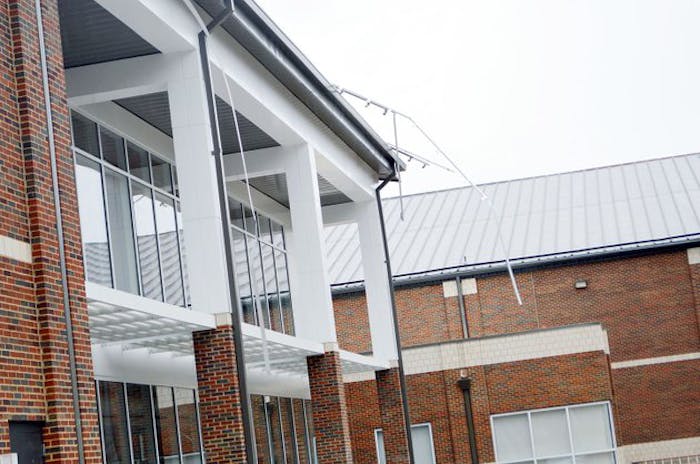 The University of Central Arkansas had a scare after winter weather caused pieces on the roof to slide off of its newly renovated recreation center. 
The UCA Health Physical Education and Recreation Center, or HPER, had its grand opening in November after a $15 million renovation. As snow and ice on the facility melted last week, the ice-and-snow guards on the new part of the building came unattached from the roof. 
According to Velton Daves, associate director of the UCA Physical Plant, the guards are "a two-piece system — the depth of it, they cut [the ice] in half; then at the bottom, they've got a little diamond shape, and that cuts it in half in the horizontal — in the other direction." 
The purpose of these guards is to stop ice and snow from falling "in big clumps," said director of campus recreation Dave Dennis.
The Cone Group, which completed the renovations, is financially responsible for the repairs due to warranty said both Dennis and Daves. 
Luckily for the facility, the roof itself is in good condition and did not start leaking, which prevented further damage. Additionally, the damage that did occur was in the back of the building and is not used for access by students and staff. 
Aaron Mitchell, an assistant project manager for the project from The Cone Group, said about the ice-and-snow guards, "Chances are, just the weight of the [ice and snow] has pulled it off. It's effective material, but sometimes with the amount of ice and snow we get, if there is a weakness, or even if not, it'll create one." 
According to Daves, The Cone Group has said they will reattach the guards once the weather permits.