Climbing walls have become nearly as common as recreation centers on college campuses across the country, and the prevalence of public facilities dedicated to the sport has led to a generation of climbers for whom the walls and facilities built a decade ago just aren't cutting it any more. As facility operators look to revamp their existing walls to appeal to a more discerning consumer base — or to merely add the amenity — they're thinking more about the various aspects of a functional climbing destination.
Flooring is one aspect that shouldn't be overlooked. "Just in the last year and a half is really when I've started to see customers pay attention to flooring," says Adam Koberna, sales manager for Walltopia USA, based out of Pittsburgh. "It used to be an afterthought. As the flooring market matures, it'll be discussed more, become more mainstream.
"It's a conversation we have every time we sell a project," adds Jason Stollenwerk, managing director with Bend, Ore.-based Entre Prises Climbing Walls. "Clients are asking for our guidance as to where it needs to go, what material is best, how much they need, the price. They also want to know how it's going to interact with the climbing wall."
For facility operators looking at adding or renovating their climbing wall, or operators wondering if they're doing enough to keep their climbers safe, here are a few things to know.
FLOORING STANDARDS
The first thing any climbing wall representative will say when asked about safety surfacing is that there are no standards or regulations. "If you're getting a climbing wall, flooring should be on the list of things you need," says Marleigh Hill, sales coordinator at Boulder, Colo.-based Eldorado Climbing Walls. "But as far as the depth and type, there isn't a standard."
That said, all climbing wall companies have some sort of guidance for the placement and type of safety surfacing used. "What is important is that people apply an appropriate landing surface, and that's up to their discretion," says Michael Moore, director of sales for Nicros Inc. in Minneapolis. "We like to see surfacing extend about eight feet out from the farthest overhanging point as a minimum. 'As a minimum' is key — you can put it out 100 feet if that's what you're comfortable with."
And while there aren't any regulations dictating surfaces in the United States, some companies, such as Albuquerque, N.M,-based Futurist Climbing Consultants Inc., do enforce their own standards. "We conform to a European standard," says Futurist president and co-founder Timy Fairfield. "It offers some parameters, such as coverage area for bouldering based on height, or how far away from the wall a flooring border should be."
There are other building codes that might be considered as well, such as the ASTM standards for playground surfacing, which give guidelines for fall zone and impact attenuation. While the comparison between surfacing for climbing walls and playgrounds is much more complicated, ASTM standards at least allow architects or facility designers to specify products with a known performance rating.


RELATED: Climbing Wall Association Struggles With Regulatory Agencies

BOULDERING VS. TOP-ROPING
Climbing walls in recreation facilities serve two primary styles of climbing. Most facility users are familiar with top-rope climbing, in which climbers clip in with a rope and harness attached to an anchored belay. Bouldering, which is becoming more popular among recreational climbers, features more-angled climbing faces and no safety harness or rope.
"The rope-climbing flooring system is a backup floor, in case a belay fails," says Fairfield. "A bouldering floor is a primary landing surface. It's designed for recurrent falls. When I go to the gym to boulder, I might fall off 20, 30, 40 times. And even if I don't, once I get to the top, I'm just going to drop. I'm supposed to fall off."
Thus, the surface under a bouldering wall should be thicker and provide more cushioning, similar to that used for gymnastics or pole vaulting. Says Fairfield, "We specify one-inch-thick of bouldering floor for every foot of wall. So a 12-foot-tall wall would have 12-inch-thick flooring."
He adds that facilities with a high number of youth climbers may consider going with thicker and softer padding. "I think floors perform a lot differently for people under 100 pounds than over," Fairfield says, explaining that a larger person with more surface area will distribute their weight more evenly across a landing surface, but "a child landing on an adult bouldering floor won't activate it and it will feel too hard."
Such thick, soft padding would be overkill beneath a top-rope wall, not to mention counterproductive to its users. The floor has to be stable enough for spotters and other people to stand on it comfortably — its primary purpose is still as a floor. "The flooring is there from a liability standpoint," says Hill. "It comes into play when you're looking for insurance."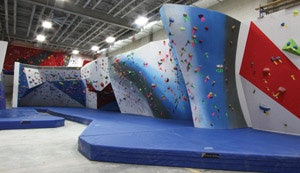 MATERIAL TYPES & COST
Safety surfacing for climbing walls has historically been borrowed from other sports — rubber pellets, tile or poured-in-place surfacing used for playgrounds, or mats used for gymnastics, wrestling or track and field events. And that's a good starting point, says Fairfield. "Those sports had it right. We're taking a lot of what they use and adapting it to the climbing environment. But it's a lot more rigorous — people stand on the bouldering floor, whereas in gymnastics, you have a runway, someone sticks the landing, steps off and walks back."
A number of factors ultimately go into determining the right type of flooring for a facility. "Take into consideration the type of climbing, how easy is it to get the flooring out, can you reuse it," says Hill.
Roped climbing flooring tends to be less expensive, ranging from rom $10 to $16 per square foot, while bouldering floor systems can be upwards of $35 per square foot. It all depends on a variety of factors, including warranty, complexity of the layout, materials used and installation costs.
As with playgrounds, the most cost-effective material is shredded rubber, says Moore, which can be purchased in bulk and replenished as needed. "Some facilities find the additional labor of having to sweep it back into its area on a day-to-day basis is not worth it," he warns. "You'll bring it home in your pockets and shoes, and you'll have to add more every so often to keep those levels up."
More products specific to climbing are becoming available, allowing systems to be better designed for a particular wall. Most systems consist of layers of foam underlayment (with thickness and density dictated by the wall's height and purpose) covered by a more-durable material. "For bouldering, we're going to vinyl-based products," says Koberna. "For top-rope, I see a mix between vinyl and carpet-bonded foam."
There are arguments for both materials, he says, though in the end it's usually an issue of cost. "The vinyl systems will be more expensive in almost every case, but the durability and life is so much longer that it's easy to justify the cost," says Stollenwerk. "With carpet-bonded foam, people know there's a life to it and they're going to have to replace it at some point. It's just that they can't make that initial investment in vinyl up front."
Besides durability, vinyl surfacing has a long list of advantages, says Fairfield. It's easier to clean and doesn't hold in chalk dust like carpet might, which contributes to improved air quality in a facility. "There have been some studies that have looked at air quality in climbing facilities for employees," says Fairfield. "A lot pertained to climbing flooring surfaces — tire rubber, pea gravel, carpet-bonded, multilayer. They're finding out that a lot of the airborne respiratory issues for employees are caused by chalk and these surfaces that hold chalk and bacteria."
More-permanent poured-in-place rubber surfacing is also an option, though it can be cost- and labor-intensive. "Depending on the location, we might run into issues of shipping logistics, site access, site ventilation," says Moore.
Because the climbing wall flooring industry is still in its infancy, there are still new innovations to test. For example, says Moore, Nicros installed a unique tarp system in its new Glendale Heights, Ill., climbing facility, Vertical Endeavors. "It's foam underneath covered by a large tarp. There are seams, but it's stretched over the entire landing surface and pulled taut."
Koberna thinks another product that might prove beneficial to the industry is the One More Life system for top-rope climbing. "In short, you can fall from 60 feet up and still live," he says, explaining that the system is designed to crush under the impact of a falling climber, after which that section has to be replaced.
As for facilities that want the option of removing safety flooring when the space is needed for other activities, many wall manufacturers offer flip-up or landing pad systems. "Let's say you're putting a small climbing wall in a gym setting and want to be able to move that flooring for a basketball game," says Hill. "The flip-ups are a system of floor pads that have a Velcro loop you can attach to the climbing panels themselves."
Another option some facilities might utilize is large, moveable "crash pad" style mats, though it's not an option Futurist offers nor Fairfield recommends. "A bouldering area needs to be properly covered," he says. "A primary cause of injuries in facilities that don't have surface covering the whole floor is people hitting the pad edge. Drag mats can be moved around, resulting in insufficient coverage."
 
MAINTENANCE & REPLACEMENT
Though vinyl systems overall tend to last longer than carpet-bonded systems, there are no general rules with regard to how often a system should be replaced. "Everything depends on the amount of traffic you're getting," says Hill. "If there's one area that's getting more traffic than others, you can replace bits and pieces instead of the entire thing."
Inspection and evaluation of the flooring should be done on a regular basis, along with checking other components of the climbing wall system. "It's part of going through your system and checking your gear, landing system," says Moore. "With a lot of climbing gear, if there's any sign of deterioration, it's time to replace."
With vinyl- or carpet-covered systems, the base layer is typically comprised of modular pieces of foam that can be replaced individually as needed, a more affordable option than replacing the entire system. "If there's a catastrophic incident, you can get inside to replace components without having to rip the thing out and do a full replacement," says Fairfield.
As for cleaning, most systems are pretty easy to take care of. "Vinyl is a harder surface so you can actually just wipe it or mop it down," says Stollenwerk. "With carpet, the dust and particulate gets hidden. Some people don't like being able to see that it's dirty and carpet hides the dirt a little longer."
 
DESIGN & LAYOUT
The earlier safety surfacing becomes a part of the discussion for a climbing structure, the better. "The sooner an architect or project manager calls us, the more money we can save them," says Fairfield. "We can help them lay it out in a way that the floor is not taking as much of a beating. Some gyms are built without walkways, all mats. So you have to walk onto the bouldering mat and all the way across, step off the other side to get to the bathroom. In the institutional environment, that can also be an ADA violation."
Planning out the flooring in advance can also lead to a better user experience in the end, Fairfield adds. "A lot of people coming into the industry don't have any climbing experience. If you have bouldering floor and rope-climbing floor and they're different colors, thicknesses and elevations off the main entry floor, the way you lay that out helps to guide people through the facility and keep them out of areas they shouldn't be in if they're just walking through or on their way to the restroom."
While this type of distinction may seem less necessary in recreation centers with one climbing structure, Fairfield adds that the right flooring design can actually be more important in such spaces. "In a mixed-use space there are a lot of people who are not there to climb and may not be aware of climbing etiquette," he explains. "I don't want to accidentally walk across your landing zone if you're bouldering, or walk between you and your partner if you're top-roping."
In addition to creating a smarter overall facility layout, early planning gives facility operators a better idea of the amount of material they will need and its cost. "Every climbing wall has a fall zone — the area the climber would potentially come down off the wall," Stollenwerk says. "You could have a huge wall that's kind of dead-vertical without any overhang. You're going to need less flooring for that than a wall that protrudes out into a space. We capture those zones and map out flooring for those zones."
For new facilities, flooring manufacturers can operate off of a design file, fabricating the flooring offsite while the rest of the facility is still being constructed. "For an existing facility, if they don't have a design file, we'll go laser measure the space so that we have an accurate footprint," says Fairfield. "We'll give them estimates with different options for bouldering and rope-climbing areas."
When facilities start to give more thought to the safety surfaces used for their climbing structures, the overall result is a cleaner, safer and more appealing climbing experience for a facility's user. "More people are hiring companies to do it instead of getting foam down the road from a foam guy," says Koberna. "You're starting to see the shift, and you're starting to see it allocated in budgets — it's becoming a line item in renovations and upgrades."


RELATED: Climbing Gyms Proliferate as the Sport Takes Hold
---
This article originally appeared in the April 2015 issue of Athletic Business with the title "Bottom Priorities."