It doesn't look as though the Climbing Wall Association's struggle with regulatory agencies will end any time soon.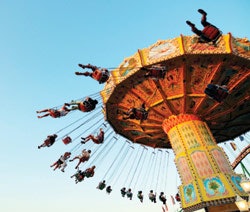 The last time we checked in with Bill Zimmerman, executive director of the Climbing Wall Association, he was trying to convince Massachusetts safety officials that a climbing wall did not belong in the same category as a Tilt-A-Whirl (see "What a Wild Ride It's Been," March 2006, p. 14). He and the CWA have since moved on to other jurisdictions, but it doesn't look as though the struggle with regulatory agencies will end any time soon.
Existing and prospective climbing wall operators have had to live with uncertainty since the 2003 fatal fall of a 22-year-old Missouri woman whose frayed auto-belay cable snapped as she climbed a portable wall, and the 2005 death of a 24-year-old Massachusetts woman who fell onto a parking lot from an inflatable wall. The Consumer Product Safety Commission sent out a bulletin to regulators nationwide, but it soon became clear that many safety agencies do not know the difference between a permanent building component that gives skilled climbers the experience of scaling cliffs and boulders, and a portable "amusement" ride or piece of exercise equipment in the guise of a "wall."
State and local agencies have approached the issue in a number of ways. The more activist states, including Massachusetts, initially amended existing amusement licensing statutes to include climbing walls, meaning that walls must be inspected annually (a potentially positive and at least benign development) and that new installations are delayed as prospective owners wanting to get their wall licensed have to meet various construction standards written for rides having mechanical, electrical and hydraulic components. The CWA was invited to draft new regulations that made more sense with regard to climbing wall construction and operation, but the bill that would include this update is still, more than a year after Zimmerman testified before a safety subcommittee, working its way through the Legislature.
In Virginia, where no high-profile deaths have occurred to spur state and local officials to action, regulators are nonetheless using the old CPSC memo and an apparently hastily written addendum to the state's licensing law to justify a crackdown on climbing wall owners.
"Some statutes are well written, some are poorly written," Zimmerman says. "Virginia's applies OSHA construction standards for workers at height to recreational climbing facilities. They require things that might make sense if you were a roofer or a steelworker - it's totally ridiculous."
In June, the CWA celebrated one of its biggest victories to date, helping to prevent Rise Up Climbing LLC of Lynchburg from being classified as an amusement under the Virginia State Department of Housing and Community Development. Zimmerman says most of the credit for gaining the occupancy permit should go to the facility owner, who after giving local officials a tour of the facility "basically laid this stack of paperwork on them - he had everything covered - and said, 'Tell me why I should be subject to these arbitrary regulations that don't apply to this industry.' "
Regulators agreed with him, though they still insisted on an annual inspection. Again, the owner was ready. Zimmerman says, "He responded, 'You know, where the rubber meets the road with climbing safety is when an experienced climber and belayer walk up to the base of the wall and check their personal equipment and check the rope. If that's not happening, nothing you guys are going to do is going to make this operation safe.' They kind of saw the light."
Unfortunately, every inspector in every jurisdiction interprets the relevant statutes differently.
"Even in states where we think we have established that climbing walls are not amusements, we get a different inspector and we have to go through it all over again," Zimmerman says. "I won't be surprised if we have to address this again in Virginia."