Breaking Ground
The Rockford Park District and Rockford Area Convention & Visitors Bureau have broken ground on the Downtown Sports Complex, (above) the latest phase in the Illinois city's Reclaiming First initiative, which aims to revitalize sports tourism in the area. The complex will redevelop an old manufacturing building into a 100,000-square-foot court facility designed to host basketball, volleyball, wrestling, pickleball and other events. Designed by Sink Combs Dethlefs of Chicago, Ill., the $30 million project also includes renovations to the city's outdoor athletic complexes, Sportscore One and Sportscore Two, as well as the city's Indoor Sports Complex. The Downtown Sports Complex is expected to open in June 2016, as are five lighted multipurpose turf fields and an indoor soccer field at Sportscore Two.
Crews broke ground last month on the Foley Sports Tourism Complex in Foley, Ala. When completed next spring, the 62-acre sports complex will encompass 15 multipurpose grass fields, as well as a 1,000-seat championship field. The project is part of a push to brand the city as a destination for sports tourism led by the city's newly appointed executive director of sports and the city's Public Athletic and Sports Facilities Cooperative District. The $27 million complex is being built using a design-build method led by Springfield, Mo.-based Killian Construction Company. Construction of a 104,000-square-foot Foley Events Center, which will include a 60,000-square-foot floor for sports tournaments or other events and offer a 7,000-person capacity, will begin once construction plans for two new hotels next to the center are confirmed.
A $20 million renovation of Indiana University Natatorium is now under way. To be completed in five phases over the next 20 months so as not to disrupt existing scheduled events, the renovation will include a new roof, new diving platforms, new mechanical systems and lighting, as well as a new pool deck, starting blocks, an expanded pro shop and updated locker rooms. The 33-year-old facility has been used for Olympic Trials, and national and international competitions, but has deteriorated rapidly due to a leaky roof and chemical damage.
Construction of a Center for Integrated Wellness in Bloomington, Ill., has begun. The 105,000-square-foot facility — built in partnership between Advocate BroMenn, McLean County Orthopedics, Method Sports Performance and Sequoia Wellness — will house a medically based fitness center, a sports performance institute, an orthopedic center, physician offices and a community education area. The Advocate BroMenn Health & Wellness Center will include cardiovascular equipment, group exercise classes, an aquatics area, free weights and locker rooms. The facility will offer health and wellness programs to help members manage chronic diseases. Method Sports Performance, a physician-owned sports performance center will offer science-based improvement assessments and training methods to athletes from middle school to the professional level.
---
Have an upcoming project you'd like to see included in our Forward Progress section? Tell us about it here.
---
First Pitch
The Orthopedic Institute, D1 Sports Training and GreatLife Malaska Golf & Fitness are hoping to bring a new athletic training center to Sioux Falls, S.D. Based on the D1 Sports Training franchise concept found in more than 20 states, the $4.75 million project would include a training field, as well as a treatment and workout area, and provide programs for kids through professional athletes. Once approved, construction is expected to start later this year... The Twin Falls (Idaho) Urban Renewal Agency has approved a proposal from GemStone Climbing & Fitness to construct a 17,000-square-foot climbing facility. Under the proposal, the agency will sell a 10,000-square-foot property to GemStone for $1. The climbing gym, to be completed in 2016, will cost $1.5 million to construct... Oregon State University has announced plans to renovate its Valley Football Center. The $42 million project will nearly double the size of the facility and completely reconfigure Reser Stadium's north end zone. More than 80 percent of the funds needed for the project have been raised through private donations, and the school hopes to have the full amount raised by the end of the 2015 season, with construction starting soon thereafter.
---
Grand Openings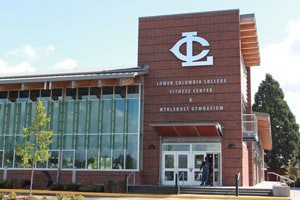 After equipment-delivery and hiring delays postponed a planned January opening, the $9.5 million expansion of Fitness Center and Myklebust Gymnasium (right) at Lower Columbia College is now open. The 12,500-square-foot expansion features three new group exercise spaces, 200 lockers, new fitness equipment, a smoothie bar and a 33-foot-tall climbing wall. The addition complements the renovated gymnasium, which reopened in January. The facility, designed by Leavengood Architects of Seattle, is targeting LEED Gold certification... The Biloxi Shuckers, a Double-A affiliate of the Milwaukee Brewers previously known as the Huntsville Stars, have settled into their new home at MGM Park in Biloxi, Miss. The new stadium includes seating for 5,000 fans plus a berm that can accommodate an additional 1,000. During special events, the facility will be able to accommodate up to 20,000 attendees. Designed by Dale Partners Architects P.A. of Jackson, Miss., the stadium also includes 12 suites above the ground-level concourse, concessions, a lounge and a team store... Fifteen years after the initial concept was developed, the Northwest Family YMCA has opened in Baldwinsville, N.Y. The $20 million facility features an aquatic center, three basketball courts, an indoor track, an indoor practice field, a teen center, a cycling studio, a wellness center for recovering cancer survivors, and areas for group fitness, weight training and cardio exercise. At 100,000 square feet, the facility is the largest YMCA in the Central New York area. Robertson Strong Apgar Architects of Syracuse designed the project.
This article originally appeared in the June 2015 issue of Athletic Business with the title "FORWARD PROGRESS"