Breaking Ground
Ten years after an initial proposal, Old Dominion University has broken ground on an $8.4 million basketball practice facility (pictured). The 24,000-square-foot facility, which will be named for donors Burnett and Blanche Mitchum, will include two full courts, lounges, locker rooms and meeting spaces for both the men's and women's teams, and a shared sports medicine and weight-training facility. The facility is being constructed adjacent to the L.R. Hill Sports Complex, which is undergoing a $5 million expansion and renovation. The 17,000-square-foot expansion of the facility, which houses ODU's football, field hockey and women's lacrosse programs, will include a strength and conditioning facility nearly triple the size of the existing weight room, more office spaces, an expanded locker room, and a dedicated space for academic advising and tutoring. Both projects are expected to be completed by next summer.
Fargo, N.D.-based TNT Kid's Fitness & Gymnastics broke ground on a sensory gym last month. The $5.5 million expansion will add 2,300 square feet of play area specifically designed to provide sensory stimulation for children with conditions such as autism. Wisconsin-based Fun Factory Sensory Gym is designing and installing the equipment, which should be open for use by 2016. The new gym is part of a larger expansion by TNT, which is currently only using half of its 40,000-square-foot facility.
The University of Tampa has broken ground on a new fitness center just east of its existing McNiff Fitness Center. The new facility is being built in two phases and will be eight times the size of the current 22-year-old fitness center when complete. The first phase, scheduled to open next spring, will encompass 40,000 square feet and include group exercise rooms, two fitness assessment rooms, a flex classroom space and offices for campus recreation and related staff. The second phase will add 20,000 square feet and house academic program spaces for exercise-related research activities. Kreher Architects Inc. of Tampa, Fla., is leading design of the project, which is being built to LEED standards.
---
First Pitch
Major League Soccer's Los Angeles Football Club has unveiled plans for a new L.A. stadium. The $250 million stadium, to be built on the site of the current Los Angeles Sports Arena using private funds, is expected to be completed in time for LAFC's 2018 MLS debut. Before construction can begin, the project must gain approval at the state, city and county levels, and the existing Los Angeles Sports Arena must be demolished, a process that could take two years... The Eugene Family YMCA in Eugene, Ore., has released preliminary plans for a new $20 million facility. The 75,000-square-foot building would feature an NCAA-regulation-sized gymnasium, fitness spaces, three group exercise rooms and two swimming pools. The final design will be contingent on the success of fundraising efforts, which are currently under way... The University of Texas athletic department has selected a site for a 12-court tennis center to replace the Penick-Allison Tennis Center, which was demolished last year. Pending approval from the Board of Regents, the construction will be part of an overall $144 million project that will relocate the existing UT Press and Printing building on the site, as well as construct graduate-student housing and a parking garage... Campbell County Community Public Recreation District trustees have approved $5.5 million to fund design and construction of a stadium at Campbell County High School's new south campus in Gillette, Wyo. Up to $8 million may eventually fund construction of a 3,500- to 4,000-seat stadium for a football/soccer field surrounded by a track. The district hopes construction will be completed in time for the school's opening in 2017.
---
Grand Openings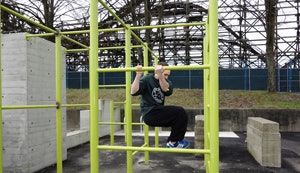 The first outdoor parkour park in Canada is now open. Designed by PFS Studio of Vancouver, B.C., in collaboration with the City of Vancouver and the Vancouver Parks Board, which maintains a "use at your own risk" position, Plateau Park (right) features an array of obstacles, including monkey bars and concrete blocks and walls, as well as fitness equipment, outdoor ping pong tables, sand volleyball courts, a children's playground and a multipurpose court for outdoor fitness, street hockey and soccer. The parkour course comprised $30,000 of the park's overall $10 million (Canadian) cost, which also covered a renovation of the soccer fields at Empire Fields that included synthetic turf and field lights in preparation for this summer's Women's World Cup. The project is part of a 20-year transformation of Hastings Park... The University of North Dakota's new High Performance Center opens in August. Serving as an indoor training venue for all athletics programs, the $18 million facility, designed by ICON Architectural Group of Grand Forks is also expected to host collegiate and high school track and field competitions. The facility features a 100-yard synthetic turf field with 60-foot clear height; a 300-meter, eight-lane track; a field events area and temporary spectator seating. A second phase, estimated to cost $15 million, will add locker rooms and coaches offices, permanent seating, an academic center, a sports medicine and athletic training center, fitness spaces, a hall of fame lobby and concessions. The second phase is still awaiting approval from the North Dakota State Board of Higher Education and state Legislature before a fundraising drive kicks off...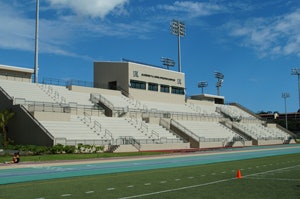 The University of Hawaii Monoa held a dedication ceremony this spring for its long-awaited Clarence T.C. Ching Athletics Complex (below). Built adjacent to Clarence T.C. Ching Field, the LEED Gold-certified facility serves the school's track and field, cross country, football and soccer programs, as well as intramural and recreational groups. Designed by Mitsunaga and Associates of Honolulu, the complex includes a three-story building with locker rooms and meeting spaces for the athletic teams, and attached grandstand seating for 2,500 overlooking Ching Field. The complex also boasts two competitive sand volleyball courts with spectator seating for 778.
This article originally appeared in the July/August 2015 issue of Athletic Business with the title "Forward Progress"