Breaking Ground
Miami University broke ground last month on Gunlock Family Athletic Performance Center (above). Overlooking Yager Stadium's north end zone, the facility will provide a team locker room, a weight room, coaches' offices, an auditorium and meeting rooms for the football grogram. The design, by HOK of Kansas City, Mo., also includes a state-of-the-art sports medicine and rehabilitation center that will serve all student-athletes. Set to open by fall 2016, the $7 million facility connects Yager Stadium to the Miami Indoor Sports Center, which opened this past winter.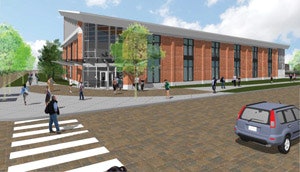 Kalamazoo College is breaking ground this fall on a $9 million fitness and wellness center (right). The 33,000-square-foot facility will include a weight and cardio fitness area, four multipurpose rooms, a dance studio, racquetball courts and expanded locker rooms for general use, as well as locker rooms and offices for the men's and women's tennis programs. Designed by TMP Architecture of Bloomfield Hills, Mich., the facility will be built as an addition to the Markin Racquet Center, which also houses four indoor tennis courts, racquetball courts, a small workout area, locker rooms and the current coaches' offices for tennis.
Construction is under way on a 39,000-square-foot addition to Windsor (Colo.) Community Recreation Center. The $16.1 million addition will include a new indoor lap and leisure pool, an additional gymnasium, a walking track, a fitness studio and expanded locker rooms. Excess funds raised via bond sales will go toward renovations of the existing facility, such as solar power and new carpeting. Designed by Barker Rinker Seacat Architecture of Denver, the expanded facility is slated to be completed in August 2016.
The University of California, Los Angeles has begun construction of its new training facilities for football and basketball. Designed by ZGF Architects LLP of Los Angeles, the $65 million Wasserman Football Center will span 75,000 square feet and include a locker room, an athletic training area, a strength and conditioning facility, coaches' offices and equipment rooms. The $25 million Mo Ostin Basketball Center will include similar amenities within its 35,000-square-foot layout, designed by Kevin Daly Architects of Santa Monica, Calif., in partnership with global design firm AECOM.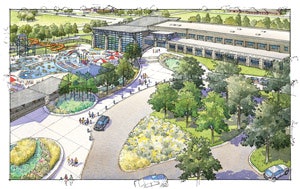 After a decade of planning, the city of McKinney, Tex., broke ground this summer on an 80,000-square-foot aquatic and fitness center. Set to open in McKinney's Gabe Nesbitt Community Park (right) in late 2016, the three-story, $34.5 million center will include a gymnasium, fitness areas, an elevated track, a child-care area, classrooms, an indoor 25-meter competition pool, an indoor leisure pool and an outdoor leisure pool. Dallas-based Brinkley Sargent Wiginton Architects is serving as architect of record and design architect for aquatics, site and interiors, in collaboration with Dallas-based Moody Nolan, design architect for recreation.
---
First Pitch
The St. Cloud (Minn.) City Council and the St. Cloud YMCA have agreed to a construction budget and management terms for the St. Cloud Community Aquatics Center. Construction of the $24.9 million facility is now out for bids, and fundraising efforts will determine the start date and final facility design. The current plan calls for a 108,000-square-foot facility housing an indoor aquatic center, a multipurpose gym, community rooms and fitness spaces... A $6 million donation from the Irwin A. and Robert D. Goodman Foundation will fund a renovation of the softball and soccer stadium at Madison College in Madison, Wis. Renovations will include batting cages, a turf field, radiant heat in the clubhouse and dugouts, field lighting, stadium seating, concessions areas and locker rooms. Renovation work is expected to begin next spring... Fundraising efforts are moving forward for a new pool in Frackville, Pa., to replace the existing community pool, which did not open this summer due to deteriorating and unsafe conditions. Initial fundraising for the $1 million construction cost focused on community donations, while a second phase will target local businesses... The city of Salina, Kan., is progressing on plans for a field house/recreation center as part of its downtown revitalization project. Funding has been secured for the $9 million project through a public/private partnership. The city is now seeking a construction manager and architect with the goal of breaking ground in spring.
---
Grand Openings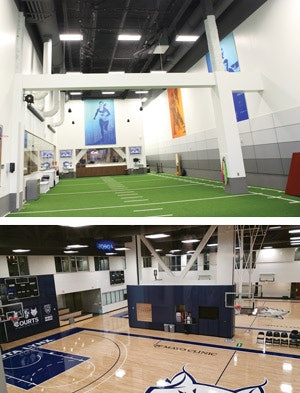 Construction wrapped up last month on the Robert and Virginia Foster Fitness Center at Northwest Missouri State University. The $4 million renovation of the shuttered Robert P. Foster Aquatic Center added 19,000 square feet of space for cardio and weight lifting equipment, a human performance lab, classroom spaces, locker rooms and group exercise classrooms... Portland Rock Gym in Oregon unveiled 10,000 square feet of new climbing space last month, bringing the total wall space to 25,000 square feet. The expansion project also added an instruction space, a green roof, a soundproof yoga studio and a climbers' lounge. Colab Architecture + Urban Design of Portland, Ore., and Eldorado Climbing Walls of Boulder, Colo. designed the expansion... Work concluded last month on renovations to Wescott Athletic Complex in Austin, Minn. The $5.2 million project replaced two grass fields with synthetic turf and constructed a dome that will allow one field to be used year-round. The domed field will be used by Austin Public Schools for soccer, softball and baseball practices, as well as recreational leagues... Life Time Fitness opened its first Boston location this summer. The $28 million club spans three stories and 128,000 square feet, offering an aquatic center, basketball courts, cardio equipment, weights and workout studios. Other amenities include a café, counseling services and programming for children... The Minnesota Timberwolves and Minnesota Lynx unveiled a highly anticipated new training facility, The Courts at Mayo Clinic Square (above), over the summer. The $25 million facility, built in partnership with Mayo Clinic, replaces a shared single practice court located in the basement of the Target Center with a 107,000-square-foot space featuring two courts, state-of-the-art training equipment and a sports medicine center. Minneapolis-based RSP Architects designed the building exterior, while AECOM designed the training.
---
This article originally appeared in the September 2015 issue of Athletic Business with the title "Forward Progress"