Grand Openings
Portland University held an official dedication for its Beauchamp Recreation & Wellness Center (above) last month. Serving as an anchor point for the northwest corner of campus, the $23.7 million, 73,000-square-foot center features glazing around all sides of the building, which creates a two-story beacon of light at night. The design, led by HOK in partnership with Soderstrom Architects of Portland, utilizes a "fitness neighborhood" concept and features gymnasiums, exercise studios, a suspended track, a 32-foot-tall climbing wall and an outdoor pursuits center. Additionally, a functional training area features connected indoor and outdoor spaces...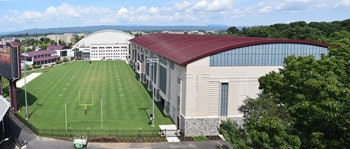 Virginia Polytechnic Institute and State University's new indoor athletic training facility (right) is now open. Designed by HKS Sports & Entertainment Group of Richmond, Va., with consulting from SPortsPLAN Studio of Kansas City, Mo., $18 million, 92,000-square-foot complex, features a 200,000-square-foot training field with 85-foot-high clearance for punting drills. Platforms allow for coaching and videographers to observe practices inside and outside the facility, and six garage doors provide further transition between the interior and exterior... Naperville Yard opens this month in Naperville, Ill., to help meet increased demand for indoor practice space for sports such as lacrosse, soccer and football. The 101,000-square-foot, privately owned facility offers four turf fields, a speed-and-agility-training center, a weight room, a plyometric floor and smaller turf training fields. The facility already has partnerships with the Naperville Park District and several other local organizations, and will offer its own in-house soccer and football leagues... A gym billing itself as Canada's only indoor adult obstacle course is now open in Toronto. Pursuit OCR features 19 obstacles such as monkey bars, ball pits, and climbing structures spread over 10,000 square feet. The gym will also offer group exercise classes focusing on gymnastics and flexibility, as well as cryotherapy... Central Michigan University's new Lacrosse Soccer and Student Recreation Facility is now open. The $8 million complex is home to the college's women's soccer and lacrosse programs, as well as club soccer and lacrosse. The complex features a synthetic turf field, seating for 1,000, field lighting, a press box, a scoreboard and locker rooms.
---
Breaking Ground
The first phase of construction of a new, privately funded sports complex in Attleboro, Mass., is now under way. The $52 million New England Sports Village will feature a 165,000-square-foot field house that includes a gymnastics center, 60,000 square feet of synthetic turf for soccer and lacrosse practices and games, spaces for baseball and softball training, three hardwood courts for basketball and volleyball, a spectator mezzanine and a climbing area. Additionally, the project will construct an ice arena housing two NHL-sized pads and one half-rink, an aquatics center, multiple outdoor playing fields and a 150-room hotel.
Christian Brothers High School has broken ground on a $10 million athletics complex at its East Memphis, Tenn., campus. Designed by Memphis-based Fleming Architects, the 50,000-square-foot Brothers Development Center will house a gymnasium, two state-of-the-art training and weight rooms, a sports medicine and therapy area, a wrestling arena and expanded locker rooms for football and lacrosse. Construction is expected to last a year.
Construction began last month on the Russell J. Ebeid Recreation Center at Lourdes University. Designed by Stough & Stough Architects of Sylvania, Ohio, the $6.5 million center will include competition courts for the school's men's and women's volleyball and basketball teams with seating for 1,000, locker rooms, a training room, cardio and free weight areas, and group exercise classrooms. The 49,000-square-foot project is expected to be completed next summer.
Cabrini College broke ground last month on a new Athletic and Recreation Pavilion, which is being built adjacent to the school's current athletic facility, the Dixon Center. The 44,000-square-foot addition will include new fitness rooms, studios for exercise, and event space and locker rooms, allowing the school to host NCAA tournaments when completed next fall.
---
First Pitch
The Cherokee County Family YMCA in Gaffney, S.C., has begun a campaign to raise funds for new athletic fields. The fields, to be built on five acres of land adjacent to the facility, will include two baseball fields and a soccer field, as well as a concessions stand and restrooms... Santa Rosa County has been awarded a $50,000 grant from the Florida Recreation Assistance Program to help fund improvements to Navarre Park, including accessible playground equipment, basketball court repairs, a shaded picnic area and a kayak launch. The county has three years to begin the project now that the grant has been approved by the county commission. The county is still seeking funding for an estimated $500,000 needed for all planned park improvements... The University of Wisconsin Athletic Department has announced a campaign to renovate its volleyball locker room. The $1.5 million project will fund enhancements to the locker room, team lounge, study space, video room, athletic training space and coaches' locker room... Wittenberg University has presented a plan for a $30 million expansion and renovation of its athletic facilities to the Clark County Convention Facilities Authority, hoping for a $750,000 grant to help fund the project. The school has raised $16.2 million in private donations and expects to earn $8.8 million in state and federal credits but needs to secure the final $5 million before breaking ground. The renovations will include updates to the field house, constructed in 1929, and the Health, Physical Education and Recreation Center. Construction of a new 125,000-square-foot indoor athletic facility is also planned... Beacon Health Systems and Memorial Health Systems of Mishawaka, Mich., have presented a plan to the city's planning commission to build a new $16 million fitness facility. The 67,000-square-foot facility would be built on a 47-acre site and include traditional fitness spaces, as well as physical therapy and sports medicine spaces and an agility training area.
---
This article originally appeared in the October 2015 issue of Athletic Business with the title "Forward Progress"