This article appeared in the May issue of Athletic Business. Athletic Business is a free magazine for professionals in the athletic, fitness and recreation industry. Click here to subscribe.
The title of "first in the world" is a prestigious one and is not awarded very often. Despite the challenges associated with doing something no one else has done, those involved with building the Mary Free Bed YMCA in Grand Rapids, Mich., did just that when they opened the first facility in the world to be recognized with Universal Global Design certification from the Global Universal Design Commission.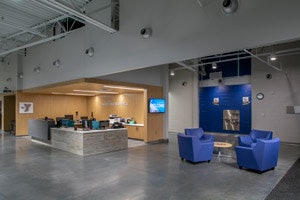 While the certification wasn't the end goal from the start, Andrew Page, chief operating officer for the YMCA of Greater Grand Rapids, says that once the design team realized this certification was a possibility, plans changed in order to have a greater impact with Y members and community. "The initial concept was more of a standard Y design with significant external amenities other Ys do not typically offer," Page says. "As the design progressed, we began to realize an opportunity to be creative and different, to create a facility truly representative of the diverse membership we hoped to attract and serve."
The 116,200-square-foot YMCA is attached to the Mary Free Bed Rehabilitation Hospital, one of the largest rehabilitation hospitals in the country. Stakeholders wanted a facility that reflected the services provided by Mary Free Bed, and the resulting facility, which opened in December, welcomes individuals of all abilities, making sports, exercise and play accessible to everyone.

Never too late
A facility does not need to be new construction in order to incorporate universal design. Progressive AE is currently introducing the standards to existing facilities. Though existing facilities can expect to face a few additional challenges when implementing universal design principles, it's not impossible. YMCA of Greater Grand Rapids COO Andrew Page advises starting early and setting a clear, purposeful vision. "Engage those individuals with a variety of disabilities to assure you have a perspective through their lens," he says. "This is essential to catching not only the big things but the smaller things as well."
Not all design recommendations will be feasible due to the limitations of an existing facility, but where changes are possible, it behooves facility operators to put in the effort to make it happen. "Be patient," Page says. "Sometimes the concepts of universal design may seem daunting, but in the end, they are well worth it."
LAYING OUT THE PATH
To earn its UGD certification, the Mary Free Bed YMCA followed a set of design principles created by the GUDC in partnership with the University of Buffalo's Center for Inclusive Design and Environmental Access that are intended to meet the needs of a spectrum of human abilities. The standards offer guidelines for the design process, site elements, building elements and services, and facility management policies. They take into account an aging population, individuals with disabilities, those recovering from medical procedures and those with temporary injuries, musculoskeletal diseases, and hearing and sight challenges.
Page notes that there were a few challenges when incorporating universal design principles into facility plans after the original concepts had already been developed, but with guidance from the Burton Blatt Institute, a Syracuse University group dedicated to advancing the needs of people with disabilities, the designers were able to make the changes necessary to bring a facility with universal design to fruition.
---
More from AB: Adaptive Recreation and Fitness Facilities Set an Example for All
---
"We looked to provide universal design solutions from a diverse platform, realizing that even the most able-bodied individuals pass through a time when they find themselves challenged by age, language barriers, temporary illness and injury," says Michael Perry, a principal with Progressive AE, the firm responsible for the Y's design. "We needed to consider visual and hearing impairments, mobility clearances, wayfinding, air quality, lighting controls and material choices during the design process."
The resulting design included wider hallways and a more open space concept, removal of a staircase and repositioning of steel columns. Steps, curbs and other obstacles were eliminated and replaced by an oversized elevator and ramps. Outside the facility, hard-surface viewing areas at the soccer and baseball fields allow wheelchair users to catch the action, as well as participate, thanks to the specially designed sports fields and courts serving the Y's various adaptive sports teams and clinics. Power doors are used throughout the restroom and locker facilities or, where possible, doors are eliminated altogether.
---
More from AB: Few Rec Centers Actually Address the Needs of People with Disabilities
---
Equipment within the programming areas was also selected and arranged with respect to users' varying abilities. The facility has a variety of adaptive strength and cardio equipment, such as cardio machines with seats that rotate out for wheelchair users, set apart by wider aisles to facilitate access. The Y's two pools are fully accessible with self-operated transfer stations that feature drop-down seats. Daily group exercise classes take place at the pool, including a low-impact class for those with arthritis or similar conditions and a shallow water exercise class that can be modified for any level.
Another important feature of the Mary Free Bed YMCA is its locker rooms. Larger changing areas are equipped with fully accessible changing tables. The zero-entry showers include pulldown benches, and the typical narrow bathroom stall was nixed in favor of larger, more accommodating spaces.
---
More from AB: Equipping for Diversity
---
Ergonomic design extends to all equipment in these areas, including chairs, door lever handles, light switches and faucets, which can be operated without straining or bending. Throughout the locker rooms and restrooms, sinks, mirrors, towel dispensers and hand dryers were installed at lower heights to accommodate wheelchair users.
Color choices played an important role in the design process as well. Color schemes and lighting throughout the facility cue those with any level of visual ability so they can easily make their way around the building, and the softball field is made out of asphalt in contrasting colors to represent the bases, the outfield and the infield. Acoustics throughout the building help minimize noise, making it easier for all patrons to hear and communicate.

CONTINUING TO ADAPT
Public response to the facility's design has been overwhelmingly positive. "Many marvel at the open concept and the massive ramp sitting right in the middle of the facility," Page says. "Many members have also expressed appreciation for the opportunity to engage and be a part of a facility that serves and draws so much diversity on all different levels."
And as members see what's possible, they see new opportunities as well. "We have also had some folks provide us with recommendations to become even better within the facility and with the services we provide," Page adds.
While the Mary Free Bed YMCA is the world's first facility of this caliber, Perry believes that incorporating universal design will start becoming a priority, giving facilities an edge over those that are not fully accessible: "As owners begin to understand that about 19 percent of the population has some form of temporary or permanent disability, incorporating universal design concepts into their facility will create a differentiation for their organization."
---
This article originally appeared in the May 2016 issue of Athletic Business with the title "Behind the scenes of the first universal design-certified facility"