Does your facility have any members with disabilities? How well does it accommodate them?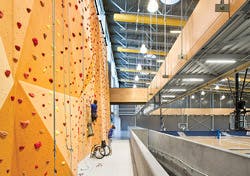 ALL ACCESS
The Virginia G. Piper Sports and Fitness Center for People with Disabilities opened in Phoenix, Ariz., in 2012. (Photos © Raul J. Garcia Photography)
Does your facility have any members with disabilities? How well does it accommodate them? For people with disabilities, there's a difference between a facility that meets ADA requirements and one that is truly accessible.
"The ADA is kind of a catch-all standard, but the disability community is much more diverse," says Ilan Baldinger, the architect behind the Virginia G. Piper Sports and Fitness Center for Persons with Disabilities (SpoFit) in Phoenix, Ariz., one of a handful of such facilities in the country. "We still had to comply with the ADA, but then we had to go beyond. For example, elevator controls are required to be at a certain level. But a person in a wheelchair with limited arm mobility finds that it's very difficult to reach controls at that level."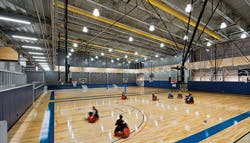 Elevator buttons at SpoFit are lowered to be within easier reach, but they're also oriented in a horizontal row instead of a traditional vertical display and located in the middle of the cab. Likewise, restroom hand dryers are located at two levels; an ADA-required level, as well as one even lower and more usable. "We extended that approach to just about everything," says Baldinger. "We wanted to create an environment that is inspiring and uplifting."
Going beyond ADA requirements is something all recreation and fitness facilities need to be thinking about, whether they currently serve members with disabilities or not, says Damian Buchman, founder of The Ability Center, an inclusive recreation center to be built in Milwaukee. "We're all TABs - temporarily able-bodied," he says. "Whether it's disease, an accident or old age, all of our bodies are going to slow down. We're all going to have the need for greater access."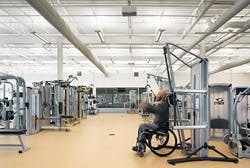 ROOM FOR ALL Accessibility starts with adding a little extra room for everyone - wheelchair users in particular. Fully accessible competition courts, pools, locker rooms and other areas mean very little to a person who can't get through a doorway. ADA-standard doorway width is 38 inches, but doorways at The Ability Center will be designed to a minimum of 42 inches; 84 inches for double doors. "There's that ease of access and comfort where you and I may be able to walk shoulder to shoulder as we pass one another," explains Buchman. "For people in wheelchairs, that's not often the case. They have to wait until one person comes by before the other can continue moving."
The problem is more apparent when athletes trade in their everyday wheelchairs for sports chairs, which are typically wider due to angled wheels that allow for better stability and control during competition.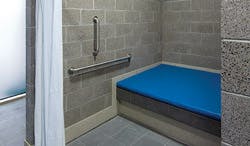 Extra wheelchairs also require extra storage space. SpoFit has a storage room under the court just for wheelchairs. "We wanted to make sure the athletes could come into the facility and change in and out of equipment," says Phil Pangrazio, president and CEO of Arizona Bridge to Independent Living, the organization that owns and operates SpoFit. "They can leave their everyday chairs down in the basement and come up onto the floor in their sport chairs and not have a gym cluttered with everyday chairs."
People in wheelchairs don't need to be participating in activities at SpoFit to feel welcome; the design considerations extend to spectator areas. "We provided a lot of ways to view events from different vantage points," Baldinger says. "We have typical bleachers and we have raised areas so that a person in a wheelchair can view the games. The railings are made of glass so a person can see through them. There's a lot of emphasis on the spectators, as well as the users."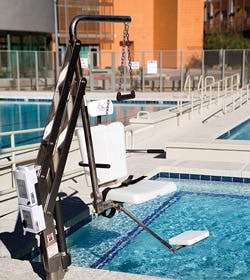 Off the court, locker rooms need to be more than just accessible in order to be functional for wheelchair users. Buchman's design for The Ability Center includes extra-wide pathways between locker rows, allowing two wheelchair users to be in the same aisle and pass comfortably. The locker rooms at SpoFit also consider the adaptations people have made when it comes to getting dressed and undressed. "A lot of people with physical disabilities get dressed in bed," says Pangrazio. "It's easier to roll from side to side laying down to get clothes on. We put in padded, elevated dressing areas in each locker room."
EQUIP FOR EQUALITY The Ability Center is designed so that every grouping of three pieces of fitness equipment will have a minimum of three feet on either side, making the outer two pieces easily accessible for people with mobility issues. That's just the first step, though, says Buchman. Not only does equipment need to be accessible, it needs to be useable - all of it. "You need to be able to change up your routine," he says. "That's not usually possible for people with disabilities. They have the things they can figure out how to adapt. There are no other options, so it becomes routine and boring."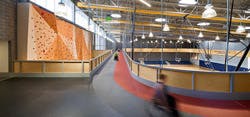 While a few fitness equipment companies do offer adaptive equipment, most commercial fitness equipment is not designed to be adapted for use by people with disabilities - at least not yet. Buchman is working with Cesena, Italy-based Technogym on a few modifications to make equipment more usable.
"One of the big things we've been talking about is that we want our members to have RFID wristbands," he says. The wristband would communicate with the piece of exercise equipment to audibly alert the user as to what piece of equipment it is, as well as give him or her verbal workout plan cues, a useful tool for visually impaired users and those with intellectual disabilities. It's based on Technogym's existing mywellness Cloud digital platform and corresponding tracking key, but would eliminate the need to physically plug a device into a piece of equipment.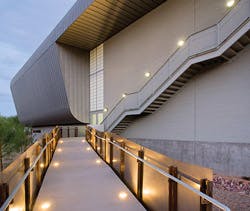 "The issue for people with disabilities is that a key doesn't work if they don't have the hand dexterity to plug that in, or if they're visually impaired and can't see where to put it," explains Buchman. "It's technology that any facility would love to have; for us it's more about access and independence."
Solutions don't have to be as high-tech as interactive wristbands. At SpoFit, all of the weight equipment includes Braille plates for blind users. "Each piece of equipment is labeled with pounds, but also with basic instructions for using it," Pangrazio says.
"We did the same thing for the vending machines," he adds. "We Brailled them, but we also made a catalogue so that people could look through the catalogue rather than feeling all over the machine. Those are the little, simple things that you can do to make a facility more accessible."
TOTAL SENSE While most of the accessible design conversation focuses on people with mobility issues, a truly accessible facility considers every element that can enhance a user's experience. "All of our ramps and stairs have textured materials so a person knows they're getting into a more dangerous area," says Baldinger. "Contrasting colors separate stairs, flat floors and ramps."
GUIDING LIGHT
Bright colors used throughout a facility offer cues to patrons with visual impairments.
"People with visual impairments who aren't technically blind can find their way with different patterns on the floor or different colors," says Buchman. Lines, bright colors and graphics denoting different programming areas can all offer cues to users.
"One of the criticisms we've gotten was that we should have chosen brighter colors for the runner's track on the second floor," says Pangrazio. "It's a two-toned track; the inner lane is one color, the outer is a different color. Someone who has a visual impairment would act off those color changes."
SpoFit also features a wire hearing loop embedded beneath its basketball court for people with auditory challenges. "If you're hosting something in the gymnasium where you're using a loudspeaker system, when someone is speaking, the hearing loop will amplify that voice into someone's hearing aide," says Pangrazio. "We also did that in the group fitness room upstairs. When an instructor is teaching a yoga or tango class, everyone can hear the instructions."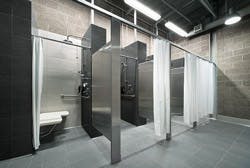 Even a user's sense of smell was taken into consideration in SpoFit - not the lack thereof, but the enhanced olfactory sensitivity that may come as a result of other disabilities. "We wanted to use building materials that were 100 percent environmentally friendly. If any of our patrons came in, they wouldn't come in and smell out-gassing," Pangrazio says. "The flooring is still the most offensive thing that people complain about. It might take a few years to outgas that entirely, but that's a challenge. It's hard when something has to be glued down, but it's something that anybody who's going to build a facility like this should give some thought to."
THINK DIFFERENTLY Not every fitness or recreation facility can or needs to replicate all of the adaptations of an adaptive facility like SpoFit or The Ability Center, but owners and operators might find that some changes just make sense. "We did things that a lot of gyms wouldn't do just because they don't think about it," says Pangrazio.
Facility owners and operators need to start thinking about it. specialized facility.
Whether accommodating disabilities temporary or permanent, the important thing is for facility owners and operators to start thinking about how they can keep pace with the needs of their current and future members. Ideally, doors on recreation facilities everywhere will be opening wider in coming years, inviting in all types of users. "That's 90 percent of the battle - do they feel welcome, do they feel wanted, like they belong?" says Buchman. "Beyond all the programming we can do, beyond all the adaptive equipment we can provide, 90 percent of the battle is making people feel welcome. Just that ease of access, ease of movement, can make you feel like you belong."
Water Channels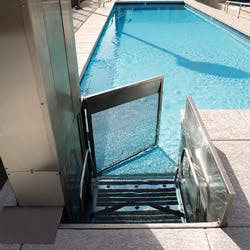 Most pool operators are familiar with aquatic lifts, zero-depth entry and ramps - ADA requirements. But access doesn't stop there at the Virginia G. Piper Sports and Fitness Center. "We wanted to make sure there were as many means of getting into the pool as possible," says Pangrazio of the center's three pools, all of which feature typical aquatic lifts. "The two bigger pools also have submersible elevator lifts. Someone could wheel out onto one and submerse into the water."
There's also the dry ramp, located outside the pool rather than in it. "A person can wheel themselves down the ramp and then transfer him or herself to a bench and into the pool," adds Baldinger. Other ADA accessibility options include transfer walls equipped for grab bars, transfer systems and accessible pool stairs, which are specifically designed to provide extra balance and support. - E.A.