This article appeared in the June issue of Athletic Business. Athletic Business is a free magazine for professionals in the athletic, fitness and recreation industry. Click here to subscribe.
Breaking Ground
Purdue University has started construction on a 110,000-square-foot addition to its Mollenkopf Athletic Center. The $65 million addition, to be called the Purdue Football Performance Complex, will include a locker room, a weight room, coaches' offices, meeting rooms, a player-development room, sports medicine areas and a nutrition station. Construction of the addition, designed by Kansas City, Mo.-based Populous, is expect ed to be completed in August 2017.
The city of Hoover, Ala., breaks ground this month on the $70 million Hoover Sportsplex. The complex will include a 141,000-square-foot indoor event center capable of accommodating a full-size field for soccer or football, nine basketball courts, 12 volleyball courts or six indoor tennis courts. An indoor recreational track, training center and food court also will be included. Six multipurpose athletic fields sized to NCAA regulations, eight baseball and softball fields, 15 outdoor tennis courts and a two-mile walking track also will be built on the 120-acre site. The design, from Goodwyn Mills & Cawood of Birmingham, calls for a playground, splash pad and tailgate areas as well.
Iowa's Central College has broken ground on renovations of P.H. Kuyper Gymnasium. Designed by RDG Planning & Design of Des Moines, Iowa, the $11 million project will include upgrades to the infrastructure of the 47-year-old gym, as well as construction of a hall of honor, new locker rooms, a wrestling room and larger cages for softball, baseball and golf practice. The renovations are part of a phased upgrade to the college's A.N. Kuyper Athletic Complex. Previous construction included enhancements to the outdoor athletics facilities.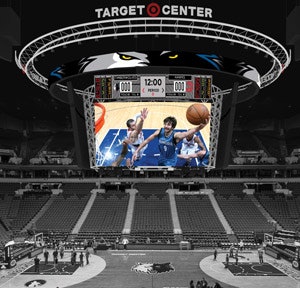 Construction began last month on renovations to Target Center, home to the Minnesota Timberwolves and Lynx. The $129.8 million project, designed by Minneapolis-based Architectural Alliance and Denver-based Sink Combs Dethlefs, will be completed in phases. The first phase will improve the fan experience through additional club spaces and gathering areas, a new scoreboard, new signage systems at each concourse, and enhancements to food-and-beverage services. The second phase will include exterior work and improvements to support spaces. The project will add a new lobby with a five-story glass atrium, connecting the arena to the Warehouse District and offering spectacular views.
---
First Pitch
Temple University's board of trustees has approved $1 million for designs and study of a 35,000-seat stadium to be built on the Philadelphia campus. The university has selected Columbus, Ohio-based Moody Nolan to design a proposal for the stadium. The project will progress past the design phase only if fundraisers are able to meet the required level of fundraising for the estimated $126 million project.
Evanston, Ill., aldermen have approved a fundraising plan for a new recreation center to replace the outdated Robert Crown Community Center. The new facility would include an ice rink estimated to cost $30 million. The city council has committed $10 million, and the rest will be raised via private donations and naming rights, with four fundraising pushes conducted over the next year.
The University of Utah is considering construction of an on-campus baseball stadium. The plan calls for a 2,000-seat stadium to be built at the site of the baseball team's current practice field. The team is hoping to have the new facility in place by Opening Day of 2018, pending approvals and fundraising for the $7.5 million project.
Demolition of Connecticut Commons began last month to make room for a new student recreation center at the University of Connecticut. The preliminary designs, from JCJ Architecture of Hartford, Conn., are still being finalized and will need approval before being put out to bid.
The city of Fairview Heights, Ill., is moving forward with plans to build its first recreational center. The multi-use facility will have a pool, a gymnasium and a fitness center and is expected to cost between $10.5 million and $12 million. City leaders are currently evaluating locations.
---
Grand Openings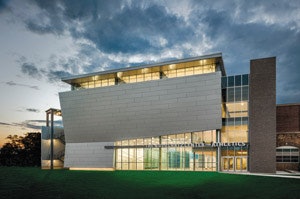 Poly Prep Country Day School in Brooklyn, N.Y., held a grand opening this spring for its new Novogratz Center for Athletics. The first new building on the school's campus in 20 years encompasses 27,900 square feet spread across three levels. The first floor includes a dedicated squash facility, including four practice courts and two all-glass competition courts with spectator seating. A multipurpose gym on the second floor connects to an outdoor terrace overlooking athletic fields, and the mezzanine level connects the athletic facility to the school's Legacy Gymnasium. Jack L. Gordon of New York designed the new facility.
A new community fitness center opened last month at Brighton (Mich.) High School. The $1 million project was the result of a decision to build a new pool for the high school, allowing the old pool to be repurposed. The fitness center will be used during school hours by students and be open to the public in the evenings.
Fires Fitness Center opened this spring at Fort Sill, Okla. The $22 million facility is built to the Army's newest standards and offers a three-court gymnasium surrounded by an elevated jogging track, fitness areas with new weightlifting and cardio equipment, exercise studios, men's and women's locker rooms built to double as storm shelters, a climbing wall, racquetball courts, a childcare facility, a combatives room and administrative spaces.
The Cregger Center is now open at Roanoke College. Designed by VMDO Architects of Charlottesville, Va., the 155,000-square-foot facility features classrooms, meeting spaces, a gymnasium with a 2,500-seat capacity, a fitness center, an athletic training room and a fieldhouse with a 200-meter track. In addition to serving the school's athletics programs, the center will host campus and community events.
---
This article originally appeared in the June 2016 issue of Athletic Business with the title "Forward Progress"