This article appeared in the July/August issue of Athletic Business. Athletic Business is a free magazine for professionals in the athletic, fitness and recreation industry. Click here to subscribe.
Breaking Ground
The New Caney (Texas) Independent School District broke ground in June on a new aquatic center to serve its two existing high schools and a future third. The facility will include a 25-yard, 15-lane competition pool to accommodate practices for two programs at once, a raised seating area for 400 spectators, locker rooms, a courtyard and administrative offices. Stantec of Houston designed the $13.8 million project, which is expected to take 13 months to complete.
The West Seattle YMCA has broken ground on an expansion that includes a dedicated family wing; 9,500 square feet of space for fitness classes, weight training and cardio equipment; a demonstration kitchen; family changing rooms and a new entrance. Designed by Miller Hayashi of Seattle, the $8 million project will be done in phases and leave the majority of the facility in use throughout construction.
Construction of Two Rivers Activity Center has begun in Jamestown, N.D. The first phase of the $30.7 million project will construct an indoor aquatic center with a lap pool, a lazy river and a group exercise pool, as well as a fitness center, an elevated walking track, three multisport courts and an indoor turf area covered by an inflatable dome. The second phase of the project, designed by Zerr Berg Architects of Fargo, will expand the multicourt area, as well as other programming spaces.
The city of Valparaiso will soon have an outdoor basketball court in its Tower Park painted to match the hardwood at Purdue University's Mackey Arena. Work begins in July on the park renovation, part of the university's Community Hoops program to restore local basketball courts, and will include new backboards, seating and resurfacing of all the park's courts.
---
First Pitch
The YMCA of Greater Houston is planning to open a seventh facility in the Houston area. Fundraising is underway for the $13 million Holcomb Family YMCA, which will be built beginning in 2018 on 10 acres of land donated by Jim Holcomb.
The Yuma (Ariz.) Design and Historic Review Commission has approved initial design concepts for the Pacific Avenue Athletic Complex. The plans from Phoenix-based Kimley-Horn and DWL Architects + Planning calls for six softball fields to meet local demand for field space and host adult and youth tournaments, as well as playgrounds, a concessions building, an irrigation lake and shelters. Final design for the $14.2 million project is expected this fall, followed by construction late this year or early in 2017.
The Visalia (Calif.) City Council has awarded a design contract for the next phase of development of Riverway Sports Park to The HLA Group of Sacramento. The project will add four softball fields, a concessions stand, restrooms, parking lot improvements, a warm-up area and new landscaping. Construction is anticipated to start in November, following completion of infrastructure work at the site.
Hanover County's Board of Supervisors has approved plans for RVA Sports Park. The 27.5-acre complex, expected to draw 400,000 annual visits, will include three outdoor turf baseball and softball diamonds and a two-story, 86,000-square-foot indoor training and competition complex.
---
Grand Openings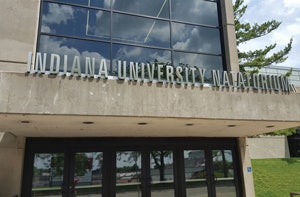 Indiana University Natatorium reopened in June following a 21-month renovation and modernization of the 34-year-old pool. Under the guidance of Indianapolis-based Browning Day Mullins Dierdorf and Ratio Architects, the five-phase project included replacing the roof, heating and cooling system, pool deck filtration system, lighting, bulkheads and starting blocks; widening the dive tower; adding new doors and windows to the east and west concourses; and modernizing the locker rooms. The renovations were completed in time to host the 2016 U.S. Olympic Team Trials for diving, the 14th Olympic Trial in the 220,000-square-foot venue's history.
Student-athletes at Penn State University will have to reorient themselves when they return this August after the Morgan Academic Center moves into its new home this summer. The $7.2 million project involved a conversion of the Greenberg Indoor Sports Complex (home to Penn State hockey until the completion of Pegula Ice Arena in 2013) and includes administrative space for academic counselors, learning specialists and a sports psychologist; 15 collaborative learning rooms; two conference rooms; classroom space; three large study rooms; open reading rooms; a student lounge and a fueling station. Designed by Hoffman Leakey Architects of Boalsburg, Pa., the conversion was financed in part by the university's Bridge to the Future Fund, which addresses facility needs for basketball, field hockey, lacrosse, volleyball, and track and field.
Construction of the Louisville Slugger sports complex in Peoria, Ill., wraps up this July, though parts of the complex have already been hosting softball and baseball practices and games at its 10 lighted diamonds throughout the summer. The $22 million facility also includes two championship fields and a 126,000-square-foot dome to house indoor practices and events, restrooms and concessions stands.
The Geneseo (Ill.) Park District celebrated the grand opening of John & Carla Edwards Aquatic Center in June. Replacing an old, non-ADA-compliant outdoor pool, the new $6.5 million facility includes two pools, a splash pad, diving boards, a drop slide, a climbing wall and a lilypad walk. In addition, a new pool house with changing rooms and a community room was constructed.
---
This article originally appeared in the July/August 2016 issue of Athletic Business with the title "Forward Progress"