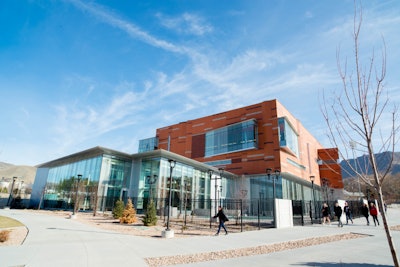 George S. Eccles Student Life Center | University of Utah
Hailed by one panelist for its careful management and unification of program elements with exterior massing and rhythmic facade glazing, the Eccles Student Life Center design wowed judges with its scope and presentation.
The largest project among this year's award winners, its orange-and-yellow color scheme evokes desert landscapes, and surrounding mountains inspired a design utilizing angular surfaces throughout.
"Rugged from floor plan to exterior to interior," stated one judge. "Mission accomplished."
View the full photo gallery>>>
---
Judges' Comments:
"Cohesive, integrated exterior and interior design appropriate to the site." — Katie Barnes
"This facility has a beautiful nighttime presence due to the amount, color and pattern of glazing." — Tracy Carusi
"Very nice palette of exterior materials that hang together nicely. Welcoming atmosphere." — Dave Larson
---
Associate Architect:
Hastings+Chivetta Architects | St. Louis, Mo.
Architect of Record:
MHTN Architects | Salt Lake City, Utah.
Cost: $41.4 million
Square Footage: 168,000
Funded By: Private Donations
Major Facility Components: 50-meter lap pool, leisure pool, whirlpool, fitness center, gymnasium, suspended track, climbing wall, bouldering area, racquetball courts, locker rooms, offices, outdoor adventure program, smoothie bar, credit union
---

A big thank you to our seven judges: Katie Barnes, Barker Rinker Seacat Architecture; David Body, David Body Sports Planning Consultant; Tracy Carusi, Collins Cooper Carusui Architects; Greg Houston, Marmon Mok Architecture; Philip Laird, ARC/Architectural Resources Cambridge; Dave Larson, TMP Architecture.; and Jeff Pennter, Stantec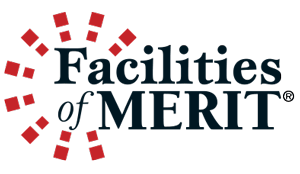 The 2016 Athletic Business® Facilities of Merit® awards were selected by a panel of sports and recreation facility architects during two days of judging in Madison, Wis. The 10 winners are being announced during these two weeks, and profiles of all 10 will appear in the October issue of Athletic Business. The awards will be presented to the facility owners and architects at the Athletic Business Show in Orlando on Friday, Nov. 18.