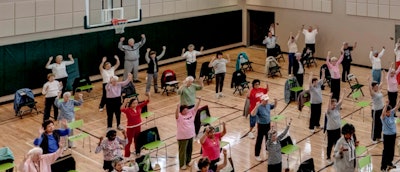 Last month, I wrote about ways in which the National Recreation and Park Association's three pillars can be incorporated into the facility design process. Conservation was first; next, we'll highlight design opportunities for health and wellness, NRPA's second — and arguably most urgent ­­— pillar.
Related: Incorporating Conservation into Rec Facility Design
With adult obesity rates above 30 percent in half of the states in this country, and 45 percent of adults not active enough to receive healthful benefits, it seems unfair to place the burden of improving the overall health and wellness of a community on a recreation facility. But that's exactly what's happening.
As NRPA proclaims on the organization's website: "The scientific evidence is mounting that parks and recreation are building healthier communities, and top health officials in the country — U.S. Health and Human Services, Centers for Disease Control and Prevention — validate that parks and recreation are a critical solution for our nation's health epidemic."
To that end, think beyond the typical borders of fitness centers and basketball/volleyball courts by designing active play and recreation options for facility users of all ages.
In other words, envision your recreation center as a multi-generational community center — one in which everyone feels welcome. Cross-market between your facilities that have unique programs. Often, patrons aren't aware of opportunities that would interest them, simply because they are at a different location.
This involves creative design as much as it does strategic programming. Consider the Dine and Learn program offered by the Prince George's County (Md.) Department of Parks and Recreation, which demands large kitchen spaces.
Additionally, multipurpose rooms of various sizes can accommodate programming that targets different generations: Martial arts classes for kids, birthday parties and multicultural celebrations for teens, dodgeball and kickball leagues for millennials, and pickleball opportunities for older adults.
The key, from a design standpoint, is to ensure that such rooms are flexible and equipped for different anticipated programs. Consciously decide with your design team where to strike the balance between flexible and purpose-built spaces. 
Social spaces are important, too, as is free Wi-Fi, because the longer people stay at your facility, the more likely they will be active in that facility.
Of course, with more attention focused on living longer, it makes sense for facilities to find more ways to engage America's aging population. That was the strategy behind The Summit at Central Park, in Grand Prairie, Texas, a first-of-its-kind rec center specially designed and built for adults 50 and older. It features plenty of amenities that appeal to that generation, including an indoor leisure pool, spa, walking track, theater, ballrooms and lakeside boardwalk.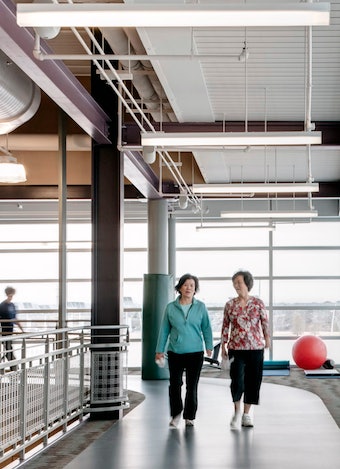 But those components need not be exclusive to a facility designated for older adults. They are amenities everyone enjoys, and they can be incorporated into the design of any new facility — and, with some creative planning, be part of a renovation project at an existing facility.
Next month: The role social equity plays in recreation facility planning and design. 
---
Stephen Springs is a senior principal at Brinkley Sargent Wiginton Architects, a Texas-based firm specializing in public architecture with offices in Dallas, Waco and Austin. He is a former parks commissioner and has more than 20 years of experience in public recreation and aquatic design.