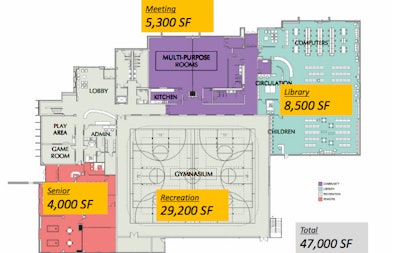 In a previous post, I explained one of the top seven factors that are changing the form and function of recreation centers: holistic planning.
In this post, I'll discuss a second factor at play in planning and designing facilities, and that is programming and services. Forward-thinking planners are developing strategies for sharing services under the same roof, eliminating redundancies in current options and providing new opportunities that might otherwise not be possible in a single facility.
Among the increasingly popular options are merging recreation centers and senior centers into multigenerational facilities, using the same spaces to create multiple-use facilities, and combining traditionally independent services, such as police operations and recreation programming.
Multiple-Generation Facilities
When you think about it, the multi-generational approach is a brilliant hybrid. Recreation centers enjoy peak use and highest demand during the evenings and on weekends, while senior centers see more action during the weekday hours.
A combined facility can accommodate a variety of demographic groups with flexible schedules, allowing for a greater balance of space, time and staff resources — much more than either facility would enjoy operating as a single entity. Meeting spaces, classrooms, fitness areas and pools can be shared with nominal programming conflicts and maximum utilization of space and operational hours.
That said, it's still vital to reserve some space exclusive to senior program participants to help establish a sense of "ownership" and identity for older members.
A prime example of a multi-generational facility is the NRH Centre in North Richland Hills, Texas, which not only houses a natatorium, gym, fitness spaces and other traditional recreation amenities, but also an integrated senior center and ballrooms with banquet-hosting capabilities.
Multiple-Use Facilities
At approximately 47,000 square feet, the Barbara Fasken Community Center in Laredo, Texas, provides recreation programming, a community room and a branch library, and the facility serves as an anchor for continued development in the area. The library component introduces yet another option into the shared-space discussion. Even in communities where the physical buildings remain separate, there's a trend toward libraries offering programming that previously was part of traditional senior center and recreation center models — activities such as educational sessions, local meetings, speaking presentations and kids' camps.
Some of these activities might be driven by libraries seeking to retain their relevance in the Internet age. Yet there's also evidence that "non-revenue" activities are being shifted out of leaner recreation centers. Computer classes are one example of this shift; nutrition programs are another. This is why we've seen the merging of library and recreation services in recent years — especially in small communities.
Mustang, Okla., is a city of 17,000 residents that has embraced the multi-use and multi-generational concepts. As the website for the 69,700-square-foot Town Center proclaims: Whether you are a preschooler seeking a fun learning or physical activity, a teenager looking for a safe place to "hang," a young adult or middle-age child in search of a place to stay fit and active, or a senior looking for the same, plus a place to keep in touch with friends and neighbors … this is the place to find it, and plenty of it.
In anticipation of the potential shifting of programs in and out of facilities, designers must find ways to create spaces that are flexible without sacrificing elements that make them suitable for specific activities. Sub-dividable multipurpose rooms remain a staple of these buildings, but care needs to be taken in terms of sizing and materials. For example, a room with hard, moppable surfaces can be designated for activities as diverse as crafts sessions and group fitness classes. Another space could be equipped with softer surfaces to accommodate educational programs, meetings, book clubs or other events that require a quieter environment.
Combining Independent Services
Larger cities aren't immune to the reshuffling of services, either. In Houston, a "one-stop shopping" model provides residents with recreation opportunities, a library, nutrition education, police substations and more — resulting in increased service efficiencies and reduced capital costs. City officials call each facility a "multi-service center," and they vary based on the local communities they serve.
In Eugene, Ore., the Library, Recreation and Cultural Services Department is responsible for community enrichment via a diverse array of programming — including physical activities, theater opportunities and small-business support.
Brinkley Sargent Wiginton is currently working on a project in Arlington, Texas, that will take the rec center/library concept to the next level — from simply co-locating those services to integrating them operationally.
Most multi-use centers share the same site or roof, but they remain independent operations. The Arlington project seeks to integrate rec, senior and library operations by using the same rooms for some of their programs. This involves close coordination among all entities, not only for scheduling purposes, but also to prevent program overlap. The goal is to maximize exposure to all of the facility's programs through marketing and cross-programming. Fee structures also are being revisited. For example, will having a library card provide the user access to the gym?
As communities look for ways to limit spending, reduce budgets and implement change with minimal disruption of services and activities, the sharing of resources and spaces often makes more sense than pitching an either/or proposition to taxpayers and voters.
Stephen Springs is a senior principal at Brinkley Sargent Wiginton Architects, a Texas-based firm specializing in public architecture with offices in Dallas, Waco and Austin. He is a former parks commissioner and has more than 20 years of experience in public recreation and aquatic design.