Breaking Ground
The City of Watertown, S.D., will break ground this month on a two-rink ice arena. The $8.2 million arena will have an 1,800-person seating capacity, giving the city the potential to host state hockey events and benefiting the local figure skating club and hockey association, which currently split practice time at a single rink. The city also hopes that the arena may serve as a national testing facility for figure skating competitions. The design, submitted by RSArchitects of Sioux Falls, plans for year-round ice access and expansive locker space. Construction is expected to be complete in about a year, with Stevens Engineers of Hudson, Wis., consulting on the project.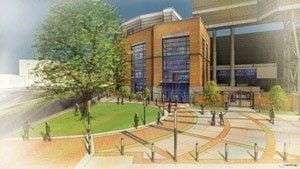 Jordan-Hare Stadium at Auburn University will be undergoing a $28 million renovation of its locker rooms and gameday support facility. The project, which will be funded by the Auburn athletic department, was approved by the university board of trustees in February and breaks ground in May. The design, by HOK of St. Louis, includes a 16,000-square-foot renovation to the existing locker rooms and a 44,000-square-foot, multistory facility with designated space for football and Olympic sports recruiting, as well as a press box and club seating. The project is expected to be complete in July 2018.
Bowdoin College breaks ground this month on the first phase of an upgrade to the historic Whittier Field and Magee-Samuelson Track. The $4.5 million renovation project includes replacing sod with synthetic turf, expanding the track from six lanes to eight, and constructing a new seating area and press box. Phase one is expected to be complete for the 2017 football season. Pending approval, phase two would construct locker rooms and training facilities. The entire $8 million project is to be funded by private donations and is designed by CHA Consulting of Concord, Mass.
---
First Pitch
The city council approved a land purchase last month for a new multipurpose stadium to be built in downtown High Point, N.C. The $30 million facility with have permanent seating for 5,000 fans during sporting events, with the capacity to accommodate 7,500 spectators for concerts and events. Construction is expected to begin in fall 2017. The city has been collaborating with Freeman Kennett Architecture of High Point on preliminary designs.
This spring, the Elyria (Ohio) school board chose an architect for an extensive addition to the district's facilities, including a new sports complex at Ely Stadium, new fields and five new school buildings. The design by Architectural Vision Group of Westlake, Ohio, includes space to accommodate student football, soccer, baseball, softball and track, as well as marching band performances. The athletic complex constitutes $9.3 million of the $119 million total project, 67 percent of which will be funded by the Ohio Facilities Construction Commission.
Fundraising is underway to support the renovation of the Palm Beach Recreation Center. Construction costs for the $15 million project will be split three ways between Friends of Recreation, the Morton and Barbara Mandel Family Foundation, and the city of Palm Beach. The expansion, designed by Stephen Boruff, AIA Architects + Planners Inc. of West Palm Beach, Fla., includes a group exercise room, weight training and cardio space, locker rooms, a tennis pro shop and a gym, as well as a concessions area and offices. The center grounds will feature seven tennis courts, a soccer field, a playground and an expanded 60-space parking lot. The city has applied for a state grant in the amount of $200,000, and the start of construction, planned for June, is contingent on raising the rest of its $5 million share.
---
Grand Openings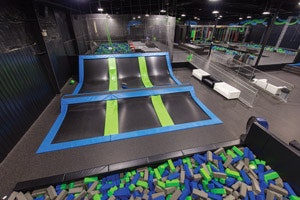 National recreation company CircusTrix will be opening an extreme air sports recreation center in Nampa, Idaho, this month. The $2 million, 40,000-square-foot facility will offer recreation fitness options such as an aerial obstacle course, foam pits, slacklines, rock climbing, parkour, euro tramps and trampoline dodgeball, culminating in an obstacle course based on the concept of "American Ninja Warrior." The facility is the company's first in Idaho and one of 13 planned to open this year in the U.S.
Pepper Boxing is opening a new Boxing Fitness Center inside the Green Hills shopping strip in Nashville. Designed by Nashville-based MHP Architects with general contractor MTLC Building Group of Franklin, Tenn., the facility will feature an open, circular layout of water-filled teardrop punching bags, with direct lines of sight to a teaching space in the middle.
Club Fitness will be opening a new location this month inside the former Prospect Street School in Naugatuck, Conn. The abandoned school building, which was built in the 1950s, offers 41,114 square feet of usable space, which will be repurposed into a private health club. The 1,800-square-foot former cafeteria will be outfitted with a rubber floor and turf to accommodate group classes, personal training, ropes and free weights. The former stage will be used as an elevated space for cardio equipment, with locker rooms being built out in the space behind. Former classrooms will be transformed into a free weight room and yoga room, while the 3,500-square-foot former school gym will remain an open fitness space with selectorized machines. The club will also feature a commercial outlet, a smoothie bar and a reception area. Construction costs are projected at slightly more than $1 million.
---
This article originally appeared in the May 2017 issue of Athletic Business with the title "Forward Progress" Athletic Business is a free magazine for professionals in the athletic, fitness and recreation industry. Click here to subscribe.