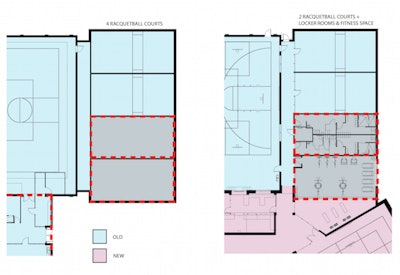 The viability of racquetball courts in recreation centers has long been a topic of conversation — and often a bone of contention. Granted, some facilities — such as Prairie Athletic Club in Sun Prairie, Wis., — have managed to make racquetball relevant again by offering popular lessons and leagues and hosting large-scale tournaments.
But participation in the sport came close to hitting a 10-year low in 2016, with just 3.58 million participants. Many rec centers are looking for ways to reinvent the often-empty, 40-foot-long by 20-foot-wide and 20-foot-high spaces to make them more user-friendly and (hopefully) generate more revenue.
Over the years, facility operators have shown creativity in this endeavor. For example, Texas Tech University recently converted an old racquetball court into the Raider Escape Room, which targets small-group functional training, personal training and sports conditioning using Escape Fitness equipment.
"Students want to have fun while getting fit," Escape's Christopher Eyre told Athletic Business. "They've grown up paying hyper-attention to every detail of their surroundings. Our team wanted to bring high visual impact to the Raider Escape Room functional fitness training initiative by creating a colorful, dynamic place where they'd want to spend time — with the best trainers. For Texas Tech to offer this area, solely designed for functional training, is exciting for everyone."
(Speaking of "escape rooms," why not convert a court into an actual escape room?)
At other college rec facilities across the country, converted courts are now climbing rooms, cycling studios and boxing gyms.
But how, exactly, do you successfully transform a seldom-used racquetball court from the seventies or eighties into a contemporary destination for today's fitness enthusiasts?
Here are five design strategies that will help you finally reconfigure that prime real estate this year by making the best use of the space without breaking the budget.
1. Consider the adjacent spaces
Does converting the court into a yoga studio make sense if it abuts a noisy gym? Instead, maybe reimagine the court as a kickboxing or dance room. Perhaps the best decision is to repurpose the space by expanding an existing fitness area or weight room into the court area. That option will quickly provide more workout space with minimal disruption to adjacent areas.  
2. Look up
Double-height spaces can be challenging. The ceilings over racquetball courts generally aren't quite high enough to squeeze a second floor into the space, but if you already have a second-floor plate adjacent to a racquetball court, inserting a second story could be an option. Think of the wide range of opportunities that additional square footage would provide.
For something less complicated and costly, consider creating a community art gallery. Kinetic sculptures, mobiles or large-scale pieces that require tall walls and high ceilings could provide display areas for permanent or temporary pieces while giving local artists a platform for community members to see their work.
If you'd like to maintain the recreation connection, a climbing wall would be a natural fit. So would a skateboard half-pipe or Wallyball— a sport played like volleyball but in a racquetball court, using the walls for strategy.
3. Look down
Racquetball flooring is comparable to that in gymnasiums and some group fitness rooms. It provides shock absorbency, solid traction and firm ball bounce. That's why converted courts lend themselves to a variety of similar athletic and fitness endeavors. Think of such heavy-use applications as space for group exercise or dance classes, martial arts programs or activities for kids.   
The durability of existing floors in racquetball courts also make them conducive to game rooms with table tennis and other activities for teens, as well as rental space for birthday parties and other special occasions.
Some facilities even have experienced success converting court space into restrooms. Such a renovation requires additional plumbing, but the effort might be worth it if the courts are located in an area without nearby restroom access.
4. Listen to your members
Pay attention to fitness trends, both nationally and within your own facility. If you're not sure a new program will catch on among your membership, you could use a former racquetball court as an "incubator" of sorts — a semi-private studio to test a new idea.
One of those new ideas could be axe throwing, a recreational and competitive activity on the rise.
Because most facilities with racquetball courts have more than one court, these incubator spaces could be used to test the popularity of several programs. You also could use them to provide a greater variety of smaller-demand programs while reserving your larger multi-use rooms for programs with more participation.
Don't hesitate to ask your patrons what they'd like to see in the converted court, too. Just because they're not using it now doesn't mean they won't in the future.
5. Consider seasonal recreation programs
If you have multiple courts to convert, consider keeping one "open" for seasonal use: A haunted house in October, Santa's village in December, bounce houses and carnival games in the summer, or even a giant springtime maze (with a cool overhead view for parents and other observers). Multiple organizations in the community could develop, sponsor and oversee different activities to provide community members one-of-a-kind experiences.
A racquetball court occupies 800 square feet of your facility. Even when it's in use, that's 400 square feet per user. I've touched on a few ways to attract many more people to that space, but don't stop there. Knock down a wall, and you've got 1,600 square feet — enough room for a decent-sized group exercise room, for example.
Maybe this will be the year that negative-revenue space becomes a cash cow!
Stephen Springs is a senior principal at Brinkley Sargent Wiginton Architects, a Texas-based firm specializing in public architecture with offices in Dallas, Waco and Austin. He is a former parks commissioner and has more than 20 years of experience in public recreation and aquatic design.