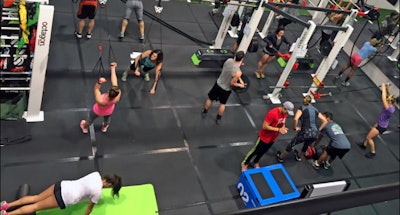 In keeping with the trend on college campuses of upcycling run-down or underused spaces to accommodate engaging fitness experiences, Texas Tech University has repurposed two of its original twelve racquetball courts into a 1600-square-foot functional fitness training facility.
"The end goal was to develop a more private, unique workout area different from the traditional strength and cardio machines/equipment," Texas Tech said in a press release, "A space that works as well for personal trainers as for small group training, that was fun and engaging while offering the freedom to train without disrupting weight or cardio room users."
The Raider Escape Room, as the project is known, opened in October and is geared toward small group functional training, personal training and sports conditioning. It features equipment from Escape Fitness, including a 15-foot Octagon Hub Training System frame, plyo boxes and an indoor speed track for sled and TIYR use.
"Students want to have fun while getting fit," says Escape executive Christopher Eyre. "They've grown up paying hyper-attention to every detail of their surroundings. Our team wanted to bring high visual impact to the Raider Escape Room's functional fitness training initiative by creating a colorful, dynamic place where they'd want to spend time—with the best trainers. For Texas Tech to offer this area, solely designed for functional training, is exciting for everyone."
The conversion of the underused racquetball courts has been a common solution for campus recreation programs looking to modernize their program offerings. In that vein, Texas Tech rec center director PeeWee Roberson plans to convert two more racquetball courts into an indoor cycle zone.
A similar conversion took place at the University of Missouri Student Recreation Center, check out our video on that project below:
Related from AB: Fitness Programming Trends at Prominent College Rec Centers, Racquetball Courts Converted to climbing Gyms and Group Cycling Studios