Take a stroll through Downtown Brewer at the University of Missouri's Student Recreation Complex, also known as MizzouRec. Just like a real downtown where stores come and go, you'll see two new storefronts in Downtown Brewer that opened this year: Clark's Boxing Gym and Stalcup's Garage.
The addition of these two new storefronts reflects not only a change in fitness facility programming across the country but the efforts of a campus recreation program striving to give its student users the best experience possible. The pathway to change at MizzouRec was paved before the completion of its $50 million renovation in 2005. Similar changes at the University of Oregon's student recreation center became a reality in January upon the completion of its $50 million renovation and expansion, which consists of 110,000 square feet of new space and 40,000 square feet of renovated space.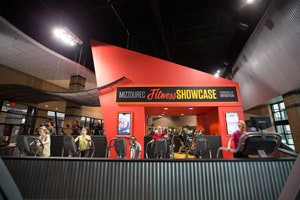 The spaces at MizzouRec that are now Clark's Boxing Gym (named after the school's first athletic director, Clark Hetherington) and Stalcup's Garage (named after former Missouri men's basketball coach Wilbur "Sparky" Stalcup) are converted racquetball courts. Prior to MizzouRec's 2005 renovation, which included 114,000 square feet of new space, the building had more than a dozen racquetball courts, says Diane Dahlmann, executive director of MizzouRec Services and Facilities. After a planning review in the early 2000s, it was determined that demolishing the racquetball courts and removing the debris from the building would be cost-prohibitive.
"We had to figure out what we could do with racquetball courts so that they didn't look like old racquetball courts," Dahlmann says. "As a result, I began to reshape the space for best use and theming. It was from this situation that the concept for Downtown Brewer and the streetscape was formed."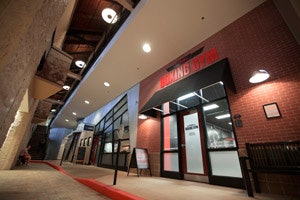 Downtown Brewer included a martial arts room (now the boxing gym) and a multipurpose room called Studio 29 (now Stalcup's Garage), as well as Tiger Training (for personal training) and Tiger Lair (for indoor cycling). Two unfinished racquetball courts soon became a spa area and later transformed into zouLIFE. The Rothwell Club, a set of high-end locker rooms for men and women, has anchored Downtown Brewer since the renovation.
Both Studio 29 and the martial arts room were never high-use spaces, Dahlmann says. The main user of the former martial arts space was a karate club, which had expanded to the point at which the space became too small for its practice times, says Laura Salerno, associate director of programs for MizzouRec. "We had traffic in the room, but with the transition into Clark's Boxing Gym, we only enhanced what was in there," Salerno says. "Now we have more traffic and service more of our students."
Those students spend $39 per semester for a membership to the boxing gym, which features a boxing-style training system called BoxMaster. Within four days of opening, Clark's Boxing Gym sold out, with 248 memberships purchased.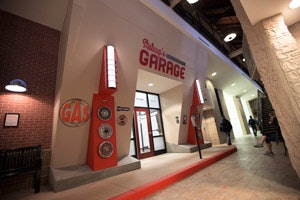 Unlike the boxing gym, Stalcup's Garage is open to all members and offers functional fitness classes throughout the day. Among the features in the garage are TRX Suspension Training systems, kettlebells, medicine balls, resistance bands, dip bars and battle ropes. "What we were finding when we did the assessment was some of the activities that were taking place in Studio 29 fit what we were wanting to do with the garage," says Carrie Steuber, assistant director of facilities for MizzouRec. "We thought that that space would be a tremendous advantage for our students and give them what they've been telling us."
Clark's Boxing Gym and Stalcup's Garage have experienced significant traffic since opening, Dahlmann says. "Rather than a couple dozen people using the space from time to time on a somewhat daily basis, today we see a couple hundred users each day," she says, adding that student usage at MizzouRec has grown from 54 percent in 1997 when Dahlmann started at Missouri to 84 percent today. MizzouRec attracts more than 7,000 students daily.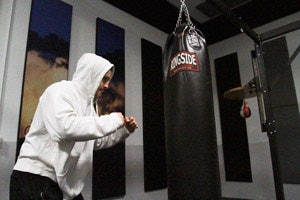 GOING YARD
Now travel 2,000 miles northwest to the University of Oregon, and you might still feel right at home. Recent renovations to the recreation center in Eugene have brought the same programs that now occupy Downtown Brewer's storefronts to the forefront at Oregon, as well. The Fitness Yard is a 2,300-square-foot area with turf flooring and functional fitness equipment, including battle ropes, kettlebells, ViPR (loaded-movement training), sandbags, TRX, pull-up structures, BOSU equipment and turf sleds. The Fitness Yard also includes a Med Ball Wall, a giant steel plate within the wall that provides users with a dedicated target at which to throw medicine balls without fear of damaging the facility or injuring others.
Prior to the renovation, much of Oregon's functional training was done outdoors, even in the rain, says R. Kevin Marbury, director of physical education and recreation at Oregon. "We would have not been able to necessarily offer this outdoors with any success," he says. "While most people don't mind working out in the rain, some people do."
Now the functional fitness space is in a highly visible spot of the rec center overlooking Main Street on campus.
"When you walk into the main entrance of the facility and you're heading toward the turnstiles, it's on the second level, a pretty attractive space," Marbury says. "People will come up out of curiosity just to see what's going on up there. It's catching on very quickly." Oregon offers a free group fitness circuit class in the Fitness Yard called YardWork, which leads participants through a variety of training circuits each week under the supervision of three instructors. Plans include offering YardWork as a physical education course during the spring term.
The renovation at Oregon also included the addition of a boxing studio, the latest iteration of an 800-square-foot converted racquetball court. A small group training class offered there includes a combination of cardio, boxing and martial arts.
The old boxing studio was in the back corner of the rec center, out of the way from the flow of traffic, Marbury says. "If you can imagine a couple of heavy bags and a couple of speed bags in an old racquetball court, and then you go into a facility that has sound treatments on the walls, the big fan up top and a rubberized floor and then some additional equipment in there, it's just made it much more attractive, a little bit more accessible."
---
RELATED: Trends in Campus Fitness and Rec Center Programming
---
Marbury says the rec center has experienced a 24 percent increase in participation compared to the 2013-14 winter term, during which there was significant construction and limited access. Compared to the 2012-13 winter term (prior to the renovation), the rec center has experienced a more than 15 percent participation increase. "We're proud of the project and what it brings this particular community," Marbury says.
The benefits of the renovation — including the more visible boxing studio and the more attractive Fitness Yard area — also include additional revenue opportunities related to increased usage of the rec center.
"Absolutely there's opportunity for increasing revenue there, as well as with our faculty and staff who buy memberships," says Marbury. "The more we have to offer here on campus in this particular facility, the more attractive we are than some of the other locally based fitness and wellness options that are out there in the community."
More than just revenue opportunities, staff at both Oregon and Missouri say the goal of the renovations is to enhance the overall experience for their students. At MizzouRec, that also includes the Fitness Showcase, an underutilized juice bar space that has been converted to a small fitness area featuring pieces of new cardio equipment from MizzouRec's vendor partners, giving students an opportunity to test out new equipment — and giving Dahlmann and her team some insight into what might be their next big programming opportunity. "I do think the collegiate recreation experience is like fashion," Dahlmann says. "If you look at the nuances of fashion and you look at the changes we've made in this facility, it's beyond rearranging the deck chairs on the Titanic. We're certainly not going down, nor are we hitting any icebergs. But we do pay very close attention to how we utilize space.
"We're not afraid of moving forward," she adds. "We're also not afraid of making a mistake. There are opportunities to take a risk, a calculated risk. We run the risk of maybe once we get this all done, they won't like it. Maybe they'll think it's too cute. Maybe it just doesn't hit the sweet spot. But so far, so good."

RELATED: 10 Tips to Keep Your Rec Center Looking Like New
---
This article originally appeared in the May 2015 issue of Athletic Business with the title "A Tale Of 2 Rec Centers." The video was made possible by Star Trac. For more information on the Star Trac BoxMaster®, click here.