Known for its business and government expertise, California's Claremont McKenna College draws students from all over the world.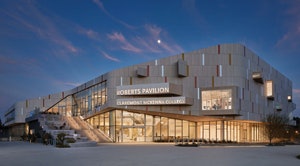 To celebrate its diversity, the university agreed to a unique design element for Roberts Pavilion, a facility that opened in 2016 as home to athletics, recreation and other campus functions. A so-called "character wall" framed by a grand lobby stair features words representing 10 different languages. Each character appears on its own 18-inch-tall piece of three-dimensional aluminum, affixed with pins and epoxy to a gypsum wall fortified by a metal backing. The black words "Claremont McKenna College" appear in stark contrast to the pre-painted white character wall, but their letters are spaced in atypical fashion to "reflect the idea of academics and research as a puzzle — looking for the unknown, finding evidence of things and coming to conclusions," says John Friedman, principal at Los Angeles-based John Friedman Alice Kimm Architects. The 1,500-square-foot wall added less than $100,000 of cost to the $52 million facility, which is visited by nearly all of Claremont McKenna's 1,350 students weekly, if not daily — many using the wall as backdrop for selfies. Says Friedman, "The administration was clear: 'When you walk in the lobby, we don't just want it to feel like an athletics building. We want it to feel like a living room for everybody.' "
---
This article originally appeared in the June 2018 issue of Athletic Business with the title "Lobby wall speaks 10 languages." Athletic Business is a free magazine for professionals in the athletic, fitness and recreation industry. Click here to subscribe.